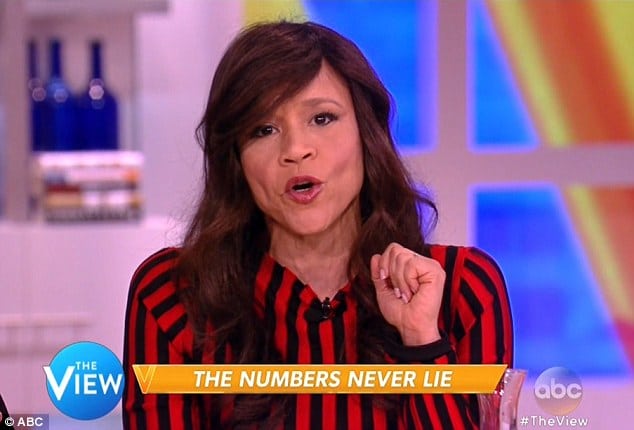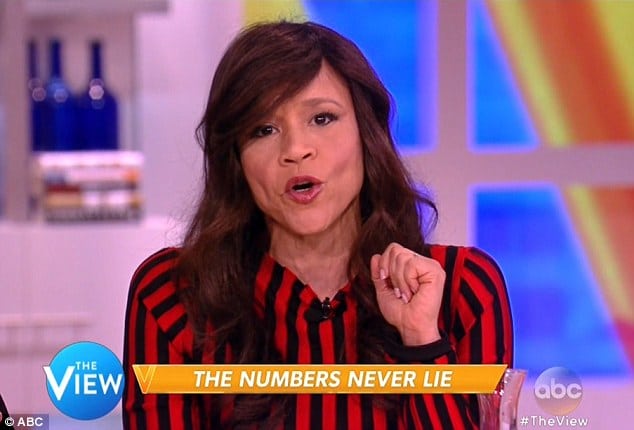 Perhaps in another era, the networks might think twice and three times before hiring the unqualified sons and daughters of celebrities to be talking heads. A sentiment that actress and tv persona Rosie Perez, 50 may be thinking to herself after quitting ABC's the View after being forced to apologize to Kelly Osbourne after taking umbrage live on air to racist remarks the daughter of Ozzy and Sharon Osbourne made. 
According to an exclusive with the dailymail, the talk show host canceled her last appearance on the View after being forced to apologize for her anger at her co host's racist remarks about Latinos last week.
Told the 30 year old talking head last week, 'If you kick every Latino out of this country, then who is going to be cleaning your toilet, Donald Trump?' during a segment about Donald Trump's poll numbers within the community last Tuesday. 
After a pause, Rosie, who has Puerto Rican heritage in turn mumbled: 'Oh, that's not… oh, no!' whilst shaking her head in disbelief (no worries Rosie, the world shook their head in disbelief too).
Forced to apologize to the racist talk show host, who would later along with ABC hire a steam of publicists to double back up, Perez declined to turn up to her two, final live shows last week, even skipping several pre taped appearances in protest.
Lamented the golden child live on air after realizing she had just trod in a pile of self inflected manure: 'I didn't mean it like that! Come on, I would never mean it like that. I'm not part of this argument.'
Or is the gilded child of wealthy bon vivant who have a penchant for hiring the less affluent (aka minorities) anything but part of the argument?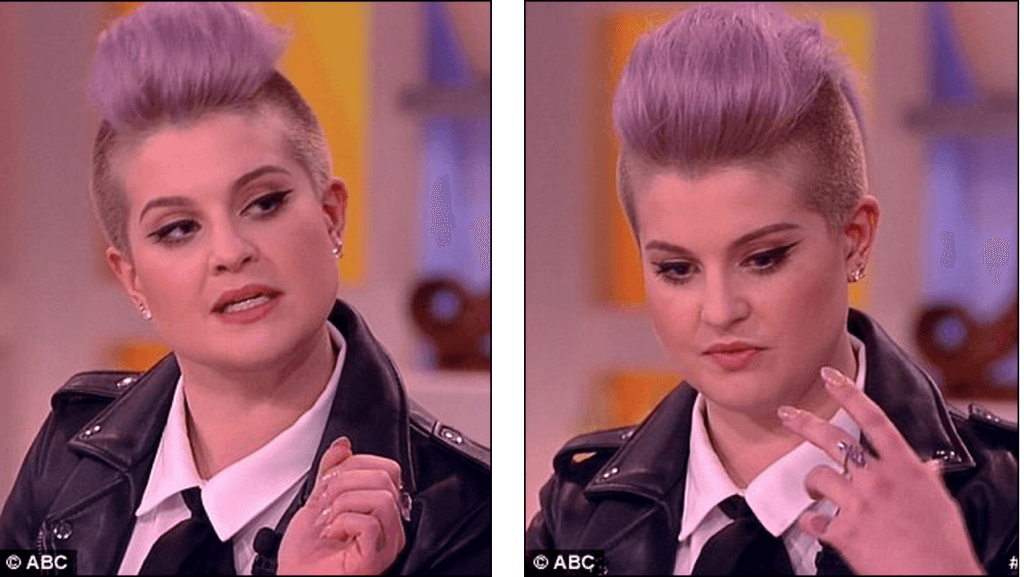 According to insiders as cameras panned away, the daughter of rock legend Ozzy Osbourne and The Talk co-host Sharon Osbourne burst into tears. 'Everyone is going to think I'm racist. I can't believe this,' she cried, as producers of the show and her personal handlers ran to her side.
But it gets better. The real drama is always off set.
At the time, ABC execs cornered Rosie during the break, demanding she apologize to Kelly in the last segment of the live broadcast. Yes racist and privileged we unite.
The show resumed and the topic wasn't addressed again until the end of the show. During the last segment, Rosie started with: 'I want to apologize to this young woman once again for being very sensitive.'
Kelly asked: 'Why? You had every right.'
Rosie continued: 'Kelly Osbourne is on our side and I was sensitive and my disdain should go to only Donald Trump. Sorry darling.'
Kelly hugged her and said: 'No need to apologize to me, I love you Rosie!'
At the end of the show, Rosie, 50, bolted to her dressing room and had no further interaction with Kelly, who broke down.
But it didn't stop there. According to the dailymail, ABC executives then gathered in Rosie's room and demanded that she tweet an apology to her co-star. Yes kids, this is why one avoids working for corporate institutions. They are always and forever concerned with their damned image.
Responded Rosie: 'I've already done more than enough by apologizing on air,' before a loud argument took place.
Kids, tell me if you don't get the impression there was a misdirected sense of desperation directed at the wrong individual?
Added the source: 'She and the ABC executives had it out. She was yelling at them at the top of her lungs that their demands were disrespectful. 
'They were telling her that she better do exactly as they said. It was an ugly scene and Rosie was crying uncontrollably and outraged.'
In turn, all too aware who pays the checks, Rosie posted a tweet on her official account, which read: 'My apologies @KellyOsbourne, I took your point wrong-#Trump #Latinos. My bad. Your heart is so pure & righteous. I adore you. @TheView.'
But then something snapped after Rosie hit send.
After sending the twitter post, Rosie turned to management and said 'I am done with this f****** show' and told the executives 'to kiss her a**' before storming out of the building and vowing never to return to 'this s***hole of a place!'
Kids isn't self respect a wonderful virtue? Especially if you can afford it?
Perez's decision to not return coincided with an announcement last month that she was leaving the show. 
In turn, Perez would see her star shine less brightly within the latino community who took umbrage with the host for appearing to back down, with many criticizing the tv host,  'why are you apologizing?'
The following day, Perez took to Twitter to clarify why she had apologized.
Tweeted Rosie: 'I tweeted at #KellyOsbourne in an effort to help keep her from spiraling after her unfortunate comment. I went overboard with my apology- #mybad. But I don't apologize for speaking up and calling her on it-mistake or not, it was offensive. And please don't ever question my support for mi gente… Ever.'
Yet according to the dailymail's source,  Rosie had nothing to lose with her explosive exit from The View.
Reiterated the source: 'ABC had already fired her technically when they didn't renew her contract. She had nothing left to lose by not coming back.
'She may have missed a few days pay, but to walk away with her dignity is likely far more important for Rosie in this situation.'
ABC has since taken down the racist episode from its website along with removing the segment from streaming service Hulu. Several clips of the show also have been removed from YouTube.
The dramatic end to Rosie's tenure on The View ends perhaps the most turbulent and tumultuous season in the history of the troubled talk show since it was created by Barbara Walters 18 years ago. A sentiment that Kelly Osbourne may be wondering gingerly to herself ….