Florida's Ronald Boisvert woke up Saturday morning to find that the family dog, Fox, a 13 year old Pomeranian pet dog that had gone missing the day before, brutally beaten to death. Attached on top of the dog's smashed body with sticky tape was a note that read: 'We beat it 2 death lol HAHAHA!'  
According to Boisvert, the family pet disappeared Friday afternoon when his girlfriend, Verline Bartheleny let him out at their Pembroke Pines condominium.
On Saturday morning, Boisvert was awoken by a 'frantic knock' from a neighbor who said Fox was lying near Boisvert's condo with the note on top of his body.
'I was devastated,' Boisvert said via wsvnnews. 'He was a very friendly dog.'
Initially believing the note to be a joke, the owner thought that the dog had died of other causes, but Dr. Ron Ridge, a veterinarian, said the dog was likely kicked to death.
Fox had 10 broken ribs, missing teeth and a broken back,.
Told the vet: 'If the note was indeed true, somebody really meant to kill that dog,'
'To be hit with a stick you'd have angular injuries. The injuries were on the flat side of the body.'
The vet went on to say he believes Fox's injuries made it unlikely that he was hit by a car, adding:  'You would expect to see skinned knees, skinned elbows, other minor injuries that we saw no signs of.'
Fox was covered in reddish sand, similar to baseball field clay, and Boisvert said there is a field near his condo.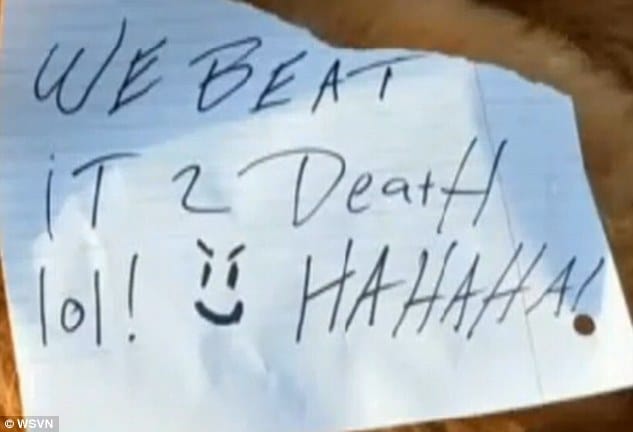 Boisvert said he doesn't know why anyone wanted to hurt Fox, saying he thought the culprits were local because Fox was not wearing a collar when he was returned to the family home. An act that suggests that the culprit(s) wanted to make sure that the dog's owner could see for themselves what was done to the dog, as an act of punishment or retribution or possible psychological threat.
'The only way you would know is if you'd seen him before,' added the distressed dog owner.
Since the incident, the family has posted flyers around the neighborhood asking for anyone with information about Fox's death to come forward.
'I just really hope they catch the individuals,' Boisvert said. 'Nobody should have to go through this.'
Anyone with information is asked to call Broward County Crimestoppers at 954-493-TIPS. Police are offering up to $3,000 for information leading to an arrest.