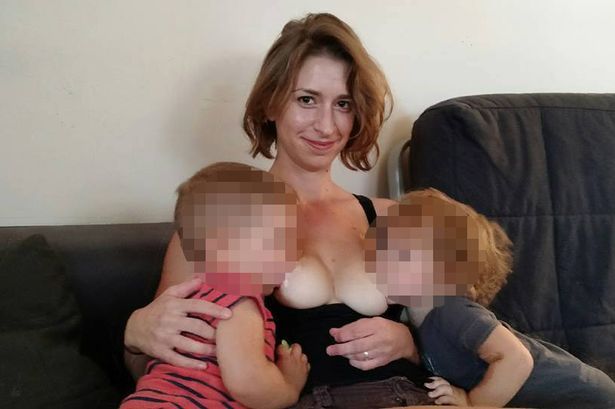 Jessica Anne Colletti a 26 year old Pennsylvanian mother has caused disconcert after posting a photo on Facebook of her breastfeeding both her 16 month old son and her friend's 18 month old son.
Posted on a page set up for this week's National Breastfeeding week, the mama bean blog' the image featuring the young toddlers suckling on the woman's breasts led to a section of Facebook users praising the mother while others condemned her.
Wrote the mother who takes pride in being able to fill in as a wet nurse should the need arise: 'Happy World Breastfeeding Week!'
'I watch her son while she works and have been feeding them both for a year! So much love between these milk siblings, it's a special bond between us all.'  
The mother tells she has been breastfeeding her friend's son since he was just five months, after he struggled with formula, and says her friend was very much 'on board' with the idea. 
Told the mother via the dailymail: 'She was breastfeeding but didn't have time to pump – I was already breastfeeding my son and it just made sense to nourish him in the same way,' 
'He was having issues with the formula his previous sitter had given him and his issues resolved when formula was no longer necessary.' 
To boot, Colletti says her friend is 100 per cent happy with it. 
Reiterated the mother: 'My friend and her son live with me and my husband. She knows everything about me and trusts me with the care of her child.'
'She knows I want nothing but the best four our boys, which is why she supports me breastfeeding our babies.' 
The post, which has since been liked more than 500 times, received a mix of positive and less supportive responses from users.  
'I wish that I could like this a million times!' One user wrote. 
'Wet nurses saved many lives years ago,' another said. 
While others users expressed doubts.
Told one user: 'I'm sure she [the friend] is definitely NOT okay with it,' 
'Sorry but that's strange,' another commented. 
Reflected others: 'I would be so up set if some one feed my babies I am there mum and I would feel so wrong to feed some one else baby (sic).'
Another user wrote: 'Yeah I don't know how I feel about this. I truly believe it is a sacred bond that should only be shared by mother and baby.'
'I feel breastfeeding someone else's baby is totally over stepping. Unless they've asked you to. Then go for your life. Still not sure about it though.'
Colletti says the criticism hasn't come as a surprise. 
Said the mum: 'I'm glad to get so much support from breastfeeding advocates and am not surprised by critics – a lot of people are misinformed about breastfeeding relationships,'
'The sexualization of breasts and the belief that breast milk is gross because it is a bodily fluid has been ingrained in us through society, media and lack of breastfeeding in our daily life.' 
Mrs Colletti has since considered removing the post altogether due to the negative feedback and other users hassling her. 
Wrote the mother: 'May have to delete this post because of the male friend requests I'm getting now.'
According to the World Health Organisation strategy on infant and child feeding, milk from a healthy wet nurse is the second best alternative to expressed milk from a child's mother when direct breastfeeding is not an option. 
When asked whether she would continue feeding the kids as long as they wanted it, Colletti responded with a firm 'definitely'. 
'It's healthy to nurse a toddler, it's healthy to extend breastfeeding until a child self weans, it's normal for healthy women to nurse each other's babies when the mother can not be present.'
What do you think? Has one mother gone too far? Or as long as another child's mother is fine with the idea why should anyone else mind? Or is the idea of the sexualization of the breast have something to do with things or does the idea of a woman proudly breastfeeding a child in public, let alone a child that does not belong to her make many uncomfortable?