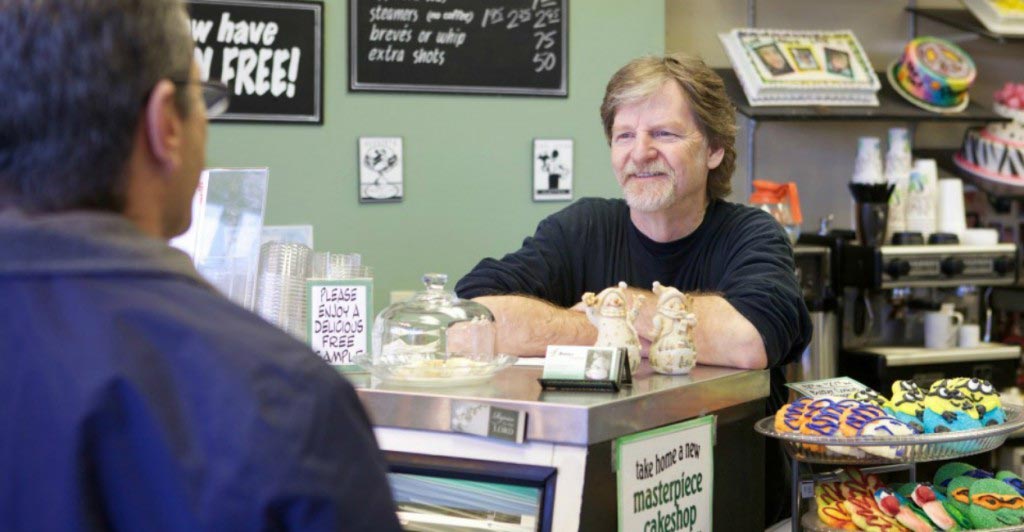 A court has today ruled that Christian baker, Jack Phillips is not allowed to use his religious beliefs as a defense in refusing to make a wedding cake for a gay couple back in 2012.
At the time, Philips, who owns Masterpiece Cakeshop near Denver, Colorado, was accused of discrimination after refusing to bake a wedding cake for David Mullins and Charlie Craig.
Phillips contends he gladly serves gays and lesbians but could not in good conscience design a wedding cake for a same-sex couple when, as a Christian, he believes marriage is the union of a man and a woman.
Philips said forcing him to make cakes for gay marriage ceremonies violated his right to freedom of speech and his religious freedoms, but today the Colorado Court of Appeals rejected his argument.
The three-judge panel said that refusing to bake a cake for Mullins and Craig clearly violated Colorado's anti-discrimination laws.
The judges said the Colorado Anti Discrimination Act (CADA) prohibits businesses from refusing services on offer to the general public to people based on religion, ethnicity, or sexual orientation.
The ruling means that Philips will face a fine if he refuses to bake another one of the cakes, along with being required to train his staff in anti-discrimination law, and submitting to a quarterly compliance survey.
The case began back in 2012 after Mullins and Craig had gone to Massachusetts to get married, as Colorado only permitted same-sex civil unions at the time.
Upon returning to Colorado, the couple planned to celebrate with family and friends, and ordered the cake from Philips.
Phillips refused, and was taken to court, where the Christian baker contended that wedding cakes inherently carry a celebratory message about gay marriage, and therefore baking one was akin to asking him to support gay marriage, which his religious beliefs forbid.
In 2013, Judge Robert N. Spencer of the Colorado Office of Administrative Courts ruled that Philips had broken the law.
His decision was backed up by a similar ruling the Colorado Civil Rights Commission in May 2014. 
However, Phillips appealed, and today the Court of Appeals delivered its verdict, agreeing that the baker had breached the law.
In their ruling, the judges said: 'Nothing in the record supports the conclusion that a reasonable observer would interpret Masterpiece's providing a wedding cake for a same-sex couple as an endorsement of same-sex marriage rather than a reflection of its desire to conduct business in accordance with Colorado's public accommodations law.'
The ruling held that Phillips remains free to continue espousing his beliefs, both inside and outside the bakery, including opposition to gay marriage.
Nevertheless the judges stipulated: 'However, if [he] wishes to operate as a public accommodation and conduct business within the State of Colorado, CADA prohibits it from picking and choosing customers based on their sexual orientation.'
Offered Louise Melling, deputy legal director of the American Civil Liberties Union, which represented the gay couple: '….the court squarely said that this is discrimination based on sexual orientation and it's not to be tolerated, even if it's motivated by faith,'
'Religious liberty gives you the right to your beliefs but not the right to harm others.'
Phillips lawyers have now told that they haven't ruled taking their case to the U.S. Supreme Court, arguing that many more cases are likely to occur following a recent ruling that effectively legalized same-sex marriage. 
Reiterated Jeremy Tedesco, a senior lawyer with Alliance Defending Freedom, a Christian legal group based in Arizona: 'Our client did not engage in sexual-orientation discrimination.'
The lawyer argued that an objection to same-sex marriage was not the same as discriminating against a gay person. Or is it?
Contemplated Ria Mar, a lawyer for the state chapter of the American Civil Liberties Union: 'Today is a proud day for equality and for upholding the law,'
'In America, no one should be turned away from a shop or restaurant because of who they are or who they love.'
Top photo courtesy Alliance Defending Freedom.