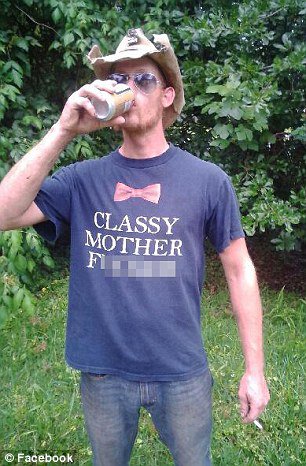 The 11ft alligator that killed Tommie Woodward after the 28 Orange, Texas native ignored warnings not to swim at local Burkhart's marina has been shot dead.
The killing comes after vigilantes sought to exact revenge for the man's death who mockingly had told prior to jumping into the water: 'fxck the alligator'
According to a report via 12News the alligator was caught in the same area where Woodward was taken down in the early hours of Saturday morning. 
The capture of the 400 pound beast involved a group of men setting a trap before then shooting the alligator in the head and dragging it out of the water.
It would be there that the group made the horrific discovery of various body parts inside the alligator belonging to that of Tommie Wooodwards.
According to Beaumont Enterprise killing an alligator is a class C misdemeanor with a fine up to $500 as noted by Texas Parks Wildlife Capt. Rod Ousley. 
In bringing down the alligator, Ousley said the men should have called the department and waited for the game warden instead of shooting the gator themselves. 
Despite images of the deceased alligator, Ousley said no suspects in the alligator's killing had been brought forward.  
Authorities said alligators in the area had also been displaced by recent heavy rain which, combined with the fact that they're currently in breeding season, could make them more territorial, the New York Daily News reported. 
Said Orange Police Capt. Robert Enmon: 'You've got to remember that alligators are a predatory species, they are territorial, and they will take advantage of an opportunity,' 
Woodward had only recently come to Orange from St Louis, making the move with his twin brother to work at a shipyard. He was the first person killed by an alligator in Texas since 1836.
Vigalantes killed 400lb gator who killed at Burkhart's Marina in Orange http://t.co/Hmb4zeDCH7

— Holly Quinn (@Holly30253) July 7, 2015