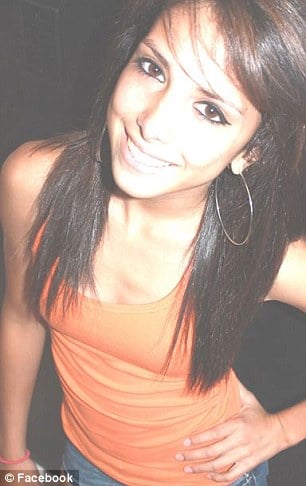 A rural Texas town is coming to grips with the gunning down death of cross country star athlete, Evette Quezada who was discovered dead alongside two injured men, one of whom was her brother.
The 18 year old teen was found dead after a shooting scene led to what cops have only termed a 'disturbance' along a road around 2:30 a.m. in Ferris, some 20 miles southeast of Dallas. 
UPDATE: Ellis County investigators arrested an unnamed suspect Monday in the death of a Ferris teen.
Investigators determined through witness statements that one of the occupants of the car the teen was traveling in when she was shot was the shooter, who caused the girl's death.
Since the discovery of the girl's body, authorities declined telling how the shooting incident came about, how the men were injured or why Evette Quezada was shot dead and by whom?
Offered former classmate Miranda Longino via WFAA-TV: 'Everyone's pretty much distraught over it because she was loved by pretty much everybody.'
Whilst school athletic director Allen Emeyabbi told: 'She is the type of person that every parent wants their young daughter to be like,'
'She was hard-working, intelligent, outgoing, polite, puts others' feelings before her own, the list goes on.'
The teen's death come after beating every cross country record while running for Ferris High school and had recently made her way to the state championships.
Friends and family flooded Quezada's Facebook page with messages of remembrance after the tragic news quickly spread through the small community. Several referenced a recent family reunion.
Wrote one friend, Mica Chilton on the teen's timeline: 'Waking up this morning and having to face the fact that you are really gone is killing me. Just knowing that I had the opportunity to watch you grow into the beautiful woman you were is just heartbreaking,'
"I love you so much Evette and I will always have you in my heart. Watch over us babygirl. Until we meet again.'
A gofundme page has since been set up, having raised $2220 out of a $15 000 goal.