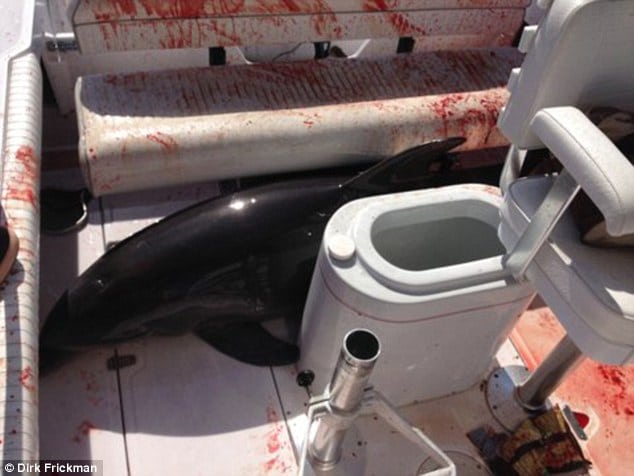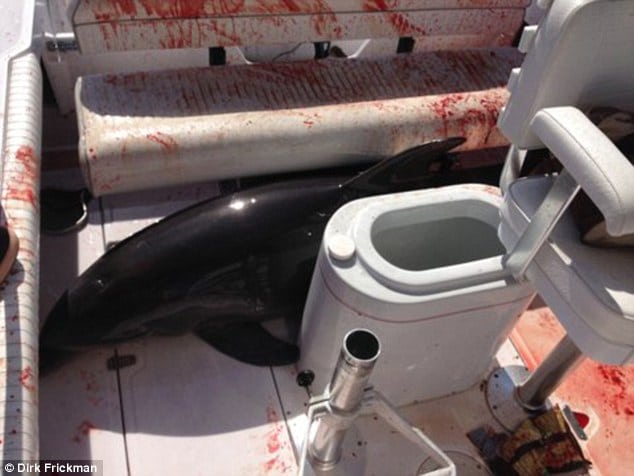 Dirk and Chrissie Frickman, an Orange County, California couple are in some respects lucky to still be in one piece after a seaside boating outing turned into a nightmare after a 350 pound dolphin literally jumped into their whaler boat.
The couple were out with their son Tristan, 12, and daughter Courtney, 16, on June 21, in lieu of Father's Day and the couple's 18th wedding anniversary. 
As they were wrapping up their day of celebrations and heading back into the harbor, the family was surprised when a pod of dolphins started swimming alongside the boat.  
Cheering, the family leaned up along the bow of the boat to watch as the dolphins lept.
It's what happened next which caught the whole family ajar.
One of the dolphins jumped so high that it hit the railing of the boat, landing inside.  
Offered Dirk Frickman via OC Register: 'It hit my wife and knocked her over, and punched my daughter,' 
Knocked to the ground, Chrissie Frickman began to feel a sudden sharp pang around her legs, with the thrashing dolphin having broken both the woman's ankles.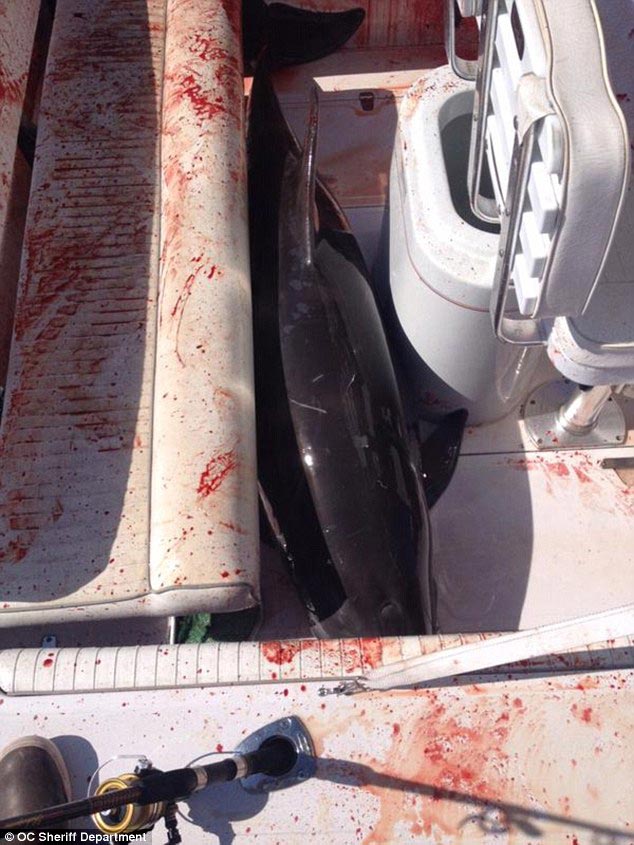 Fortunately Chrissie's husband was able to pull her out from underneath the frantic dolphin, as the rest of the family sought shelter around the center console of the boat.  
Unsure how to get the dolphin off of his boat, Dirk Frick got back behind the wheel and started driving back into port, calling harbor police ahead of time.
Upon reaching port, Chrissie Frickman was helped to dock where an ambulance was waiting.
From there, Dirk Frickman headed back to the harbor all the while pouring water over the dolphin to keep it alive. 
All the while the dolphin continued to thrash around, splattering blood all over the boat from cuts to its nose and tail.
'I could hear my phone buzzing and beeping on the floor – it was covered in blood,' told the husband.
Luckily, dolphins can survive hours outside of the water, and the family were able to release it back into the waters.
Reiterated Dirk: 'The dolphin was hopefully saved,'
'It swam away with no problem.'
While the dolphin appears to have escaped with relatively little harm, Chrissie Frickman did not. 
She sustained two broken ankles in the incident, and spent five hours in the emergency room. One was a clean break which will heal with rest but the other involved torn ligaments.
Though Chrissie is still healing from the accident, she says she is just glad she was the only person hurt. 
'That dolphin could have crushed my kids so I'm glad it was me, but we are all completely traumatized!' she wrote on Facebook.