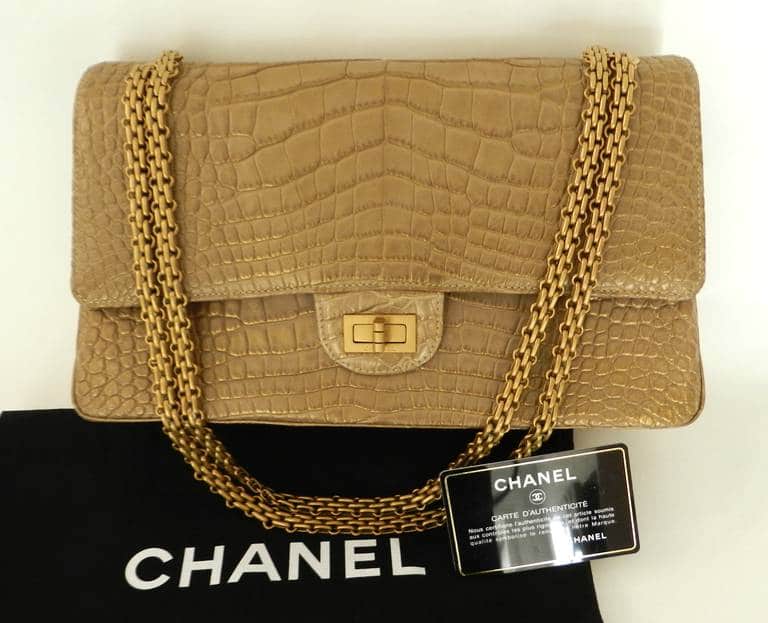 Who knew Chanel handbags could be so valuable and desirable? Desirable enough to brazenly walk in during the middle of a hot summer NYC day and dash off with not one but eleven wanton handbags worth $150K.
Told a security guard via the nypost at the flagship Madison Avenue store: 'They were gone, man. They were running so fast. They had so many in their hands you couldn't get a glimpse of what sort of bags they were.'
According to cops, the bandits entered the Upper East Side location between East 64th and 65th streets around 1:15 p.m. Tuesday and snatched purses ranging in price from $2,000 to $45,000.
After shoving a security guard out of the way, they ran outside and down the street before hopping into a four-door red sedan and making their getaway up Madison Avenue.
Cops reckon the heist wasn't a typical 'smash and grab,' as there was no damage done to the store during the robbery.
The high-end items that were stolen included a large "2.55" alligator bag worth $45,000, which was one of the most expensive items in the shop.
Guess the thieves knew what was worth taking?
In total, thieves made off with $154,900 in bags.
The suspects are all male, black, and range between 5-foot-6 and 5-foot-9.
Chanel customers said Wednesday they were stunned by the boldness of the theft.
Offered one customer, Judith Agisim: 'It is shocking, because they have so much security,'
'I'm surprised the guards didn't catch them. They don't keep the door locked. Most stores here keep the doors locked now. It's very surprising."
Offered Chris Lynch, a Brooklyn native who works near the store: 'There's a lot of brazen stuff that seems to be happening lately that hasn't happened either before or in a long time,'
'It's kooky what's going on. I'm a native New Yorker, so you definitely notice things. I mean they have guards at the door — how'd they even get out of the door?'
'I mean there's a homeless guy right here at the corner. For years, there was never anybody around asking for money. Now it's everywhere you go.'
What do you think? Will you soon be sashaying down the streets of Madison Avenue in your new Chanel handbag couture handbag at a fraction of the cost?
above image found here