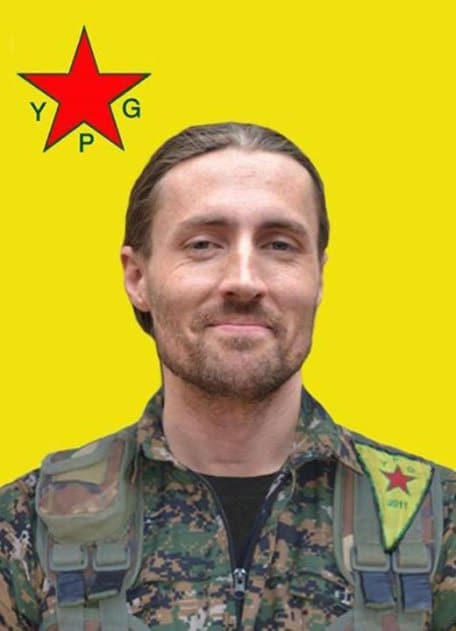 Keith Thomas Broomfield a 36 year old Westminister, Boston, Massachusetts man has been identified as the fist American volunteer to be killed fighting ISIS whilst fighting along with the Kurdish YPG in Syria.
According to a report via NBC News the man first joined the fighting unit on February 24 and died on June 3 in a battle in the village of Qentere.
Nasser Haji an official with the Kurdish People's Protection Union (YPG) would disclose the mercenary soldier died near the border town of Kobani.
State Department spokesman Jeff Rathke would confirm Keith Bloomfield's death, but declined to provide any details, adding that the US was providing consular assistance to the man's family. 
Offered the man's mother of her son who had been the production manager for the family's manufacturing firm, Broomfield Laboratories: 'He turned his life over to the Lord and he decided this was God's will and God wanted him to do it.' 
Broomfield's mother told at the time of her son's initial arrival in Syria her son had done 'a little bit of texting' but had come to hear 'nothing' in recent times.
Reiterated the mother: 'I didn't want him to go but I didn't have a choice in the matter. 
'I'm waiting for his body to come back.'
The volunteer's death was reported by Twitter accounts and Facebook pages linked to Kurdish fighters, who called him a 'martyr' and said he was killed in the Syrian countryside surrounding Kobani.  
The Save Kobani page included Broomfield's Kurdish nom de guerre Gelhat Rûmet in its post, saying 'First American YPG fighter, Keith Thomas Broomfield (Gelhat Rûmet) from Massachusetts, has been reported as martyred in clashes with ISIS close to the village of Qenter in Kobane region.'
'You were a friend of the Kurdish people, a hero of justice and humanity. May you rest in peace, you will forever stay alive in our hearts.'
To date the fight against ISIS has attracted dozens of Westerners, including a number of Iraq war veterans who have made their way back to the Middle East to join Kurdish fighters.
Broomfield is believed to be the fourth foreign volunteer to die fighting for the YPG against the jihadis of ISIS.  
Foreign enlists were facilitated after YPG created a foreign brigade called the Lions of Rojava allowing volunteers from around the world to join the Kurdish militia in their fight against ISIS.
Other foreign volunteers to have died include Australian army rifleman, Ashley Johnston who was killed fighting ISIS in Syria in February.
At the beginning of March British fighter Konstantinos Scurfield became the second volunteer to be killed by ISIS militants while fighting with the YPG.
Also killed would be German woman volunteer Ivana Hoffmann, 19, who died a few days after Scurfield near the Syrian town of Tel Tamr.
Many Westerners are spurred on by Kurdish social media campaigners and a sense of duty rooted in the 2003 US-led military invasion of Iraq. 
Kurds say they hope more Westerners will join them on the ground to fight. 
#American #YPG fighter Keith Broomfield fell martyr near #Suluk, #Rojava (#Syria). #twitterkurds #Kurdistan #ISIS pic.twitter.com/J6C6NNv4qx

— Peshmerga Forces™ (@KURDISTAN_ARMY) June 10, 2015