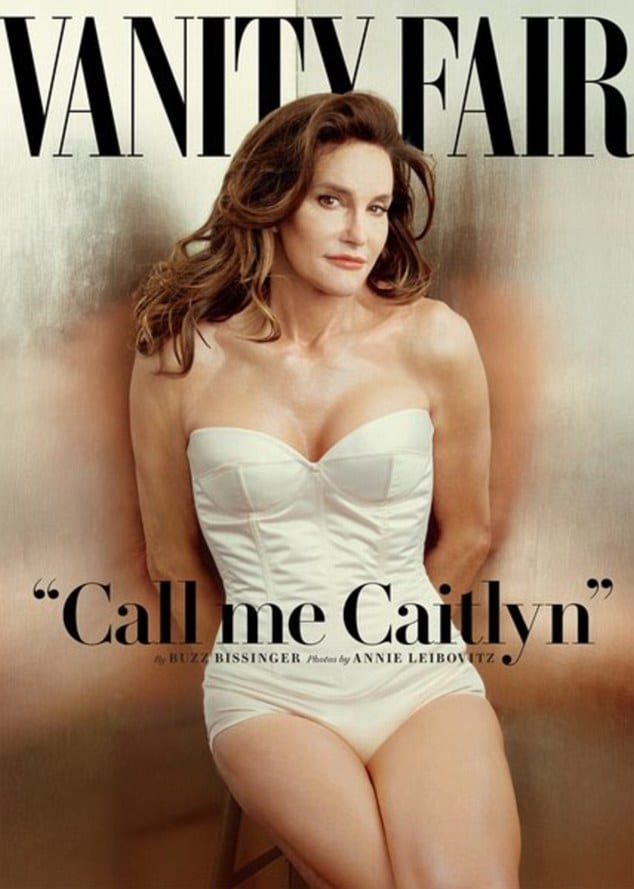 Call me Caitlyn, is the new Bruce Jenner Vanity Fair cover which sees the former Olympic athlete, reality star donning his new female moniker and the sultry seductive gaze of a new woman who is at peace and liberated with her new identity.
Bruce Jenner Diane Sawyer exclusive: 'This is why I want to become a woman.'
Bruce Jenner sex change operation to happen by summer. Will keep penis.
Bruce Jenner: 'Yes I am transitioning as a woman. Will you watch my new reality show?'
Bruce Jenner: Is he finally coming out in 2015?
Bruce Jenner is not planning a sex change insists Kris Jenner. 'Shit is made up.'
World devastated as Kris and Bruce Jenner now head for certain divorce. Again.
Donning a silky white basque the Kardashian reality star gets to show off his recent breast implant surgery as Caitlyn looks wantonly into our eyes: 'I am here. I arrived. Can you accept me?'
Manning a new twitter handle, Caitlyn Jenner (why waste a moment?) with 491K followers and rising the reality star excitedly posted: 'I'm so happy after such a long struggle to be living my true self. 
'Welcome to the world Caitlyn. Can't wait for you to get to know her/me.' 
Inside the magazine, Caitlyn Jenner is pictured wearing three different dresses and in an accompanying YouTube video, which shows the shoot taking place, Jenner talks about her relief at having no secrets anymore.
Told the woman: 'Bruce always had to tell a lie, he was always living that lie, every day he always had a secret from morning until night, um, Caitlyn doesn't have any secrets.
'Soon as the Vanity Fair cover comes out, I'm free.'
Shooting the collective metamorphosis at Caitlyn's palatial Malibu home courtesy of famed photographer, Annie Leibovitz, the new woman about town mused: 'The last few days of doing this shoot was about my life and who I am as a person.
'It's not about the fanfare, it's not about the people cheering in the stadium, its not about going down the street getting an '"Atta boy Bruce" pat on the back, okay, this is about your life.'
In true competitive Kardashian fashion (and genius co-ordinated pr synchronized moves), the Vanity Fair cover was released less than 24 hours after his stepdaughter Kim Kardashian revealed her second pregnancy at the end of Sunday's episode of Keeping Up With The Kardashians. 
Of course the question on everyone's lips as the reality star goes on his own is will America accepts its newest transgender hero?
So happy for @Caitlyn_Jenner! I hope she can feel all of our love and support today ❤️ pic.twitter.com/Bg0flTeL2b

— ☼ Kalel Kitten ☼ (@KalelKitten) June 1, 2015