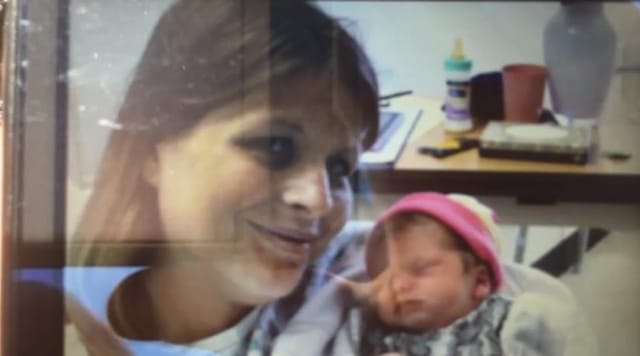 Amber Pangborn, a 35 year old, Oroville, Californian woman has given birth in the woods after finding herself stranded for three days after driving along back roads and running out of gas.
According to a report via kcra, upon going into labor, Pangborn decided to drive to her parent's home for help, but on the way found herself getting lost, running out of gas along with her cell going dead.
I know, I'm shaking my head in trepidation too…
Told the woman who had driven along French Creek Road: 'I was told about this back road and people had showed it to me a few times but I had never driven it by myself.'
Despite the unimagined setbacks, the woman would be able to give birth to a baby girl, Marissa on Thursday morning, 5am. 
Yet it would be the next three days that would test the mother's mettle.
Finding herself in the wilderness, the woman had now to endure and fight off a swarm of bees and mosquitoes.
Told the mother as she sought to protect her new born daughter: 'Then bees came out they were trying to get the placenta and I was not letting them sting her and I got stung trying to keep them away from the baby, but they wanted the placenta,'
'I was trying to get them not to sting her, but I got stung.'
Fortunately the mother would survive off a few apples and a modest amount of water she had brought along with her.
With no help arriving and no human contact, come Saturday the mother decided to start a signal fire, hoping to attract some attention — but that too didn't go as planned.
'I think mommy just started a forest fire,' Pangborn recalled telling her daughter shortly after starting the fire.
Nevertheless within hours, the fire was tracked by a U.S. Forest Service worker and mother and daughter were found safe.
Reiterated the mother: 'I was just crying and I was just so happy,'
'I thought we were going to die.'
Offered Pangborn's father Allan Williams via actionnewsnow: 'I was so relieved (when he heard Pangborn and the baby were safe),'
'I felt my prayers had been answered. I truly believe I witnessed a modern-day miracle. I know babies are born every day and to hear such a heroic story, being all by herself for three days, it was almost unbelievable.'
Since their discovery, both mother and daughter were admitted to Oroville Hospital, with Amber Pangborn's new born baby taken to UC Davis Medical Center in Sacramento on Sunday for further evaluation.
Because giving birth and living life is sometimes more than what we bargain for …