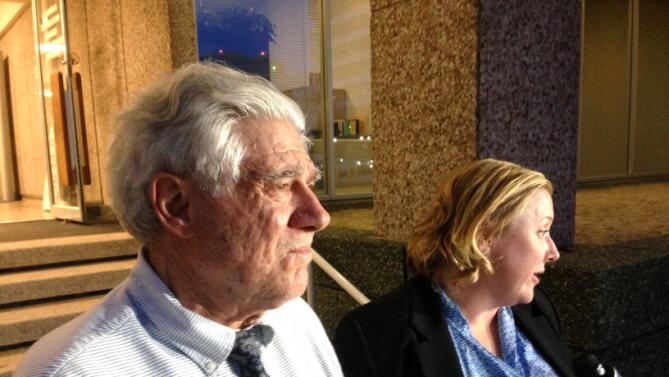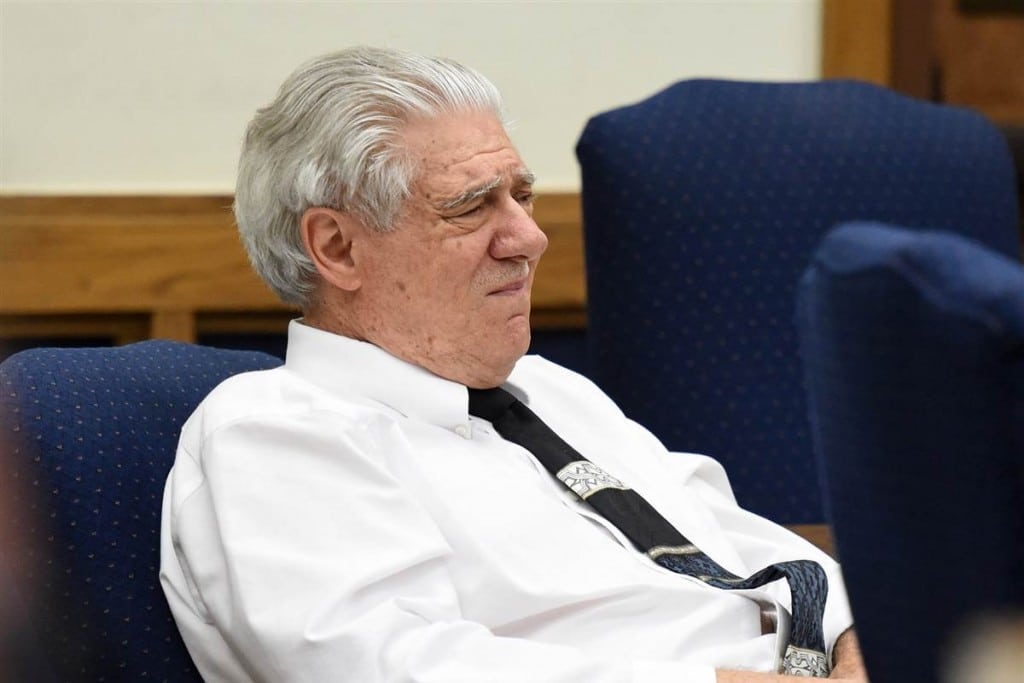 Questions have been raised since Friday's acquittal of a retired Sparks, Nevada school teacher Wayne Burgarello who had been accused of murdering an unarmed trespasser as he sought to invoke that state's Stand your ground laws.
Found not guilty after a February 2014 incident which saw the 74 year old man unleash a deadly barrage of gunfire at a vacant duplex after confronting two unarmed trespassers, the man claimed he had simply defended himself and his property when he came to mortally wound Cody Devine and seriously wound Janai Wilson.
Deliberating for six hours, a jury would find Burgarello not guilty on a charge of attempted murder as well as four alternative charges of first-degree murder, second-degree murder, voluntary manslaughter and involuntary manslaughter.
Leading into the trial, Assistant District Attorney Bruce Hahn had argued first-degree murder was warranted because Burgarello acted with premeditation.
Hahn said Burgarello wanted to exact revenge for repeated burglaries and vandalism at the rental unit he largely abandoned nine years ago in a working-class neighborhood just east of Reno.
He would argue that the defendant was under no imminent threat which would have warranted the application of stand your ground, a controversial law which allows individuals to use violence if they believe an imminent threat against their lives warrants immediate response from them.
In his summary, the prosecutor sought to impart that Wayne Burgarello was already imbued with a sense of trepidation and a desire for payback for the many years of transgressions against his property.
A state of mind which in Burgarello's mind may have translated to him being under constant immediate threat. A fallacy and the blind spot in a law that has to date allowed some to behave with impunity and not within the literal interpretation or spirit of the law.
Told the prosecutor during Friday's closing statements: 'There was going to be a deadly confrontation,'
'He was mad. Somebody was going to pay.'
Neither trespasser had a firearm, but Burgarello told police Devine's arm 'came up like a gun.'
Whether the trespassers were armed or not would ultimately not matter as Nevada's stand your ground laws allow property owners to use deadly force against attackers—armed or unarmed, so long as the shooter does not initiate the altercation—who pose an imminent threat.
In her closing statements, the defendant's attorney, Theresa Ristenpart argued that her client might have mistaken a black flashlight found at the scene for a gun and had only a split second to respond.
Told the attorney after the not guilty verdict: 'We'd just like to say thank you to the jury for finally seeing what this case was about, which is justified self-defense,'
'He did what he had to do to protect his own life.'
Whilst Burgarello did not take the stand, jurors saw a video of his interrogation by detectives.
'I was trying to protect my own life,' he said. 'Since they were there in a threatening manner, I reacted.'
Devine was shot five times, including once in the head. Wilson was shot in her leg, arm and stomach.
'It wasn't one or two (shots), then we'll talk. It was eight rounds,' the prosecutor argued Hahn
'It was open season.'
After the clerk read the jury's verdict, the AP reports, Burgarello laughed with his family outside the courtroom. 'It's going to be OK,' he said.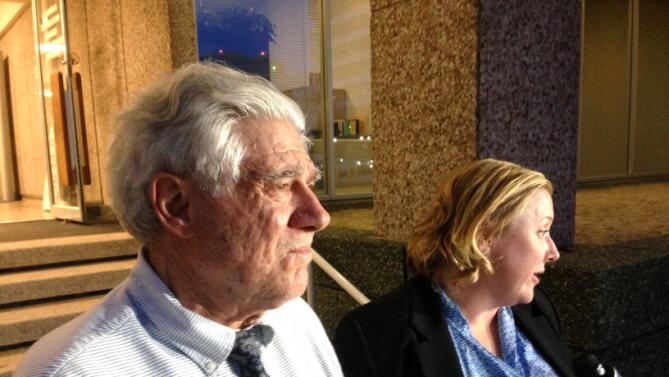 And then there were these comments on the web that made me wonder. See what you think?
Open Season on vagrants, homeless, waifs i.e. anyone who seeks shelter in an abandoned property – presumably crumbling – in the middle of a residential neighborhood!
Skin color.
If this guy would have been black……………
Apparently, the victims were sleeping when Burgarello found them.  He shot them as they woke up.
Because of SYG, Burgarello was able to claim that he felt threatened, and that is enough to justify shooting.
But I think that in cases like this, the shooter must be charged, and the shooter must be but on trial.
The people of Nevada, as represented by the jury, decided that this kind of shooting is OK.
Tough place, Nevada.
Whether the apartment was empty, or whether there was an intent to burglarize, is completely unrelated as to whether the intruders were armed, or whether they would take advantage of a 2 on 1 situation to do "great bodily harm/murder" to an elderly man with the thought that they might pick up some cash, or otherwise enhance their situation. It would be more reasonable to assume that someone breaking in to a dwelling was armed as opposed to being unarmed. 
Obviously, the trespassers initiated the altercation by sleeping on his floor and breathing his air.