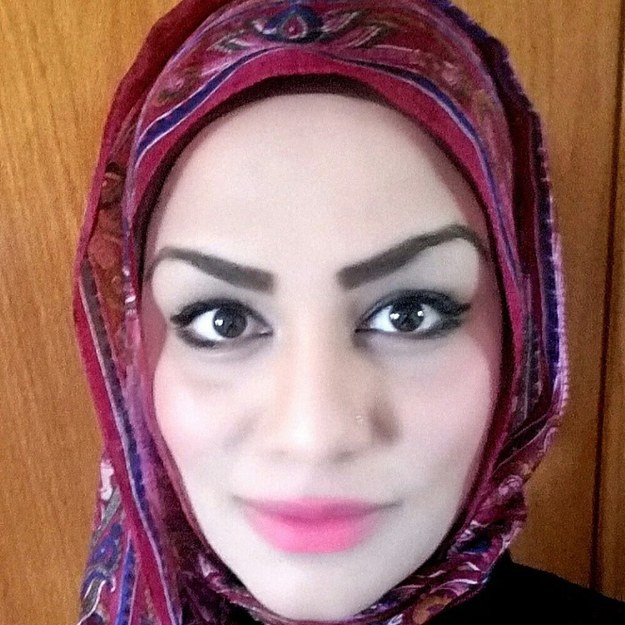 Tahera Ahmad a 31 year old Muslim passenger on a United Airlines flight has alleged that a flight attendant forbid her from holding to an unopened can of diet coke cause she might use it as a weapon.
The woman, a chaplain at Northwestern University was flying from Chicago to a conference in Washington, D.C., Friday night when she said her request was refused.
Ahmad, a moderate Muslim has since told she believes the incident was motivated by her religion.
She also said the incident left her humiliated and that the discrimination she suffered was plain to see because a passenger next to had been a canned drink just before her request was turned down.
Writing about the incident on Facebook, Ahmad described how she asked for the soda when a female flight attendant came round, and was first given a can which had already been opened.
She asked for an unopened can instead, citing hygienic reasons, when according to Ahmad she was told she could not have one because she might use it to attack other passengers.
Ahmad said the attendant told her: 'We are unauthorized to give unopened cans to people because they may use it as a weapon on the plane.'
When she pointed out that an unopened beer had just been given to someone else, Ahmad said the attendant opened the beer can, then clarified: 'It's so you don't use it as a weapon.'
Ahmad said she was 'appalled' and asked other passengers to stand up for her – only to be met with foul-mouthed abuse.
One man sitting a few seats away purportedly told her: 'You Muslim, you need to shut the f**k up…. yes you know you would use it as a WEAPON so shut the f**k up.'
Added the woman: 'I felt the hate in his voice and his raging eyes. I can't help but cry on this plane because I thought people would defend me and say something.'
Ahmad's account of the incident, which she posted to Facebook while still on board the plane, had been shared thousands of times by Saturday evening (her account has since gone to private), and prompted many on social media under the hashtag #unitedfortahera to threaten to boycott United.
Suhaib Webb, a prominent Muslim American imam, tweeted, "I'm asking all of you to let @united know that you are disgusted with this bigotry." He also tweeted a photo of a can of Diet Coke over #unitedfortahera.
— Suhaib Webb (@ImamSuhaibWebb) May 30, 2015
@ImamSuhaibWebb @rezaaslan @united and no statement about the passenger that insulted her? No banning of his ability to fly with United?
— El Ponchin (@FonzSolo) May 31, 2015
@ImamSuhaibWebb What kind of statement is that @united ? The attendant "misunderstood"? Really? After that language she used against Tahera?

— Varun Reddy Sevva (@varun_iiml) May 31, 2015
@united what an idiotic and naïve statement. You think it's abt the diet coke and not the fact the lady felt to be insulted @ImamSuhaibWebb
— The Afghan Spectator (@TheAFGSpectator) May 31, 2015
A United spokesman said that the airline was 'discussing' the alleged abuse with Shuttle America, which ran the service.
Told the spokesperson, Charles Hobart via a statement with buzzfeed:
'United is a company that strongly supports diversity and inclusion, and we and our partners do not discriminate against our employees or customers. We are reaching out directly to Ms. Ahmad to get a better understanding of what occurred during the flight. We are also discussing the matter that Ms. Ahmad describes with Shuttle America, our regional partner that operated the flight.'
'We look forward to speaking with Ms. Ahmad and hope to have the opportunity to welcome her back.'
That said, Ahmad concedes that the flight attendant had a change of heart at the end of the flight and 'acknowledged that her behavior was utterly rude'.
She said the pilot also apologized and helped her lodge a complaint, but said she has yet to hear back from the airline.
Ahmad, who says she has suffered worse abuse before, has previously been honored at the White House for her work in the Muslim community and has visited Afghanistan on behalf of the State Department.
According to a news release by Northwestern, Ahmad has been invited to a Ramadan meal by Barack Obama and was also invited to the White House during Women's History Month last March to recognize her achievement.
Ahmad, who has Premier frequent-flier status with United, said Saturday that she had not heard from the airline.
'I'm not doing this to go after United Airlines. This is about bigotry and racism and our country is going through a very difficult time right now. Dr. Martin Luther King Jr. and so many others worked so hard …'
'They strove so hard so that Americans would not mistreat each other on the basis of the color of their skin or religious or ethnic background but I guess we're still on that journey.'
In a national survey by the Pew Research Center in 2013, 42% of respondents said Islam was more likely than other religions to encourage violence among its believers. In addition, Muslim Americans are seen as facing more discrimination than other groups, including gays and lesbians, Hispanics, African Americans and women.
According to the survey, 45% of the respondents said Muslim Americans face "a lot" of discrimination, and 28% said Muslims are subject to some discrimination.
@united as of now, United has not officially reached out to me @omarsuleiman504 @ImamSuhaibWebb @hsmoghul pic.twitter.com/LmbEg8T3C7

— Tahera Ahmad (@TaheraHAhmad) May 30, 2015