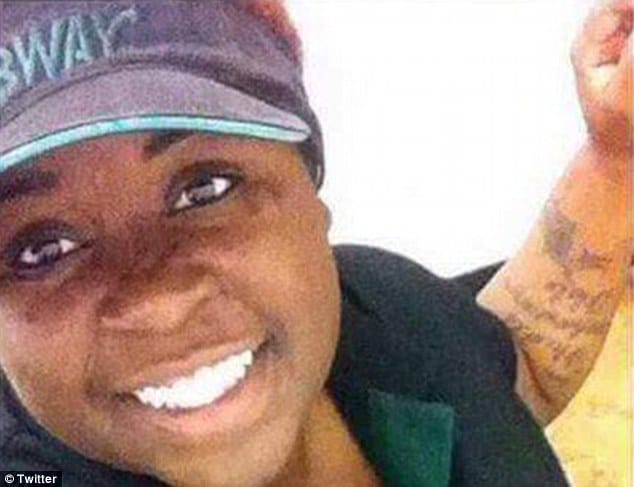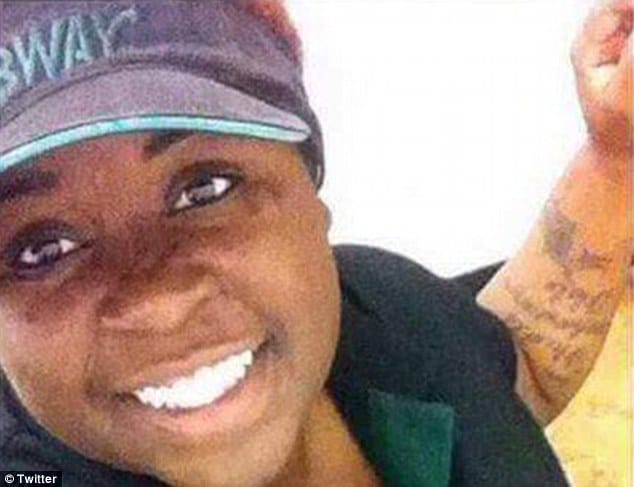 Sierra 'C-Babi' Mccurdy a Laurel, Mississippi Subway worker has been fired after causing disconcert after taking to twitter and applauding the death of two police officers killed in the line of duty at nearby Hattiesburg.
It all came to happen Saturday night when police officers Benjamin Deen, 34, and Liquori Tate, 25 were gunned down by a group of assailants during a routine traffic stop less than 30 miles away leading to the Mississippi Subway employee in turn posting the following tweet:
Using the twitter handle (@mullis_emory): 'Two police officers shot tonight in Hattiesburg,'
Her post was followed by 'GOT EM' and a gun pointed at the words along with a laughing emoji. 
Mccurdy would go one further when she also went on Facebook to post the following as well:
'We can turn this bxtch into Baltimore real quick,'
'Police take away innocent people lives everyday now & get away w/ it, fxck them…[no mercy].'
The woman's posts would immediately lead to Facebook users demanding the social media outlet reproach the woman. Which in turn led to Sierra Mccurdy deleting her posts and attempting to change her name and privacy level of her Facebook account.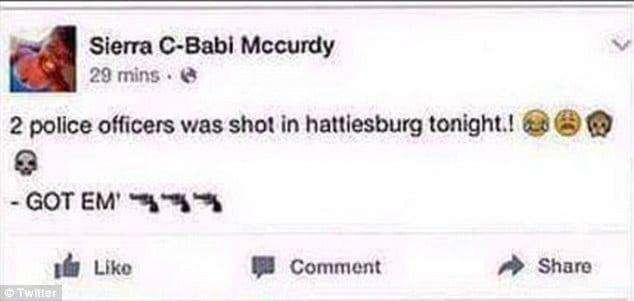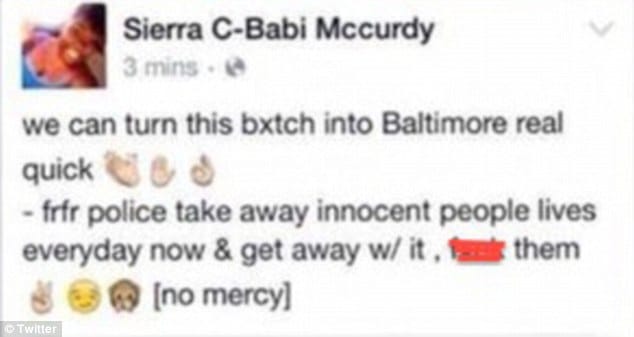 Come Sunday night Mccurdy would be given her marching orders by her employer after catching wind of their employees social media posts after social media users began to directly message the outlet.
Told a Subway spokesperson: 'This kind of behavior is unacceptable and does not represent the values and ethics of our brand. The unfortunate choice of one individual should not reflect on the more than 400,000 honest, hardworking Sandwich Artists worldwide. The franchisee has terminated the employee, effective immediately.'
Most messages received by the chain were along the lines of @gatorguy's:
'Wow. This piece of trash was celebrating the death of 2 policeman in #Hattiesburg. Your employ, @subway. #Classy'
However, some, like @TheNathanCook, went one further, urging a nationwide boycott of the sandwich shop chain, tweeting:
'I will no longer eat at @SUBWAY due to the comments of an employee at a Laurel, MS location. #Subway should be ashamed. #Hattiesburg.'
Twitter user @SteveRobertsESQ had a similar response, writing: 'I'll just exercise my options and start finding my healthy meals elsewhere.'
Under the brunt of thousands of less than welcoming messages, Mccrudy has made both her Facebook and Instagram accounts private. 
The police shootings are the first such slayings to hit Hattiesburg in three decades and has since led to the arrest of four individuals, two of whom have been charged with capital murder.
Booked on capital murder charges are Marvin Banks, 29, and 22-year-old Joanie Calloway, while Banks's 26-year-old brother Curtis has been charged with two counts of accessory after the fact of capital murder.
Cornelius Clark, 28, who was allegedly in the car during the fatal traffic stop, was arrested Sunday afternoon and charged with obstruction of justice.
Last night 2 Hattiesburg police officers were murdered. This is how an @Subway employee Reacts. @FredSubwayCEO pic.twitter.com/si4OY0051y

— Mike Rawson (@RoadWins) May 10, 2015