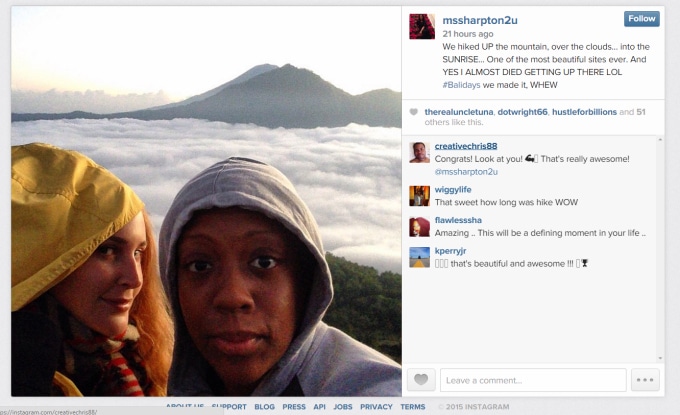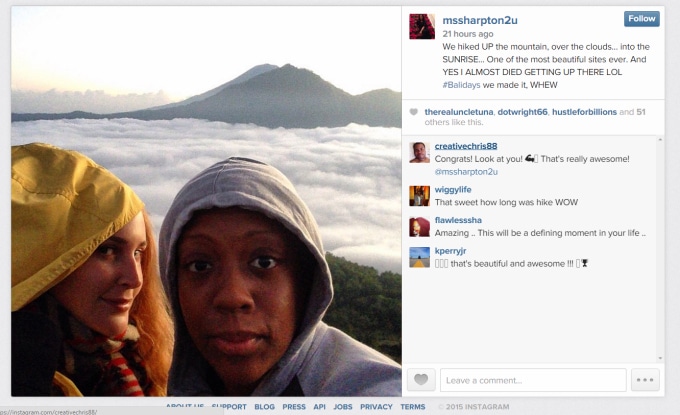 Questions have been raised to the legitimacy of Rev. Al Sharpton daughter, Dominique Sharpton's uber $5 million lawsuit against NYC after the executor to her father's activist charter, National Action Network purportedly sprained her ankle on an 'uneven' street pavement.
Case in point, pictures of the invalid Dominique hiking along a cliff a mountain in Bali, Indonesia courtesy of the cripple woman's instagram feed (linked to her tweeter feed).
Notes the spritely 28 year old in her May 16 post: 'We hiked UP the mountain, over the clouds… into the SUNRISE,'
Who knew one could scale uber mountains on a sprained ankle let alone a gusto of sheer will and determination to get what the world owes you…
Adds the post: 'One of the most beautiful sites ever. And YES I ALMOST DIED GETTING UP THERE LOL. #Balidays we made it, WHEW.'
We hiked UP the mountain, over the clouds… into the SUNRISE… One of the most beautiful sites… https://t.co/6vGh07dvDp

— Dominique Sharpton (@MSSharpton2u) May 16, 2015
Granted Dominique Sharpton has claimed her sprain occurred last October but observers suggest something might be amiss when her suit noted her sprained ankle had left in her 'permanent physical pain.'
Permanent physical pain that Dominique presumably was able to eclipse whilst hiking along the top of the world.
According to the nypost the daughter had been observed using a walking boot in the weeks after the alleged accident, yet come December, she was showing up in social-media images wearing high heels.
Which that in and of itself might put a stretch on the legitimacy of her $5m suit against the city, never mind happy smily snaps hiking to the top of the world in some exotic location.
But that's not the way Dominique's lawyer, John Elefterakis sees it.
Rebuked the lawyer: 'Ms. Sharpton did sustain multiple ligament and tendon tears in her ankle' adding despite her mountain exploits, she 'has not returned to her pre-accident form.'
What do you think kids? Should the city just look the other way and hand a cool $5 million over to the Reverend's daughter who happens to be nursing his own $5 million back taxes calamity. Did someone say $5 million dollars? That's right, the Reverend may have just sprained his ankle too ….