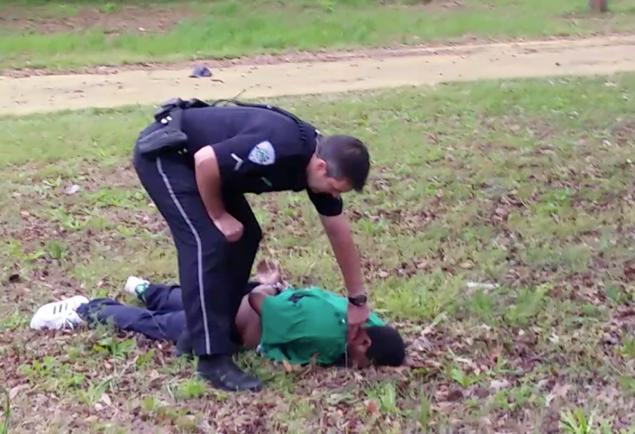 More scary news from South Carolina's North Charleston Police force after disclosures that rogue cop Michael Slager purportedly told fellow cops that he got an adrenaline rush after callously gunning down fleeing Walter Scott in the back. Yes who knew some cops get off on killing you?
The news comes via a report via the UK's guardian who were able to attain a recorded conversation after the shooting during which time a senior police officer briefs Slager on protocols for a police shooting, which Slager acknowledges with a laugh.
Michael T. Slager support fund: Will you give?
Dashcam video showed Walter Scott fleeing with no struggle
Feidin Santana: I feared retribution over Walter Scott video
Raw Video: Officer Michael Slager shoots dead unarmed black man in the back.
Tells the recording: "Probably once they get you there, we'll take you home. Take your crap off, take your vest off, kind of relax for two or three."
"It'll be real quick," he said. "They're gonna tell you you're gonna be out for a couple of days and you'll come back and they'll interview you then. They're not going to ask you any kind of questions right now. They'll take your weapon and we'll go from there. That's pretty much it."
Interestingly the senior cop reassures the rogue cop that he would not have to explain the shooting immediately. "The last one we had, they waited a couple of days to interview officially, like, sit down and tell what happened,"
"By the time you get home, it would probably be a good idea to kind of jot down your thoughts on what happened," the senior officer said. "You know, once the adrenaline quits pumping."
"It's pumping," Slager said, laughing. The senior officer replied: "Oh yeah. Oh yeah."
Since the release of the recording commentators on the web have questioned how cops are trained, recruited, held to accountable behavior with some even wondering if the only thing separating those committing crime and those charged with holding such individuals accountable is a badge and the belief that a badge is a free for all that to do as one pleases. Smiles and adrenaline rushes aside…