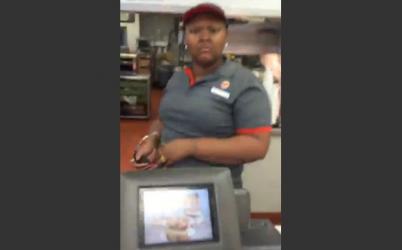 Going viral is a video (see below) showing a Burger King employee giving a female customer grief after the woman sought a refund for a poorly made shake.
The video starts of with the woman repeatedly asking to speak to the manager as a nonchalant server continues to ignore her pleas.
Eventually the by now agitated Burger King server tells the woman that she is the one in charge.
Asks the incredulous customer: 'Can I get a refund right now?'
In the background one can hear the Burger King employee beginning to curse the customer.
Retorts the customer (yes the shit show is gaining steam): 'You cannot treat people like this. This is your job,'
'You handed me soft serve ice cream and then gave me some garbage, and I'm not going to eat it.'
Rather than concede that she doesn't know how to make a proper shake, or shakes just don't cut at it Burger King these days or perhaps working at Burger King simply doesn't cut it either the server instead turns her frustrations onto the woman, screaming at her to get out as the customer tells she is going to now have the joint shut down.
Screams the employee: 'Really? I don't give a f**k, go ahead.'
Rather than budging, the customer who knows a poorly made shake when she sees one continues to stand her ground when it suddenly dawns upon the employee she has been filmed the whole time (oh yummy) as she now turns to confront the customer on the other side of the counter.
Seeing what is about to happen, a fellow co worker tries to intervene as the irate Burger King employee takes to now shoving the pissed off shake drinker.
Tells the irate employee who wasn't bargaining on becoming a tabloid sensation:
'You took my picture for real?'
'Do you want to get slapped?'
At this point the video cuts out and it has yet to necessarily be understood whether the customer ever got her refund or whether the employee would last another day at the outlet.
A subsequent blog post would tell that the incident took place at Burger King at the Lake Charles, Louisiana store and was posted on the facebook wall of SWLA native Sarah Self.
Burger King: We know how to make happy employees cater to your every need…