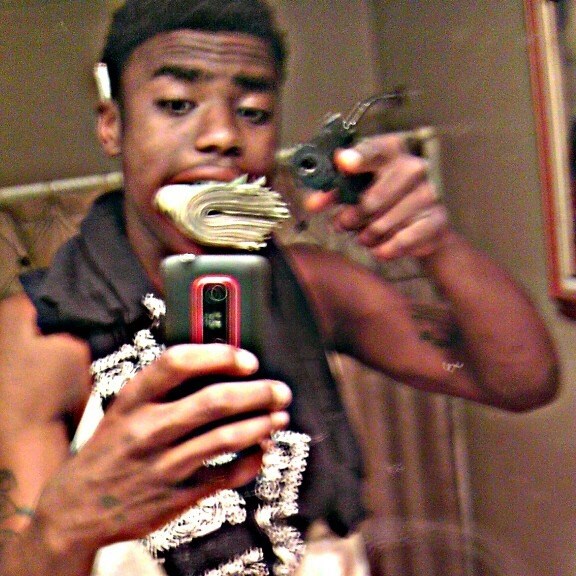 'What a waste,' has been the over riding sentiment expressed with the news that Decatur, Georgia teenager, Anthony Stokes, 17 who was almost previously denied a heart transplant less than two years ago because of ongoing bad behavior has died after a high speed car chase with police.
Responding to a call of bungled burglary which saw Stokes shoot an elderly woman, cops gave chase to the teen who two years ago had promised to change his way if he was given the operation.
At the time medical authorities balked at giving the then 15 year old the necessary heart transplant but relented after national outrage ensued with many accusing Children's Healthcare of Atlanta of racism. 
Others would call the youth's socio economic background, his low school grades and previous contact with the law as the real reason as to why he had been ruled out.
Told the teen's mother, Melencia Hamilton at the time: 'He's going to make mistakes, but I still think he deserves a second chance.'
Suffering from a dilated cardiomyopathy which precluded his heart from being able to pump enough blood he was given six to nine months by doctors, with many supporters calling hospital administrator's decision to overlook the youth a 'death sentence.'
In the end the teen who had a history of noncompliance with doctors, refusing to take his medication in the past got his new heart in August of that year — only seven days after being placed on the transplant list.
Yet that all may have indeed gone to waste after the teen reportedly carjacked a Honda, kicked in a door to a Roswell home and shot an elderly woman while trying to rob her, and then took police on a high-speed chase before losing control of the vehicle, hitting a pedestrian, Clementina Hernandez and slamming into a pole.
Both the woman he shot and the pedestrian he hit are in stable condition, but Stoked died at the hospital after being cut from the wreckage.
In 2013, the Orlando Sentinel reported that the average cost of a heart transplant is between $550,000 and $650,000. That year, 63 Georgia patients received a heart transplant, according to the United Network for Organ Sharing. Just six of those were between the ages of 11 and 17.
Anthony Stokes' death comes after he was arrested and charged with possession of tools for the commission of a crime and criminal attempt on January 10th, according to DeKalb County jail, whereby he was released from jail on February 3 after posting $5,000 bond.
And then there were these comments on the web that caught my attention:
He got a second chance at life…and that's what he did with it? Sad. Sadder though, someone was denied life for him to live it so selfishly.
it sucks but he could've turned his life around and been a good citizen and then hit by a car anyway. at least he was given a chance to make himself better; society did right by him i think.
Hope the parents are proud of him!!!! Someone worthwhile could have enjoyed the heart. Any apologies from the civil rights brigade, no, the silence is deafening!
Hopefully he was only given the heart because another matching recipient couldn't be sourced in enough time. It would be really tragic if he was placed ahead of someone more deserving.
Here is a case where being politically correct probably killed someone, the deserving one who did not get the new heart.
Images via facebook