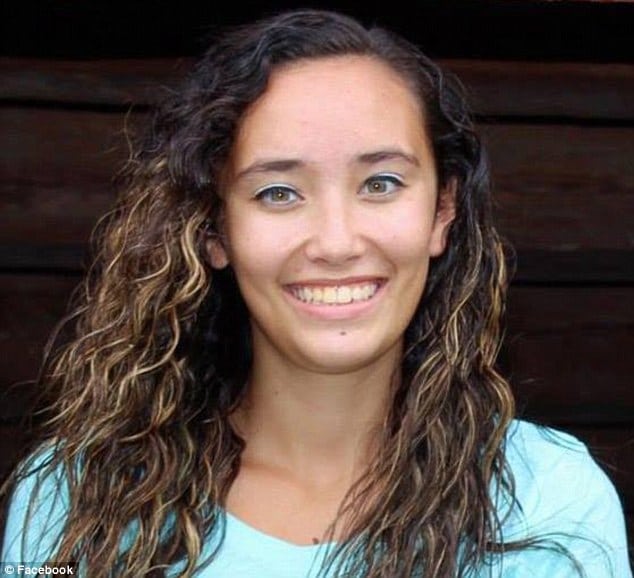 Human remains thought to belong to missing Longwood University freshman student, Angelica AJ Hadsell have been found.
Missing since March 2, the 18 year old Norfolk, Virginia woman was on spring break at the time when when she went missing.
Cops tell human remains found today were located 40 miles from the woman's Norfolk home behind a house along 34000 block of Smith's Ferry Road in Southampton County.
In a bid to identify the body, investigators sent the human remains to pathology where they hope to determine conclusively the identity of the body as well as the cause of death.
The discovery of human remains comes after investigators received a tip that her cellphone may exist below the surface of a pond near Carrsville.
Adding intrigue is revelations that two days after Hadsell vanished, cops received a tip that she had been seen on the Virginia Commonwealth University campus, two hours away from where she was last seen by her family. 
Whilst investigators have told in the past there is no evidence of foul play, her family and friends insist the freshman wouldn't have disappear on purpose.
Earlier this week, her grandmother, Katherine Hadsell, criticized authorities for 'doing nothing' to bring the teenager home. 
Thickening the plot, Hadsell's stepfather, Wesley Hadsell was caught allegedly breaking into a home two weeks after AJ's disappearance, an act his mother Katherine says was out of fatherly concern.
In an interview with ABC News the woman told that her son Wesley had heard his stepdaughter could be inside the home.
'As any father would, if you hear that your daughter may or may not be in a house or being held or some of her belongings or at a location, any father is going to try and find out,' she said.
He was arrested on March 21 after being interrogated by police for more than 15 hours. 
Hadsell, 36, had not been named a suspect and has insisted he does not know where AJ is. He faces charges of obstructing justice, possessing ammunition and breaking and entering.
Rather the man, who had been working in nearby Franklin, around the time of the disappearance, said he was only thinking about his daughter.
'I couldn't sit a minute away from where my daughter may have been,' he told WAVY.com.
While searching the property for around 15 minutes, he claims that he discovered her jacket.
Told the stepfather: 'I was just trying to make the evidence come to light,'
'It's not like I had the jacket, I didn't plant the jacket, I didn't know anything about that. It was the fact of the overwhelming information that led me there.'
The stepfather has aroused local suspicions because he has a lengthy felony criminal record.
In 2005, his ex-wife went missing for several days and he was reportedly arrested after allegedly kidnapping her and driving her across multiple states.
Charges of rape, kidnapping, assault and domestic violence were later dropped. 
He also served 54 months in prison for a bank robbery in Fredericksburg, Virginia, according to WTKR – but he insists that he is now a changed man.  
Hadsell has been appointed a public defense attorney and has a preliminary hearing scheduled for April 29.
And in another twist, Jennifer Busby, AJ's mother, said she received texts from her daughter's phone shortly after he disappearance but was not convinced she was actually messaging the girl.
AJ is described as standing at 5 feet 6 inches tall and weighing 120 pounds.