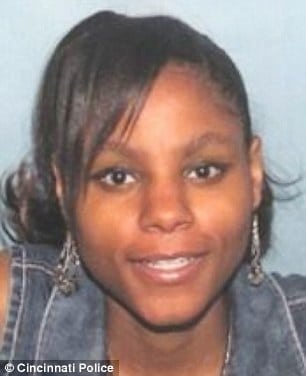 A 20 year old mother, Deasia Watkins of College Hill, Ohio has been arrested after brutally decapitating her three month old daughter.
Charged with aggravated murder, the woman was found inside a home with the murdered child Monday morning. The child, Janiyah had only been born this past December.
Authorities would tell that the woman's child was killed by 'homicidal violence,' adding that the child's head had been severed.
The alarm would only be raised after a group of children reached out. How the children came to witness the carnage is not necessarily understood. 
Told neighbor, Jimmie Graham: 'It was a lot of commotion going on out here this morning,'
'They had the crime tape up, and I figured when the crime tape was up, somebody got hurt or killed or something.'
'She must have been out of her mind. I heard she cut the baby's head off.'
Reiterated Dr. Lakshmi Sammarco, Hamilton County Coroner: 'We're going to go over the evidence that we have. We're going to go over the evidence that we have, and try and make sense of this murder which, seems to us, is very senseless.'
Adding: 'We're all parents. You know I'm a mother, most of the people in our office are parents. This affects all of us.'
What though remains of question is why the mother resorted to such drastic action? Or to be precise, what led to the mother 'being out of her mind?' Or was the severing of the child's head a premeditated course of action? And if so why?
What is known is prior to the child's murder the child had been removed from the mother's care and placed with a family member.
Why the child had initially been taken away and then reunited with the mother was not necessarily understood with Hamilton County Job and Family Services declining to comment on the incident.
Also not known is if the mother had prior instances of mental instability, at present it is not necessarily understood if the mother had found herself in trouble with the law?
Since the gruesome discovery, Deasia Watkins has been taken to University of Cincinnati Medical Center, where she is undergoing a mental evaluation.
The crime comes just days after a Chicago grandmother was arrested for killing her 7-month-old granddaughter and then cutting the child's throat with a power saw