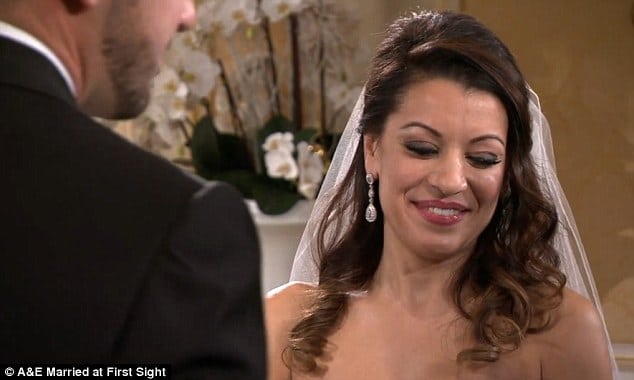 It seems audience viewers were in for a disappointment after last night's showing of season 2 of Married at First Sight a show which brings couples together who have never previously laid eyes on each other to agree to a lifetime commitment with each other.
A commitment that one show participant, Jaclyn Methuen, 30 had serious doubts about upon laying eyes for the first time on her groom to be Ryan Ranellone, 29 at the altar.
Methuen, a sales rep for Tito's Handmade Vodka from Union, NJ and single for the past seven years, who admits to only having had sex twice in two years told although she was willing to finally settle down, found the prospect of settling with her 'surprise groom' more than what she had bargained for.
Told the woman who contemplated the following as she stood at the altar in a wedding gown upon laying eyes on her future husband for the first time:
'I first see Ryan, my gut just says: "Oh man, like this is him?"'
'The initial physical attraction really isn't there right now.' 
Continuing: 'When I saw him face-to-face, I felt a little disappointed. It just doesn't feel like this is the man who is my husband. I don't know if I can do this.'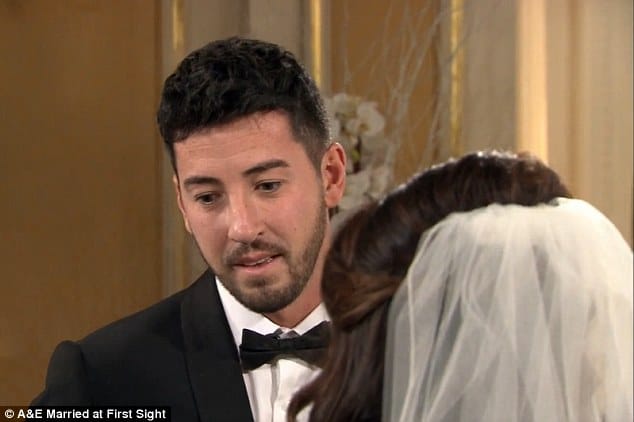 That though is not what her groom, Ryan a Long Island, NY real estate agent came to feel as he too first laid eyes on his bride to be.
Told the real estate agent who has been single for 8 months prior to appearing on the show and confessing to a string of long distance relationships that went no where:
'Jaclyn walks in the room [and] I am a happy camper,'
'I see what I like – dark hair, dark eyes, kind of a Mediterranean look. So right off the bat, I'm attracted to her.'
Whilst confessing she had hoped her new husband would be 'personable, secure and confident,' Jaclyn has her doubts, and viewers will now have to wait until next week to see if the bride recants and agrees to marry Ryan or wait for someone else.
And then there were these comments on the web that made me wonder:
I'm embarrassed just thinking that there is such a non sense show
She's not worth his time if the only thing she's looking at is his face. Physical attraction is fickle and really, she's no Ms. Universe.
SHE is not attracted to HIM? Has she looked in a mirror lately? She isn't exactly the prize pig at the fair herself!!
Does love at first sight really even exist?