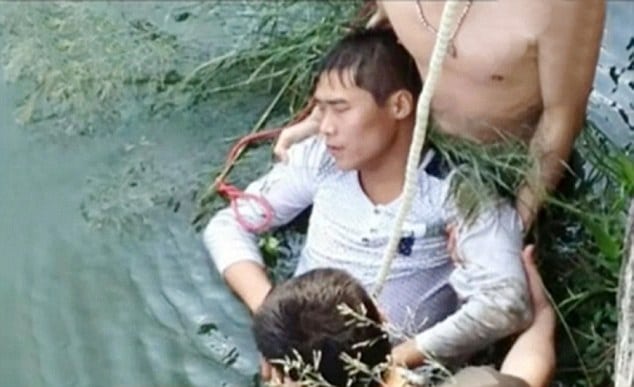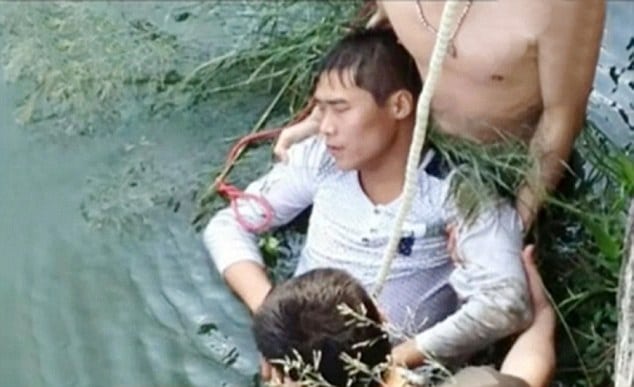 A Chinese groom upset at being forced into marrying an 'ugly bride' has attempted suicide.
Authorities would be called to a lake in the city of Shiyan in the central Hubei province after the groom was observed attempting to kill himself by drowning.
According to the People's Daily Online, the would-be groom was discovered floating face down in the lake before eventually being pulled from the water.
Describing the moment he discovered the groom, police officer Hou Kunshan said: 'I saw a man floating in the water face down. We couldn't see his condition but when I got closer I could see that it was rather serious.'
The police officer immediately dived straight into the water to save the drowning man – not even taking them time to remove his jacket before doing so.
'I first dragged him towards the wall but as I knew I didn't have the strength to get him out of the water alone I put him near the wall and waited for the fire brigade to arrive,' he said.
When the firefighters arrived at the scene they used safety ropes to winch the man to safety.
Taken to the local hospital for observation, the groom is now expected to make a full recovery.
Asked why he had attempted to kill himself the man revealed he was unhappy about being pressured into an arranged marriage.
Reiterated Officer Hou: 'This man was very unhappy with an arranged marriage his family had organized. They had found him a girlfriend but he wasn't very happy with her looks and under the pressure of his family he decided to take his own life.'
Qan Tsui, 25, who took photos of the rescue said: 'He was fully clothed and floating face down in the water…He was unconscious and I thought he was dead.
'When the police arrived one jumped in and dragged him ashore with the help of foremen who put a rope around his chest to pull him out before pumping his chest. They saved his life.' 
At present it is not necessarily understood if the man will still be forced to marry the bride…