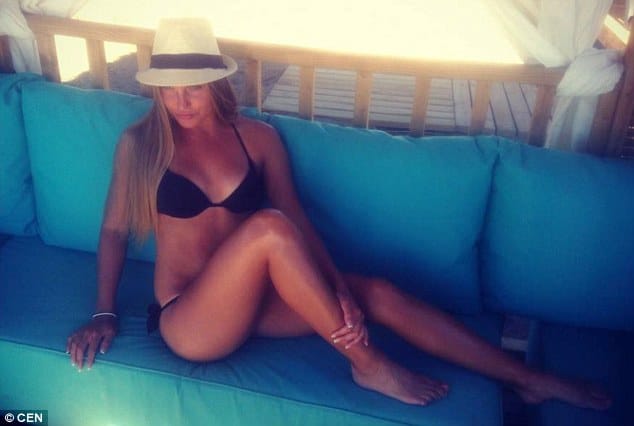 Making media rounds is the tragic and abrupt death of 23 year old Russian tennis player Violetta Degtiareva who until her death had been equated to that of fellow Russian tennis player, Anna Kournikova.
The commotion surrounding Degtiareva's sudden death comes two folds: that it was so abrupt and unexpected (how many 23 year old acclaimed athletes suddenly drop dead of a heart failure?) and that Violetta Degtiareva happened to also be a beauty. Which is to say the more aesthetically pleasing and gilded one is the more tragic their undermining becomes.
The death of the beauty would come whilst she was training on court, ahead of upcoming tournament meets. Announcement of Degtiareva's death would only come after Anastasia Vdovenco, fellow tennis player announced the news on his Facebook account before then being picked up by Russian media.
Wrote Vdovenco, 20: 'Your heart can rest in peace.'
Degtiareva was born in the city of Rostov in southwestern Russia close to the border with Ukraine. Even though she was ranked 1,084 in the world at the time of her death — with her highest ranking at 947 — Degtiareva never actually managed to win a major title.
That though hasn't stopped major media entities covering the tennis player's death.
Notes the nypost: The Russian beauty's most notable career moment came when she reached the quarter-finals of the ITF-Turnier pro-circuit tournament in Turkey.
Once again presumably because our society places such a premium on looks, Degtiareva's abrupt death is meriting attention. Not necessarily because she just also happened to be a top 20 contender or had won the occasional tournament or two. Winning the looks department is often all you need. Especially if you are a female as the media implicitly implies that this is the real value of a woman.
Then again does anyone really think the mid ranked tennis player's death would have been a story had Degtiareva been a non looker? Then again what does this say of our collective aspirations and demands of our sporting and entertainer heroes? Looks triumph please!
Notes the nypost once again: As her career began to blossom, the tennis player garnered overwhelming comparisons to Kournikova — another blond bombshell from Russia who achieved celebrity status despite not winning the big one.
Status conferred because of one's aesthetic likeness and visual appeal. Hardly a secret, but a little disconcerting to all those other talented tennis players who nary get a mention because they also don't happen to look like a blonde bombshell.