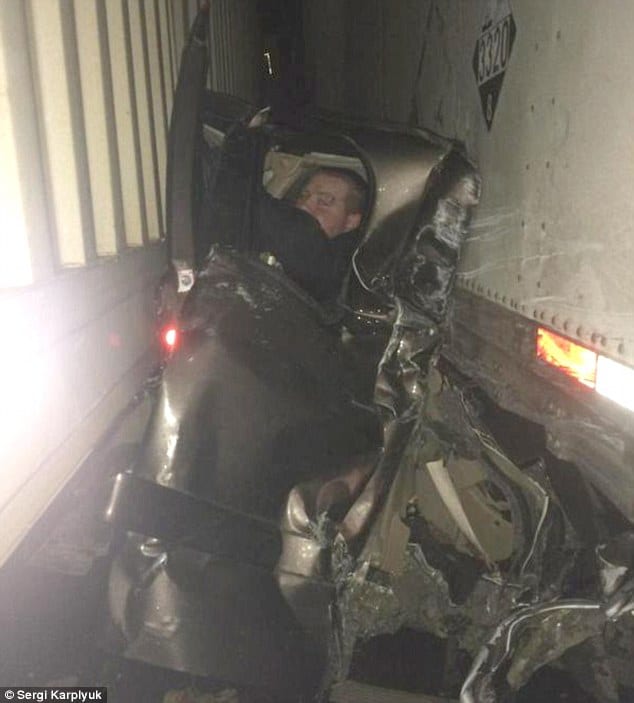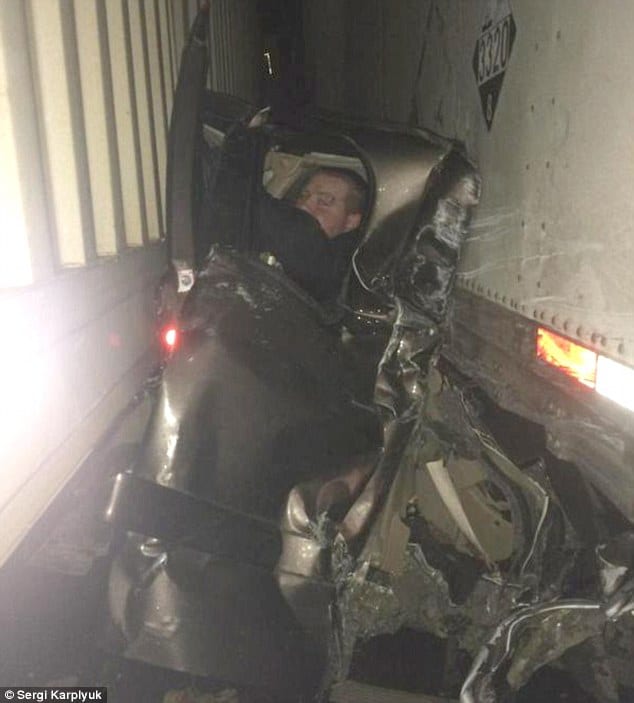 Images of Oregon motorist, Kaleb Whitby, 27 stuck inside the wreckage of his Chevy Silverado after getting caught in the middle of two big rigs slamming into each other along the I-84 during an icy freeway crash have gone viral. Viral because no one can quite yet understand how the trapped man would come to survive the crash which he would eventually walk away physically unscathed.
In the ominous picture, Kaleb Whitby stares out calmly, presumably wondering if he will ever make it out of there, presumably wondering why he is not dead.
Despite the man's precarious position wedged between the two semi trailers, with a  steering column tight against his leg, Whitby would eventually emerge from the wreck unscathed as Whitby managed to pull himself out after coming to be involved in Saturday morning's 50-driver pileup, which left 18-wheelers sprawled across the icy freeway outside Baker City, Oregon.
Speaking to the to The Oregonian, Kaleb Whitby told how he had swerved to avoid a jackknifed truck – only to get crushed by another out of control big rig.
At the time he had been driving up an incline behind the vehicle but after some time had backed away because an ensuing fog was becoming thicker.
The next time he saw the big rig ahead of him, the semi trailer was splayed across the lanes of the freeway, leaving him nowhere to go.
Trying to swerve round it, Whitby would hit the back end, where he was left exposed side-on to approaching traffic.
It wasn't soon long before Kaleb Whitby noticed a second big rig barreling towards him (yes you better be shitting in your pants too !) with no way to avoid him.
Told the man: 'I just braced and hoped that everything would be all right.'
The next thing he knew, the crash was over and he was surrounded by broken glass and mangled metal – but was otherwise unharmed.
Whitby, a farmer from Pasco, Washington, managed to cut himself free of his seatbelt, and move the steering column from his leg.
He then shouted for help – and was rescued by Sergi Karplyuk (whose pictures have since made the rounds) who drove the second truck in the crash. Whitby, now safe, posed for the incredible picture before getting out.
After looking himself over, Whitby realized he was hardly injured at all. He told The Oregonian: 'I've got two Band-Aids on my right ring finger. And a little bit of ice on my left eye.'
Oregon State Police Sgt. Kyle Hove would opine that Whitby probably managed to escape alive only cause he had been caught at the tail end of the huge 50 car plus pileup which injured 12, but none fatally.
Twelve people were taken to hospital as a result of the pileup, one of whom was in critical condition Sunday. The freeway has since been re-opened.