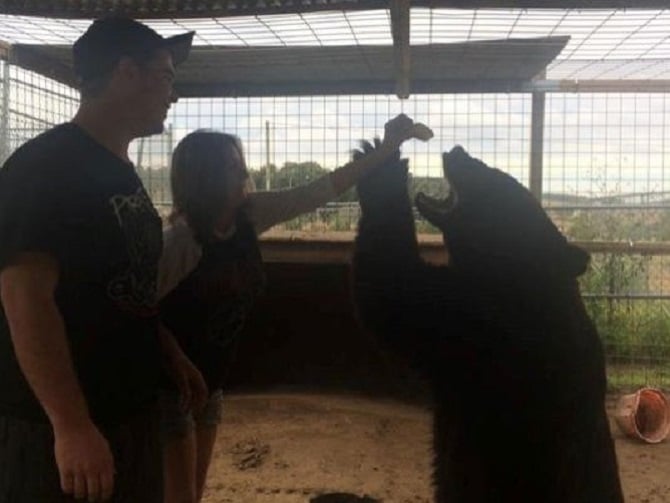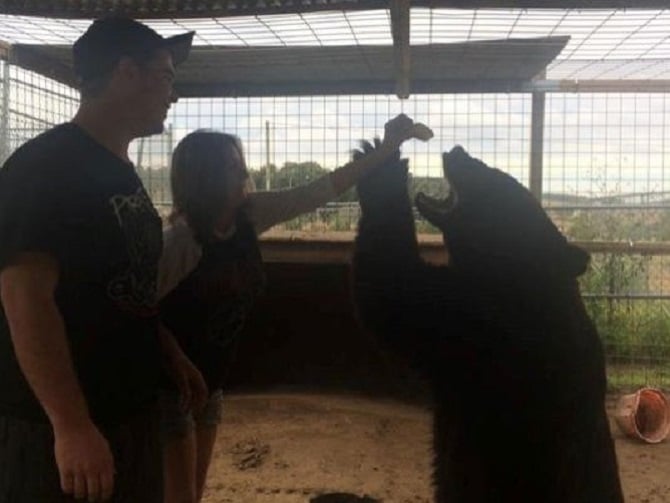 Virginia Riggs has been mauled by a caged  400 pound Florida black bear bear at a wildlife center after inexplicably sticking her arms through the bars in the hopes of petting it.
At the time the 50 year old woman was touring Wildlife Haven Rehab in Dade City, Florida, in the hope of adopting two birds.
But when she spotted the 400-pound black bear, named Abner, resting in a cage, she thrust her arm through.
Her limb was badly mauled by the bear, which attacked almost immediately, according to local news station WTSP.
Sheriff's deputies in the area would not elaborate on the wound, but said her arm had been 'severely damaged'.
John Arche, co-owner of the sanctuary along with Beth Ritch at the time of the mauling rushed to Riggs' aide.
Arche would describe the bear's assault on the Virginia Riggs a 'terrible sight.'
Pursuant to the mauling, the woman was flown to nearby Tampa General Hospital for treatment.
The attack took place around 3:45pm Friday. Abner is one of three bears who lives at the site, which also houses a panther and an alligator.
According to the sanctuary's owner, Abner was donated to Wildlife Haven a year and a half ago.
Officials from the Florida Fish and Wildlife Conservation Commission reports inquisitr that the cage of Abner the bear had been properly inspected before giving the rehab permission to protect the bear within its premises.
According to their website, Wildlife Haven Rehab was founded as an organization 'devoted to the rescue, rehabilitation, and release of Florida wildlife.'
Their mission states that they aim '[T]o offer emergency rescue services along with compassionate and comprehensive rehabilitative care to abused, orphaned, sick, or injured wildlife and to provide adequate preparation for an easy transition back to the wild. Permanently impaired wildlife is provided a loving home and safe environment so that they may live out their lives in peace and comfort.'
Baryl Martin spokesperson Wildlife Conservation Commission has since speculated the mauling may have been influenced by a 'momentary lapse in judgement,' before adding, 'People need to respect the animal, any wild animal.'