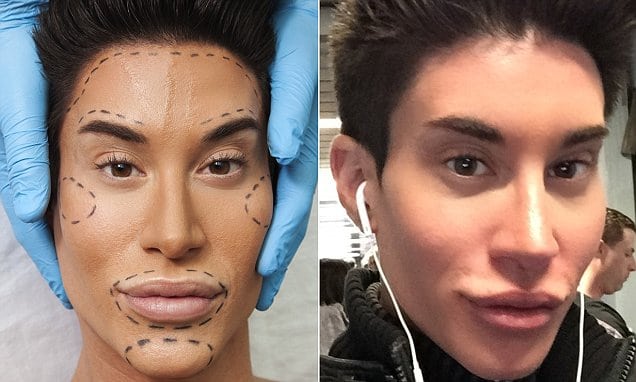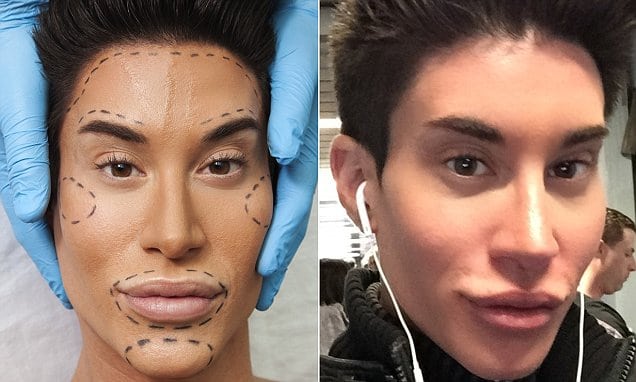 It seems Human Ken doll Justin Jedica will stop at nothing in a bid to transform himself as the ultimate incarnation of 'perfect self' as he opens up about a new series of daring plastic surgery where he even risked blindness.
With already a self confessed 190 cosmetic procedures under his belt, the 34 year old Botched star recently underwent a dangerous new procedure which exposed him to potentially losing his eyesight after using implants he handcrafted himself.
Good news! 'Human Ken Doll' Justin Jedlica spends $100 000 on plastic surgery so he can finally love himself.
Meet the human Ken Doll, has had 90 plastic surgeries to look perfect. But is he?
Real life Ken doll, Justin Jedlica announces he has more plastic surgery in store.
What terror! Real life Ken and Barbie, aka Justin Jedlica and Valeria Lukyanova meet.
Told human Ken Doll via the UK's dailymail who to date has had more than 20 plastic surgeries, spending well over $220,000 and of the opinion he is still a long way to go until he is perfect:
'I've had nearly ever part of my body worked on,'  
'I have a reputation of being one of the most extreme plastic surgery addicts in the world and I love continuing to push the limits.
'As an artist I've always enjoyed drawing and sculpting and for me plastic surgery is an extension of my creativity.'
Among Jedlica's extensive list of surgeries are five rhinoplasties, a cranial brow bone lift, shoulder implants and augmentations to his cheeks, lips, buttocks and chin.
But that it seems wasn't enough as the Ken doll came up with new things to improve upon.
Offers Ken doll: 'But as a very detail oriented person I always find something new to critique and fix,' 
'Most recently I had three veins in my forehead stripped and ablated as every time I would smile or laugh they would pop out.'
Yes the horror kids! God forbid to have any semblance to a real human….
Continuing: 'I called them my "Julia Roberts" veins. It was a high-risk procedure because there was a possibility I could go blind as they needed to go in through the inside of my eyelids in order to burn the veins off.
'But after being turned away by several surgeons, including Dr. Terry Dubrow from Botched, the procedure turned out perfectly.
'My back implants are also one-of-a-kind as I designed and handcrafted each piece to make sure they matched the Ken doll aesthetic.
'I designed the surgery to have one huge implant under the muscle and on top of that I had two small implants stacked on top of the other. I wanted the effect of having wings on my back.'
Combined, both surgeries cost a total of $40,000 bringing our collective idol  to a grand total of nearly a quarter of a million dollars for all of his surgeries.
Naturally Ken doll is now planning on a new set of procedures.
'I still have a long way to go before I can say I'm 100per cent plastic, including abdominal implants and calf implants.
'But I'm so determined to be plastic that nothing will stop be from reaching my goal.'
What do you think kids? Will Human Ken doll ever find perfection or is there something inside he may want to reconsider perfecting…?