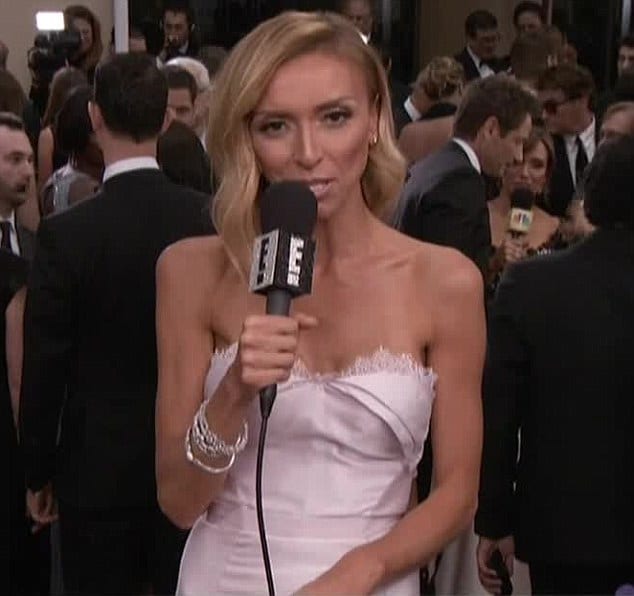 Whilst Hollywood actresses may have been on the viewing block at last night's Golden Globes, who was also up for inspection was E!News correspondent Giuliana Rancic whose gaunt visage came to unsettle many viewers at home.
Taking to twitter, social media users were quick to note under the trending hashtag #Giuliana Rancic Unhealthy how specifically gaunt and unhealthy the 40 year old Fashion Police presenter came to appear with many referencing her protruding collar bone and thin arms as she sashayed in a strapless Lucia Lohan mermaid gown.
So disconcerted were viewers that many came to speculate whether the presenter might be afflicted with an eating disorder or whether she was suffering from anorexia?
Noted one twitter user, @LBartlome: '#giulianarancic needs to eat a fully loaded baked potato on the fly.'
Another, @melissazodi wrote: 'Besides the fact that she looks like skin and bones, #GiulianaRancic got sprayed one to many times with the spray tanner (sic)!'
Twitter users wotnow27 added: 'Can you please find someone who eats to host,' while @loriduffy added: 'She needs a sandwich or 10.' 
That said, last night's criticism may be just old news for Giuliana Rancic who back in 2013, came to open up about the flak she's been getting because of her weight.
Told Rancic at the time: 'I always thought it would catch up to me and it hasn't quite yet. I'm not trying to be cocky. Anyone who knows me knows I am the least arrogant person. I'm just trying to be honest. I'm like, 'Eat a sandwich?' OK. I ate one on the way here!''
Rancic would reiterate that her thin figure was a consequence due to her fast metabolism. Or is it?
And then there were these comments on the web that made me wonder:
Naturally thin woman still look healthy. She looks sick and emaciated. And anorexics lie when asked if they eat! We are good at that ! It is a mental illness!
Saw a photo of her from 2007 with Samantha Harris. Giuliana looked like a different person (much more attractive) she is not fooling anyone saying that she's naturally this thin.
This is beyond thin! If the camera adds 10 pounds, just how much does she actually weigh. Someone that knows her should seriously intervene here because I don't care how "naturally thin" some people may be, this is Bones!! This isn't the result of just being naturally thin.