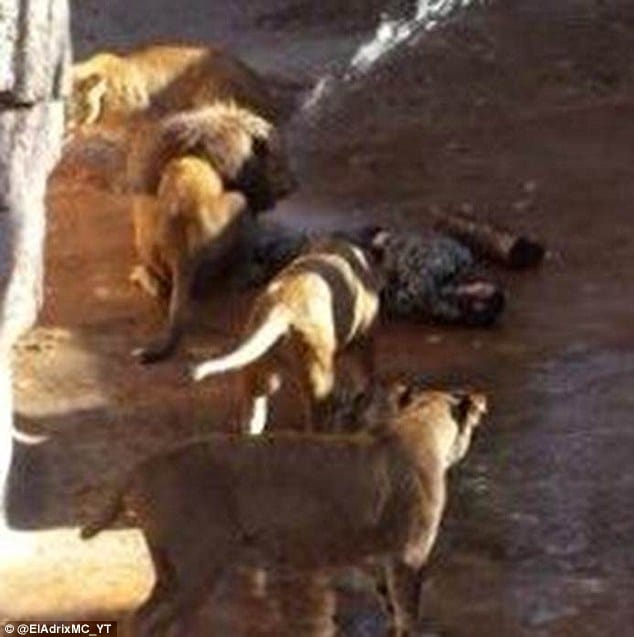 Tourists outside of a lion enclosure at Barcelona's zoo were Sunday afternoon met with the horrific visage of neo Nazi activist, Justo Jose, being mauled by up to three lions as the man suddenly took to scaling over a wall into the animal's den.
The impromptu incident would lead to one lioness grabbing the man's leg, dragging him onto the ground before dragging him further into the confines of a service tunnel where other lions would congregate.
Visitors would look on in terror as some even took to throwing stones to ward off the big cats as they sought to sound off the alarm which would lead to the man eventually being rescued, albeit now in a critical condition.
It would take arriving fire fighters using high powered 30 minutes using jet hoses before they were able to get the predators to move away, allowing them to rescue the man who local media outlet 20 Minutos reports by then was covered in scratches and bite marks.
Told one witness: 'The man – dressed in camouflage clothes, very tall and slim, crawled along a ridge and a lioness jumped up, grabbed him and took him into the tunnel.'
Since the incident questions have been asked as to what prompted the 45 year old man, thought to be neo nazi sympathizer, Justo Jose to avail himself to the animals?
Cursory investigations would determine that Jose served as a former police officer, from the town of Gelida, currently on leave.
El Pais would also reveal that the man had been arrested last month for draping Swastika banners over buildings during an anti-abortion protest.
It would also be disclosed the man has previously been in the Spanish army as well 13 years as a civil guard. In a a previous interview last year the man also spoke about his battle with depression. He had by then also taken up the fight against abortion, and would later be arrested for graffiting the local police station with anti-abortion slogans.
Police sources would tell that the man at the time of his run in with the lions had been carrying a rucksack that may have contained a banner that he planned to fly in the enclosure.
Reiterated Hector Carmona, a spokesman for the Barcelona Fire Department: 'The security system makes it impossible for a person to fall into the enclosure. It cannot have been by accident, to enter (the enclosure) you have to want to go in.'

Since the incident, a 150-feet police cordon has been set up around the enclosure with the lions having been quarantined in a bid to calm them down.
Added Ignasi Armengol, director of Barcelona Municipal Services in a statement since the bizaare incident: 'The intention was not to kill him, they were just trying to play with him.'
At present it is not necessarily understood if the neo nazi activist in turn was also trying to 'play' with the predators…