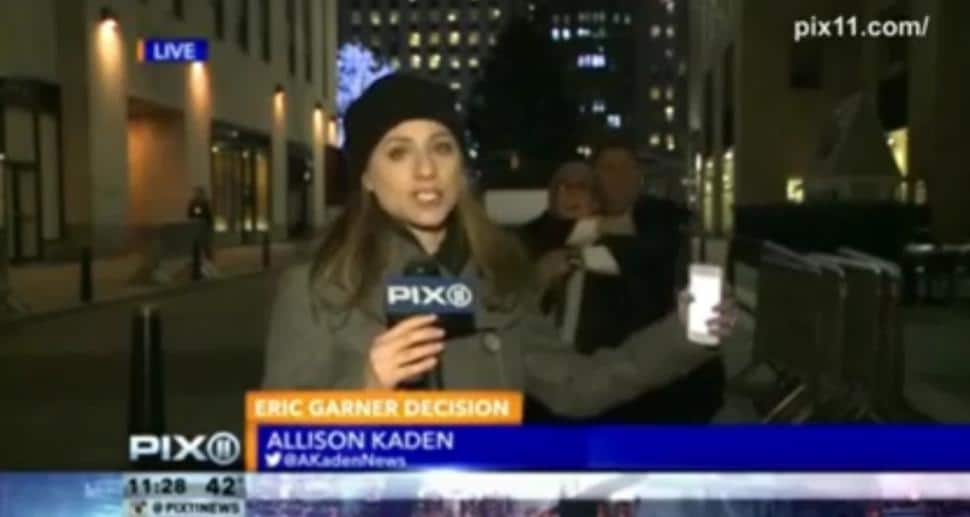 A couple mocking the Eric Garner chokehold which ultimately saw Staten Island man die at the hands of NYPD cop Daniel Pantaleo has caused outrage after being telecast live on local tv station WPIX.
The disturbing prank (see below) came as WPIX reporter Allison Kaden was reporting on a protest taking place during the lighting of the Rockefeller Christmas tree after the surprise decision not to indict Pantaleo.
Did Eric Garner deserve to die? Was Daniel Pantaleo just doing his job?
Did Daniel Pantaleo, NYPD cop get away with murder?
Oh really? Eric Garner police report neglects to mention choke hold.
Video: Eric Garner, choked dad offered no medical aid by NYPD
Aware that the reporter is live on tv the pair take to mocking the chokehold that has since gripped the nation, all the while laughing and smiling in front of camera crews.
Whilst Kaden herself is unaware of the insensitive prank along with studio anchors (one wonders why?) others sitting in front of their tv weren't so quick to dismiss the callous prank, taking to social media to express outrage.
Told commentators on the web:
I'm white, I was there protesting last night, and it makes me angry that people of my skin color can be so caviler about both a tragedy and their own privilege. Obviously, it doesn't represent white people as a whole, but it's easy to view it as representative for, what feels like, the collective shrug most of this country does every time something like this happen.
Selling rolled ciggy's?
Crime…punishable by death
*Only if you're black
It is obvious that these wonderful, sheltered whiteys were poking fun at a situation that does not affect them at all, and kudos to them for being white and not a target to police.
They were just making a mockery out of a mockery…
Everyone will probably know who they are soon. They should start working on their non-apologies now.
At present the identities of the pair have yet to be discovered unless of course you are one of the two reading this and wondering if it might be best to stay indoors for the next few weeks…