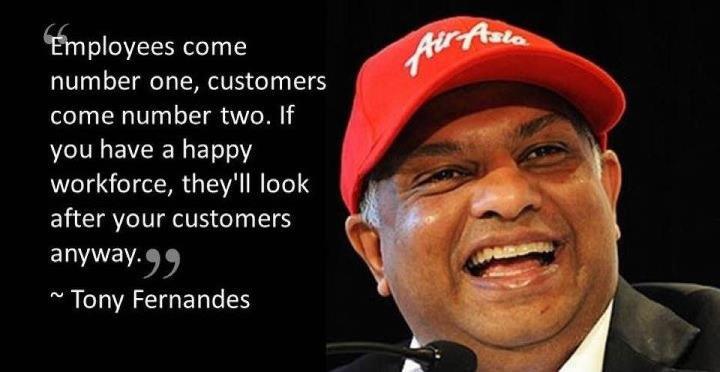 Until Sunday's sudden disappearance of AirAsia flight QZ8501 carrying 155 passengers and 7 crew en route from Indonesia to Singapore, CEO Tony Fernandes was flying high. A maverick who had battled the odds to start a fledging business with just two air planes in 2001 to more than 180 jets come 2014 to become an industry maverick and fulfilling a promise to create a low-cost carrier that would allow everyone in Asia to fly.
Told the flamboyant boss who has been a sticky thorn in the airline wars within the Asian flight path corridors: 'This is my worst nightmare. But there is no stopping.'
'We don't want to speculate but right now of course the plane has been missing for 12 hours and there's a deep sense of depression here.'
'This is a massive shock to us and we are devastated by what has happened. It's unbelievable.'
Adding later: 'I as your group CEO (chief executive officer) will be there through these hard times. We will go through this terrible ordeal together and I will try to see as many of you.'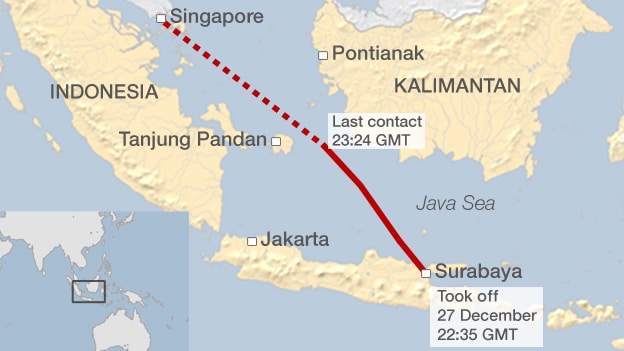 What is known to date is that AirAsia flight QZ8501 went missing after pilots asked to change course to avoid bad weather. With the jet yet to appear, speculation has mounted as to what could have befallen the plane, including issues related to weather, speed, an older radar system or just pilot error.
Reflected Aviation expert Geoffrey Thomas: 'The QZ8501 was flying too slow, about 100 knots which is about 160 km/h too slow. At that altitude that's exceedingly dangerous.'
Adding: 'Pilots believe that the crew, in trying to avoid the thunderstorm by climbing, somehow have found themselves flying too slow and thus induced an aerodynamic stall similar to the circumstances of the loss of Air France AF447 to crash in 2009,'
As darkness fell on Sunday evening authorities told the search for the missing flight would resume at first light.
Until Sunday's calamity, the AirAsia group of airlines has had a virtually unblemished safety record compared with competitors like Malaysia Airlines and Indonesian carriers such as Lion Air and Garuda Indonesia, which have lost several planes in crashes over the last decade.
Told John Strickland, director at London-based JLS Consulting: 'Tony Fernandes and AirAsia are highly regarded with the aviation industry. The airline is highly successful and had an excellent safety record,'
The AirAsia group, which includes affiliates in Thailand, the Philippines and India, has become a major competitor to regional carriers such as Malaysia Airline, Singapore Airlines and Qantas. South-East Asian carriers Lion Air and AirAsia have led an aircraft-buying binge and placed record orders worth tens of billions of dollars with Boeing and Airbus as they race to get people flying in a region forecast to overtake the US as the biggest aviation market.
With 475 aircraft ordered or delivered, AirAsia has emerged as the biggest Asian customer of Airbus. The orders have been so large they have earned a footnote in the world's largest trade dispute between Airbus and Boeing over mutual accusations of illegal subsidies.
The missing plane had been in operation since 2008 and had recorded 23,000 flight hours on 13,600 flights, according to manufacturer Airbus. Metal fatigue is not common in planes that young, experts said.
With the disappearance of AirAsia flight QZ8501, questions might now be called upon Tony Fernandes whom Forbes listed as the 28th richest an in Asia, as of Feb., 2014, with a net worth of $650 million.
Along with being a player in the airline industry, Fernandes is also known to pursue other high octane pursuits, including being a majority of UK soccer club, Queens Park Rangers as well as the founder of the Caterham F1 Formula One team. Sexy pursuits which may have led to the maverick keeping his eye of the ball as he continued his upwardly ascent in the fame and wealth stakes….