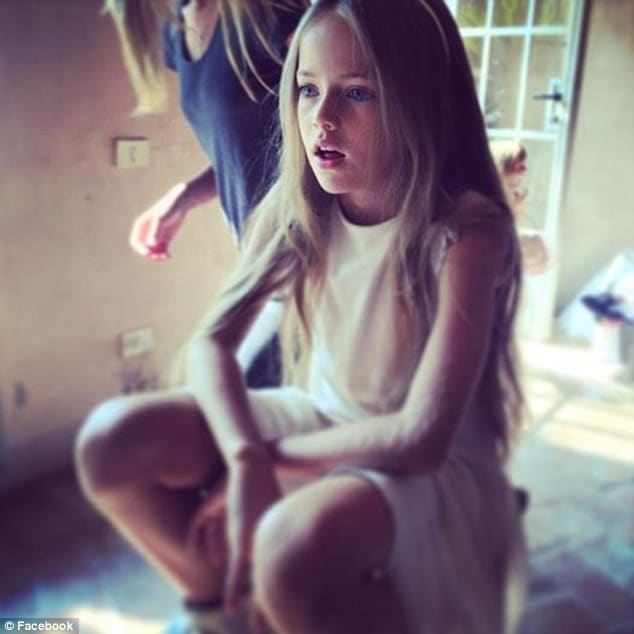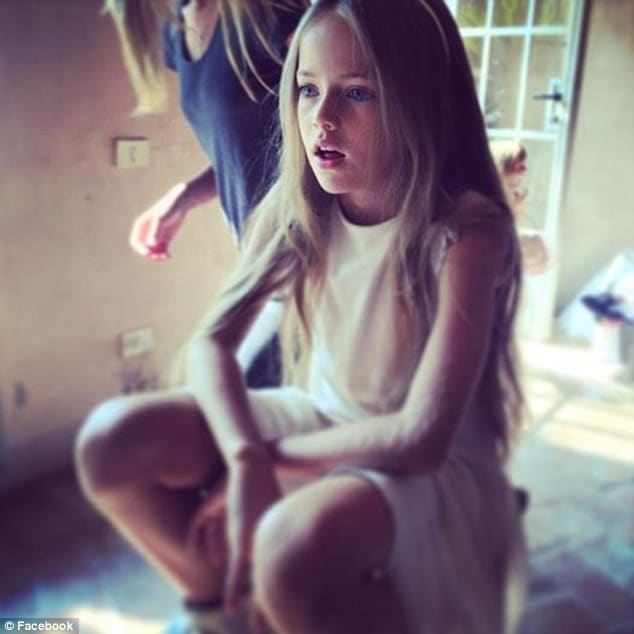 At only 9 years old Russia's Kristina Pimenova has a bevy of modeling feats under her belt that would make most seasoned models blush. Then again Kristina Pimenova has been modeling since she was 3 years old and with her Facebook fan page boasting over 2 million fans she easily wears the moniker of being a super model. Except there might be one problem. All the pedophiles who have since become her fan as well…
Via the nydailynews: At just 9 years old, Russian-born Kristina Pimenova is a bona fide model with a hefty amount of adoring fans. Glikeriya Pimenova, Kristina's mom, runs the 9-year-old's Facebook account and posts photos for the girl's 2 million followers.
Whilst the young girl has her genuine legions of admirers, some have expressed concern that images of the 9 year old have sexualized her beyond her years whilst at the same time drawing the intrigue of those with less than honorable fascination. Perverts and pedophiles.
Although the 9 year old only wears children's clothing and rarely wears make up, some worry 'creeps' will ogle even the most innocent photos.
Reflected one commentator via Kristina Pimenova's instagram page: 'This kid is too young to be modeling. Pedophiles are all over this page. She's pimping out her own daughter for personal gain. How sad.'
Told another who took issue with the young girl's mother who maintains her daughter's fan page: 'You are sexifying your daughter and parents like you are the reason why girls grow up to have many issues… also there are so many sick ppl out their that look at these in sexually ways.'
Adding fissure are images of the young model in short-shorts and tiny dresses, prompting fans to comment on her long legs.
'She hasn't even hit puberty,' pointed out one Instagram follower.
Commenters both on Facebook and Instagram have called the child 'hot' and 'a babe.'
One adult woman wrote, 'You're hotter than me,' while another speculated she'd be a Victoria's Secret model one day.
Just wishful thinking or has fantasy run amok?
Then there are the men who have asked to marry the 9-year-old. One supposes fantasy has no bounds…?
Despite rampant criticism, Glikeriya Pimenova insists her daughter's social media presence is all PG-rated. The 9-year-old is not allowed to post on the Internet herself. (see images below and see what you think???).
'All the content shared on this page should be kid friendly,' she wrote. 'Any video or pictures posted here that is not appropriate (sic.) for Kristina's age will be deleted and whoever posted it will be blocked.'
She also wrote that, 'Kristina's pictures can not be used for role playing.'
Along with being a busy working model with legions of fans, Kristina is also an accomplished gymnast. She's appeared in ad campaigns for Roberto Cavalli and Armani. And one wonders in a number of non descript fascinations of certain viewers…
What do you think is Kristina being sexualized beyond her years or should that be none of our concern if the young girl's mother abets the use of her daughter's image in campaigns that might make one wonder…?