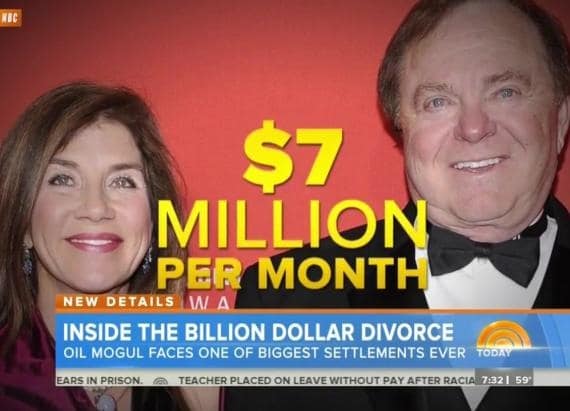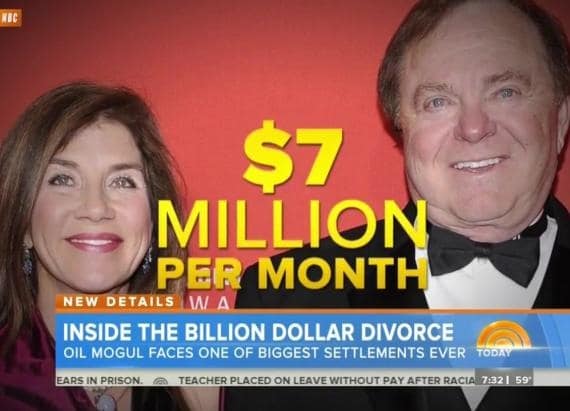 Sue Ann Hamm the former wife of oil baron Harold Hamm has told she will appeal an Oklahoma's judge decision to only award her $1 billion of her oil baron/tycoon husband's estimated net worth of $13.5 billion, arguing that the payout is not enough.
Since this week's ruling the former wife has told that the awarding of $1 billion severely undermines the marital wealth that she is entitled to, despite the payout representing the biggest divorce payment in history.
In her decision to appeal, Sue Ann Hamm points to the judge's decision to allow her former husband, CEO Harold Hamm of Continental Resources to keep nearly all of an estimated $18 billion rise in company shares which occurred during their 26 year marriage.
Told Ron Barber one of the attorneys representing the former wife: 'Sue Ann is disappointed in the outcome of this case. She dedicated 25 years as Harold's faithful partner in family and business.'
Craig Box, an attorney for Harold Hamm would tell earlier in the week that the oil tycoon considered the ruling 'fair and equitable.'
In making his decision, special Judge Howard Haralson found that Hamm, 68, should pay Sue Ann Hamm a total of $995.5 million, with about a third of the funds, or $322.7 million, to be paid by the end of the year.
Hamm will then be required to pay the rest of the judgment, some $650 million, in installments worth at least $7 million per month over the course of what could take 8 years. 
She was also awarded additional assets, including a California ranch and an Oklahoma home, worth tens of millions more.
Sue Ann Hamm has already been awarded around $25 million since the case was filed in 2012.
To secure the judgment, Judge Haralson has placed a lien on 20 million shares of Continental stock.
The ruling, which is subject to appeal, comes after a ten-week divorce trial which ended last month.
Hamm started Continental in 1967, and about 68 per cent of the firm's shares are in his name.
His stake was worth more than $18 billion when the trial started in August and is worth circa $13.5 billion today.
Since the couple wed in 1988, Continental has grown from a small-time driller worth less than $50 million into a $20 billion behemoth and one of Oklahoma's largest companies.
Because Harold owned his shares before he and Sue Ann were married, they belong to him. 
But under Oklahoma law, their 'active' appreciation since 1988 is subject to 'equitable distribution' with Sue Ann, a former executive at Continental who filed for divorce from Harold in 2012.
Her legal team contends that the amount of marital wealth the court should divide is more than $17 billion, a sum that included most of Harold's stake in Continental a few months before the trial began. 
In a court filing from 2013, Sue Ann Hamm alleged that her husband was having an affair, which prompted her to file for divorce. 
Sue Ann Hamm who once held key roles at the company would reveal that she no longer worked for the company. 
Court filings showed that his attorneys argued that the couple's shared wealth is a tiny fraction of that amount. The couple never signed a prenuptial agreement.
Central to the case is Harold Hamm's leadership at Continental.
In court, the oil baron's lawyers attributed most of Continental's success not to Hamm's business savvy but to factors beyond his control – that market factors such as rising oil prices, or decisions made prior to marriage caused Continental's growth.
The oil baron would come to marry Sue Ann, an economist and lawyer in 1988, a year after divorced his first wife, Judith Ann, where the pair had gone to have three children together.
Pursuant to Sue Ann's marriage to Harold Hamm the couple would go on to have two daughters, Jane and Hillary. 
Prior to amassing his wealth, Harold Hamm had humble beginnings, growing up in rural Oklahoma where he was the 13th child of Oklahoma cotton sharecroppers. 
Spending his youth picking cotton he would take switch over to the oil industry at age 20 where he scrubbed the scum out of oil barrels. From there Hamm worked his way up and was eventually able to drill his own wells. 
His big breakthrough came in the Nineties, when he helped discover the Bakken field of North Dakota, the largest new U.S. oil prospect since the Sixties.
Forbes has since named Harold Hamm as the 30th richest person in the U.S. in 2012 and 76th richest person in the world.