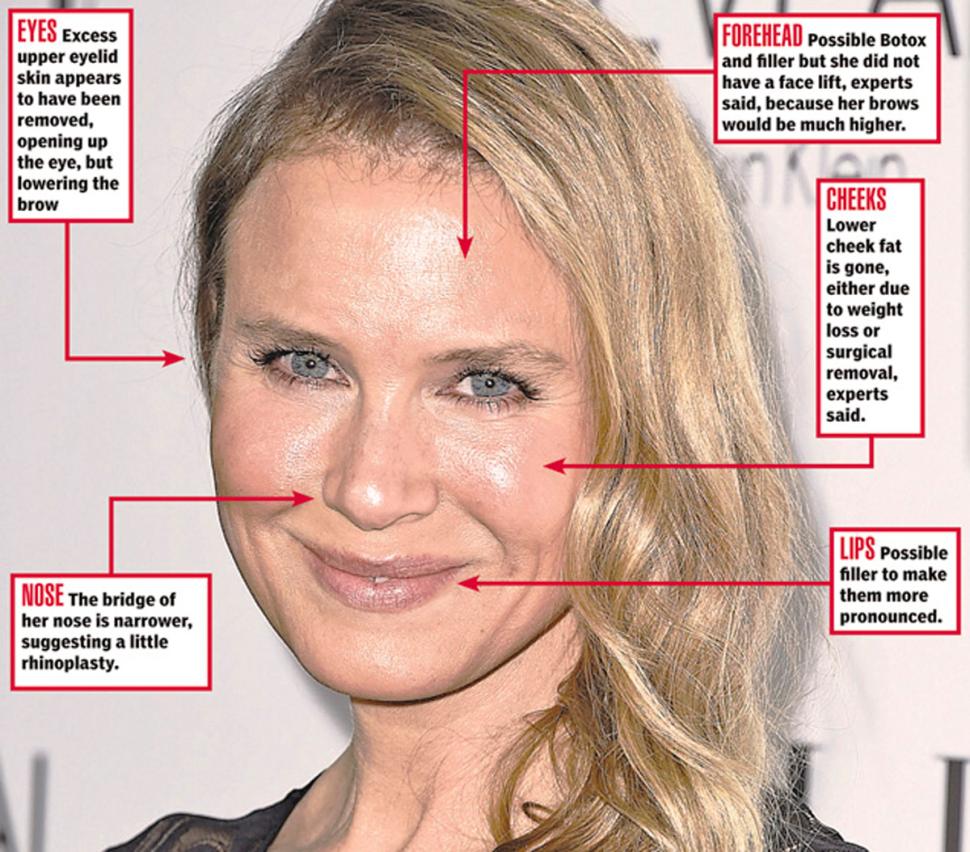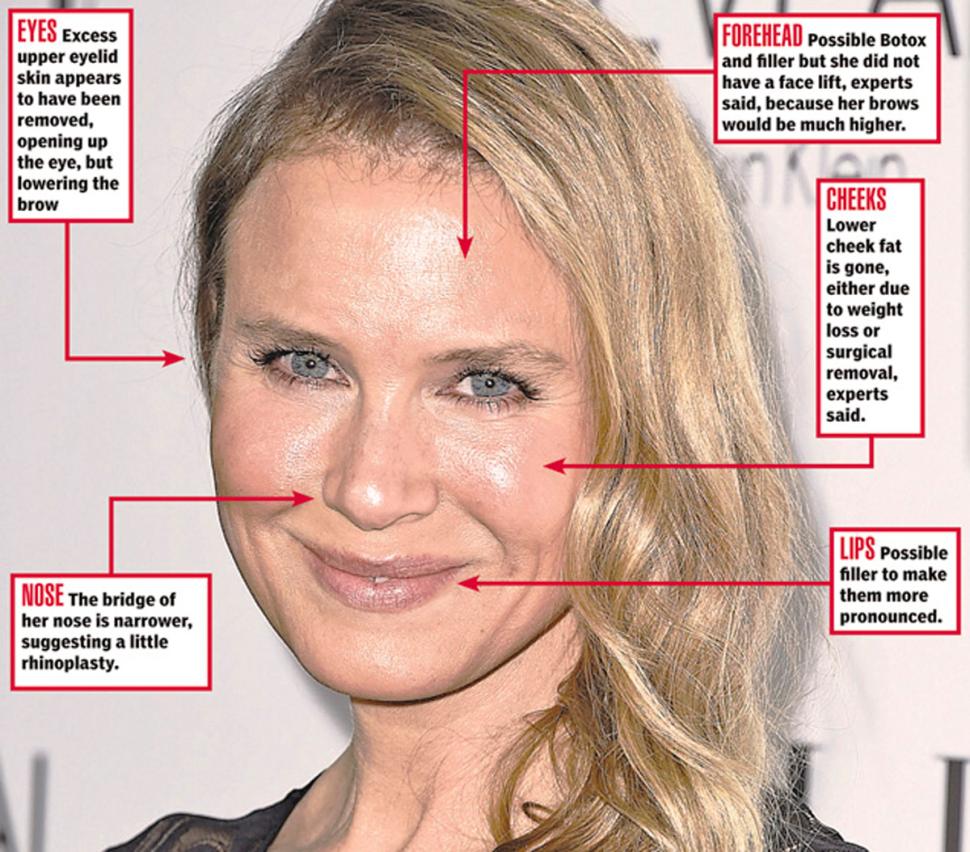 It seems the onslaught of criticism against actress Renee Zellweger  continues as the actress has found herself forced to resort to defending 'her new look' after assertions on the web that she has had a myriad of plastic surgery done to her face.
Renee Zellweger plastic surgery. Damned if she does, damned if she doesn't.
Told the actress via people late yesterday: 'It seems the folks who come digging around for some nefarious truth, which doesn't exist won't get off my porch until I answer the door,'
And rather than categorically address whether she had plastic surgery done or not the actress would instead add the following: 'I'm glad folks think I look different! I'm living a different, happy, more fulfilling life, and I'm thrilled that perhaps it shows.'
Instead the actress puts her new look to having been involved with new love interest, Doyle Bramhall II since 2012, spending the past few years 'making a home,' 'loving someone,' and 'growing into myself.'
Adding nonchalantly, 'My friends say that I look peaceful. I am healthy,'
'For a long time I wasn't doing such a good job with that. I took on a schedule that is not realistically sustainable and didn't allow for taking care of myself.
'Rather than stopping to recalibrate, I kept running until I was depleted and made bad choices about how to conceal the exhaustion. I was aware of the chaos and finally chose different things.'
'People don't know me (as) healthy for a while,'
'Perhaps I look different. Who doesn't as they get older?! Ha. But I am different. I'm happy.'
That said a report via the nydailynews this morning paints an entirely different reason as to Renee Zellweger's new face.
Tells Dr. Robert Guida, a plastic surgeon on Park Ave who believes the actress likely got Botox and fillers in her face as well as other modifications: 'The extra hooded skin on her eyes isn't there anymore,'
'There is no question she has had her upper eyelids done,'
Adds Dr. Thomas Sterry, a Manhattan plastic surgeon, "She always had that cherub-y face, and suddenly … her eyes (are) much wider.'
Whilst Dr. Victoria Karlinsky, a cosmetic surgeon on the Upper West Side opined that the actress got a nose job to remake her face from perky to steely, telling: 'The bridge of her nose has become more narrow.'
And then there was this thoughtful reflection via indiewire that made me wonder about what was really at stake and why the public has reacted as vocally as it has:
In some ways it is easy to criticize Zellweger and other women who have gone under the knife. We call them vain, or brainwashed, or stupid for making these choices. It's harder, for whatever reason, to assess a culture that is unforgiving about every single body change that a woman will go through over the course of her life from puberty to after menopause. We judge whether a women weighs too much or too little. We judge whether women have children or don't have children. We judge whether or not they breastfeed. We judge whether women dye their hair or still wear miniskirts past the age of 40.
As Anne Helen Peterson points out in her article, "What's Really Behind The Ridicule of Renee Zellweger's Face?", Zellweger is particularly vulnerable to this kind of treatment because she was sold to her audience as a symbol of youth. Zellweger's efforts to essentially retain her trademark "look" by way of surgery is perceived by many as especially gauche since she is meant to symbolize a type of effortless prettiness. We hate seeing bad plastic surgery on aging female faces, because it represents an acknowledgement of how much the Hollywood image is mere smoke and mirrors, how the bill of goods we are sold is so often just a bag of lies.