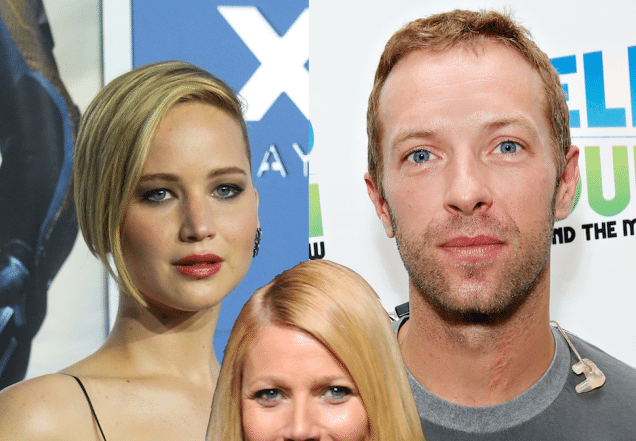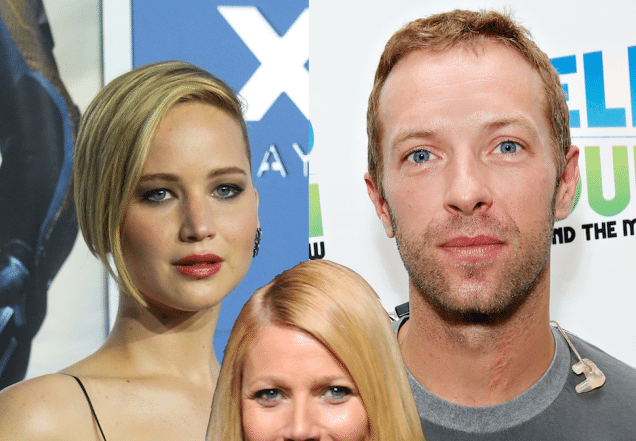 It's a very sad day in Tinseltown today with the official report that underground couple of the night Jennifer Lawrence and Chris Martin have broken up. But then again the better question might be were the pair ever together in the first place and for that matter did Jennifer or even Chris Martin really get over their recent exes? Or was it a case of Gwyneth Paltrow (Chris's estranged wife whom he purportedly decoupled over the summer)  blowing an avalanche of close affectionate kisses in Chris Martin's path that had Lawrence stymied?
Explains E!: The 24-year-old Oscar winner and the 37-year-old Coldplay rocker have split, E! News confirms.
Lawrence began seeing Martin in late June, shortly after her split with X-Men co-star Nicholas Hoult. The musician, meanwhile, announced his separation from ex Gwyneth Paltrow after more than ten years of marriage in March. 
The Hunger Games stunner most recently supported the recording artist when he performed with Kings of Leon at the Hollywood Bowl earlier this month. She was also on hand when the father of two took the stage in September at the iHeart Radio Music Festival. 
From there we find out (as if it wasn't already obvious) that Jennifer Lawrence had sought to keep her relationship with Martin a low key affair and out of the paparazzi's lenses (well that might be also be because she spent a good chunk of it being naked, see here and here) whilst Martin was strangely finding it difficult to emotionally 'de couple' from his wife of ten years who was now in hot pursuit of Glee creator and hunk, Brad Fulchuk.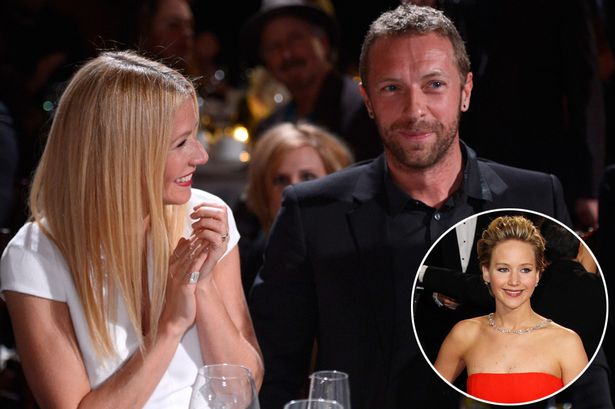 And then there's version of why shit fell off the wagon:
According to People 'it was the Hunger Games actress who ended it, with a source telling them: 'Jen is the one who broke it off with Chris.'  
But why Jen?
'…..the split comes after Chris, 37, was spotted on a family dinner with his estranged with Gwyneth Paltrow, 42, who was seen tenderly stroking the Coldplay singer's face in LA.'
Which is to wonder as much as Chris Martin may have yet to emotionally decouple from his estranged wife, has Gwyneth actually managed to de couple from her estranged relationship with Chris and was that something that had the spritely 24 year old wondering 'what the fxck?'
Which leads to the next awkward question, what about Jennifer Lawrence herself?  Was she also struggling to emotionally decouple from her former heart throb love affair with actor Nicholas Hoult? Which segue ways into the next question, if Gwynethe, Chris and Jennifer were all struggling to emotionally de couple (and I know we have all been there, just ask my ex wife) were the pair in actuality ever really ever together to begin with? Of course I guess we will never know the answer to that question otherwise you would have stopped reading past the part where Gwyneth Paltrow placed a voodoo doll under Chris and Jennifer's bedsheets to make things a touch prickly.
Isn't it time you tried dating a high profile celebrity especially if you're one yourself?
top image found here