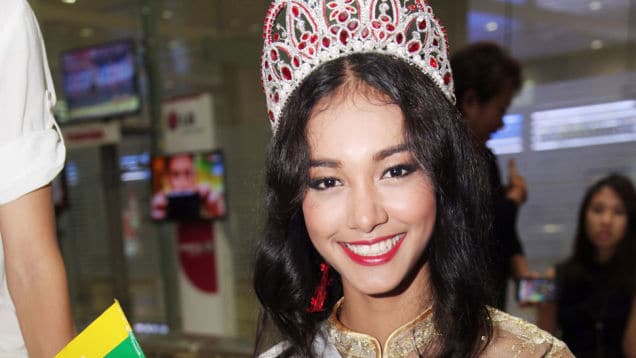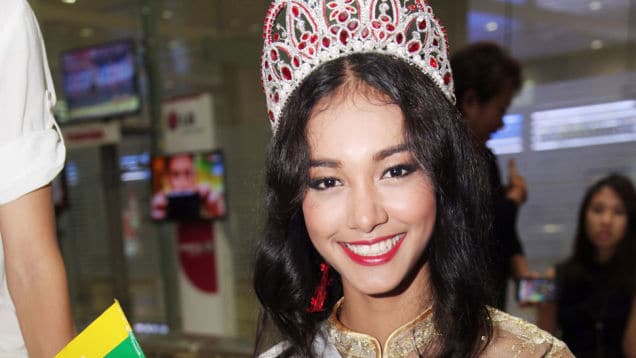 May Myat Noe a Myanmar beauty queen has had her title revoked by Miss Asia Pacific world after telling that the 18 year old pageant winner was untrustworthy and ungracious, this after they paid for a $10K breast enlargement operation that Noe refuses to have done. Adding to the fracas, the Burmese beauty queen is also said to have run off with her tiara valued at over $100K after advised that her title was being revoked.
Offered David Kim, media director for the South Korea-based pageant: 'We thought she should be more beautiful … so we sent her to the hospital to operate on her breasts.'
The pageant told it had hoped to turn the 18-year-old into a regional megastar having booked singing gigs and video deals for the teen.
But Noe was unappreciative of every gesture, Miss Asia Pacific World said in a statement released to Asia One News.
The pageant paid for the teen and her mother to visit Seoul for 10 days, but they stayed for three months, in what Miss Asia Pacific World calls an 'illegal attempt' to get a visa.
When May Myat Noe came to win the pageant in May, many had come to express excitement and high hopes for the beauty who given Myanmar's volatile military rule and self imposed exile had kept Myanmar contestants off the stage until 2012.
Yet things would become questionable when the pageant decided May Myat Noe's small breasts could hold her back from stardom, deciding to foot the bill for her plastic surgery, as it had for previous winners.
Reiterated Kim: 'It's our responsibility,'
'If she has no good nose, then maybe, if she likes, we can operate on her nose. If it's breasts, then breasts.'
Lest a woman be beautiful with small breasts or physical attributes that don't conform to men's or pageant organizer's preferred whims of what constitutes beauty pageant beauty. But maybe that was trade off that every winner is implicitly obliged to comply with….?
Added Kim: 'Everyone knows she is no longer the queen, but she thinks as long as she keeps this crown she's the winner. She's not.' 

Noes whereabouts were unknown following the content's decision to boot the beauty, but she could be back in Myanmar, BBC News reported.
A pageant staffer has since been tasked with tracking down the ex-queen and retrieving her crown and sash.
An agent for May Myat Noe's has since intimated that she now plans to hold a press conference in the near future. Does anyone want to guess what she will say?
Of interesting note, South Korea ranks as one of the highest territories in the world when it comes to plastic surgery where plastic surgery is an endemic past time….