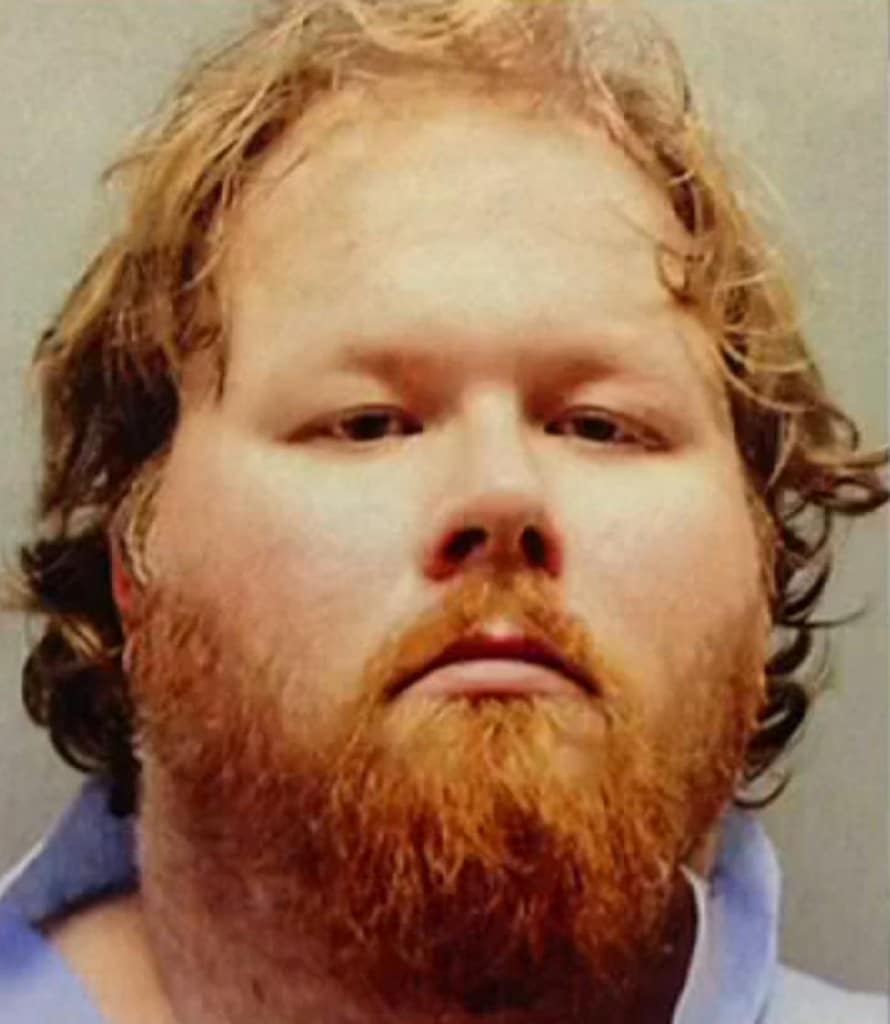 Ron Lee Haskell, a 33 year old Houston, Texas father has been apprehended after a tense stand off after the man had earlier yesterday evening shot dead four of his children, a man and woman who were there with the children along with critically injuring his 15 year old daughter.
Ron Lee Haskell killed his ex wive's family cause he was jealous of their perfect lives 
Ron Lee Haskell, wipes out wife's family execution style 
The carnage tell officials came about after a jealous rage with the injured 15 year old girl able to call officials to tell that her father was now on his way to kill her grandparents.
Nevertheless the Houston father would be preempted as authorities were able to surround the man during a three hour stand off at a nearby cul-de-sac.
Offered Assistant Chief Deputy Constable Mark Herman of the Harris County Precinct 4 Constable's Office: 'It appears this stems from a domestic issue with a breakup in the family from what our witness has told us.'

The incident authorities would later tell was sparked as a result of aggrieved feelings surrounding an impending divorce.
'He came to this location yesterday afternoon – late – and came under the guise of a FedEx driver wearing a FedEx shirt,' told Constable Ron Hickman via khou. '…came to this residence, gathered up the children that were here and awaited the arrival of the parents. Sometime later the victims were shot in this residence, and we now learned that Mr. Haskell was married to a relative of the residents of this home.'
Haskell's estranged wife lives out of state and was not at the home.
According to ABC Houston, when Haskell first arrived at the house the door was answered by the surviving victim, with Haskell asking the girl if her parents were home, when she said they weren't, he left.
Nevertheless according to heavy, Haskell would return a short time later asking again for the girl's parents. When they still weren't home, she said she recognized the man as her 'ex-uncle.' From there Haskell forced his way into the house, tying up the children while waiting for other family members to return home.
At some point, two boys, 4 and 14, two girls, 7 and 9, a 39-year-old man and a 33-year-old-woman, believed to be the children's caretakers were all shot dead in the house, 'execution style' with bullets to the back of their heads, according to the surviving victim.
The sheriff's department said precinct deputy constables were called to the house in the northern Houston suburb of Spring about 6 p.m. Wednesday where they happened upon two adults and three children deceased from bullet wounds. 

Another child would later die at hospital.
Deputy Thomas Gilliland of the Harris County Sheriff's Office would tell that Ron Lee Haskell and his wife were estranged, with the wife living out of state. He would add that all of the children were theirs, with two of the dead children having been adopted. Although now that too has yet to be necessarily confirmed as authorities seek to corroborate supplied information.
At the time of the shooting, the father had arrived at the family residence wearing a FedEx delivery shirt.
At present authorities have declined releasing the identities of the victims, nor did they say whether the adults who were killed were related to the children or their father.
Gilliland would also tell that the teenager was in 'very critical condition' at Memorial Hermann Hospital in Houston late Wednesday night.
After the 15-year-old survivor told deputies that her father was headed to her grandparents' home, they were able to pass along the warning, he said.
Authorities said the teen's information also helped them intercept the suspect. From there Ron Lee Haskell led authorities on a chase, with nearly two dozen deputy constables' patrol cars following Haskell into a cul-de-sac shortly before 7 p.m.
There, the Houston father's boxed-in vehicle remained for hours, pointing a gun to his own head. Finally, about 10 p.m., after hours of waiting and negotiations, Ron Lee Haskell emerged from his car, raised his hands and sank to his knees as deputies placed him under arrest.
During the stand-off a large SWAT vehicle had come to ram into Haskell's car, crushing the front bumper, coming to stop on top of the hood of the car. A second SWAT truck pulled directly behind,  ramming into the back of the suspects car, preventing the car from moving.
Gilliland would describe the shooter as in his 30s with a beard 'and cool as a cucumber.' Offering that when he and other officers first approached, Ron Lee Haskell was 'just sitting in his car looking out at us.'
'This concluded the way we wanted it to,' Gilliland said after the surrender.
Told Precinct 4 Constable Ron Hickman, 'He was in the car for 3½ hours. He was worn down like the rest of us. He came out of the car without resistance.'
Neighbors, Danna Stevens, 75, and her husband, Texas Stevens, who live four doors down from the home where the shooting happened but weren't home at the time would tell that they didn't know their neighbors well and that they had moved into the subdivision about a year ago.
Contrary to earlier statements made by authorities, Haskell's adopted kids were not among the shooting victims.
Original reports indicated Haskell was the father of the children, but deputies are advising that has not been confirmed, and he is a relative to the family.
At present there are a lot of inconsistencies regarding Haskell's relationship to the children, and two adults murdered. Unknown is if he and his estranged wife parented the children, or if he was a disgruntled relative who went after the innocent children and two adults to exact violence due to a family breakdown of communications.
On an ancillary note, as Haskell was transferred to the county jail, he was still wearing a FedEx uniform, with authorities yet to confirm if he was actually employed by the shipping company or if he had worn the uniform as a guise?