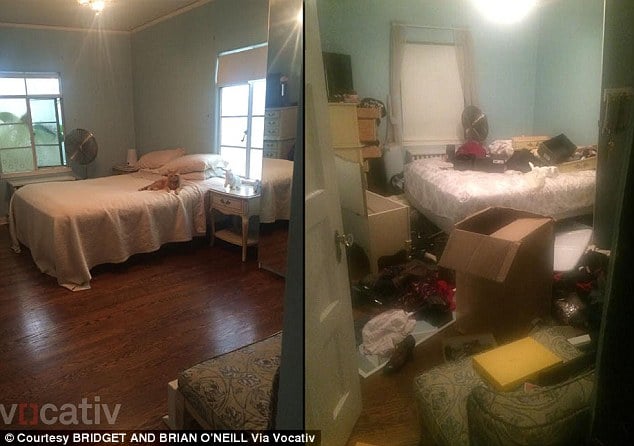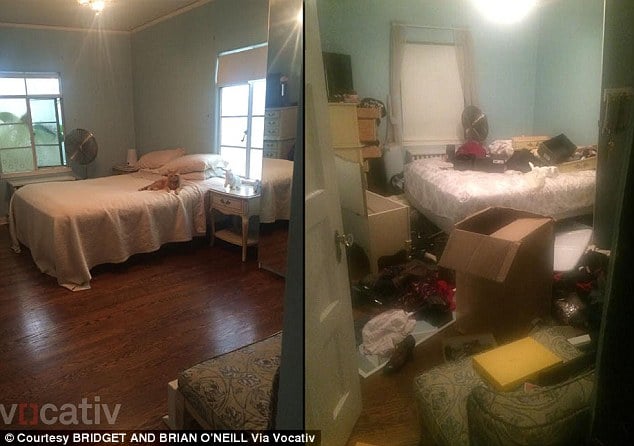 Seattle couple, Brian and Bridget O'Neill have lived to tell off their woe of finding a female meth addict who had gone about trashing their Seattle apartment.
Yet that discovery would only come later as the couple over the course of the next three days tried to make sense of how lotion had come to smear their door knobs, how a can paint had come to be poured in the toilet, junk mail ripped open and incredulously how the soles of 20 pairs of shoes came to be removed.
Baffled and believing that they could be under the influence of a poltergeist or some other supernatural phenomenal, Brian and Bridget O'Neil called cops who also began to wonder if something supernatural might be going on as they found to find any evidence of forced entry or theft.
Yet it wasn't 45 minutes until after cops had left that the couple made the true discovery of their recent sleepless nights.
Told Brian O'Neill by way of Vocativ: 'We didn't feel threatened, but we were somewhat disturbed,'
'It was a really weird experience.'
It was then that the couple came to now find electronics from all over the apartment had been piled on the bed.
The police during their investigation had found the purse of what would later turn out to be a 27-year-old woman whilst Bridget, 32 had come to find the same woman's shoes. And yet there was no sight of the woman. Yet.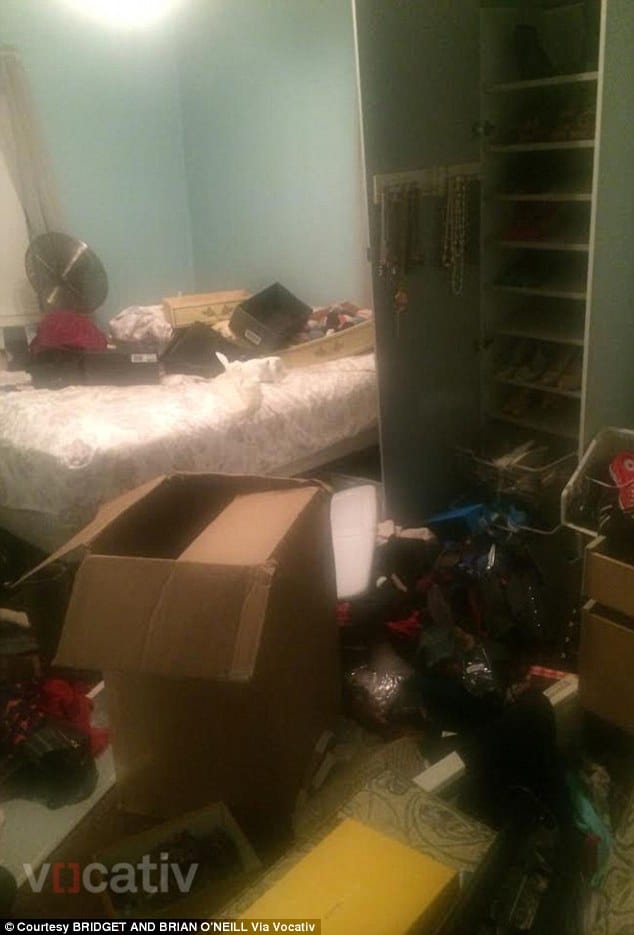 As the couple began to clean up the mess, Brian moved the bed slightly to pick up a bracelet on the floor.
He then heard something underneath the mattress.
'It was a noise coming from something alive,' he said.
'It sounded like a dying possum or raccoon. 
'I had only heard wounded animals make that kind of noise before.'
When the noise got louder, becoming a scratching sound, the couple left the apartment and called the police again.
Officers went inside and came out minutes later.
They were escorting a 'lanky, wild-eyed woman', told Brian.
As it turned out the woman had been under the bed – which stands only about a foot from the ground – for at least two hours.
'When I saw that it was a woman, my reality suddenly kind of shifted,' Brian said.
'My wife pretty much collapsed on the stairwell.'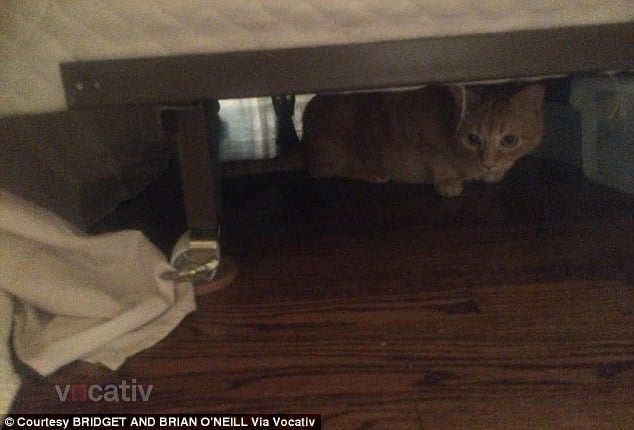 The woman, who authorities declined to identify, cops told had been on a 'meth rampage' for several days.
Brian O'Neill says she stood about 5-foot-7 and weighed maybe 90 pounds.
'I thought it was one of the skinniest people I have ever seen,' he said.
After the woman was arrested, the O'Neill's found a hypodermic in their bedsheets and locks of the woman's around the house.
Under the bed was a knife, which she had used to try and deconstruct the box springs.
'Honestly, I feel kind of bad for her,' Bridget said.
'This woman was so tiny and not together, it's hard to be mad. 
'If you describe yourself as being on a meth rampage, you're probably in bad shape. I feel like regular old meth is bad enough.'