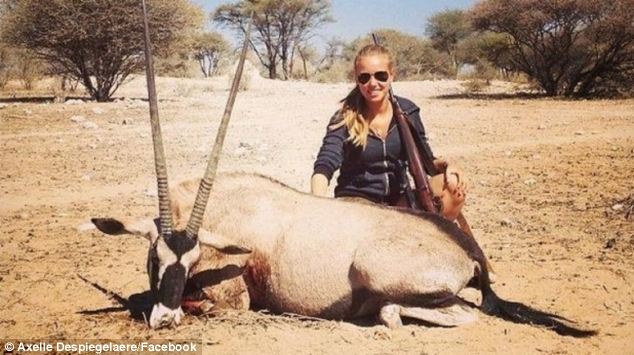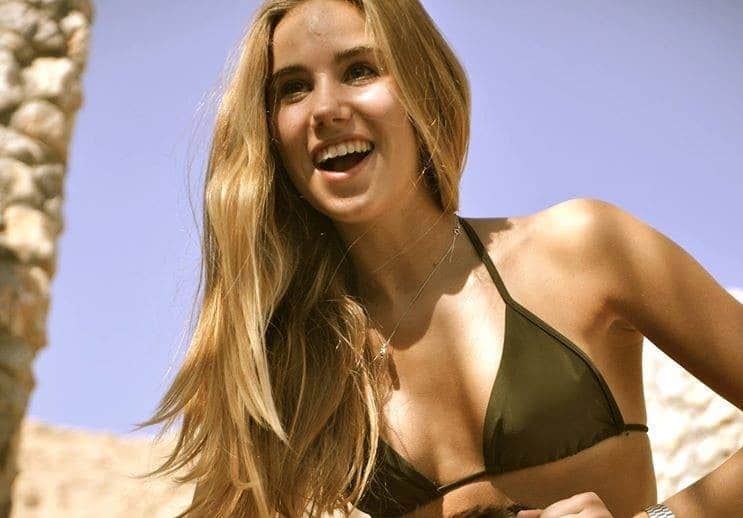 It seems Belgian world cup soccer fan, Axelle Despiegelaere, whose vivacious beauty inspired the imagination of millions of television viewers and beauty maker L'Oreal  as well will not get to live her fairy dream come true after all. This after L'Oreal has decided to drop the 17 year old Belgian world cup beauty after a Facebook photo of her revealed her passion for big game hunting.
Pictures: Axelle Despiegelaere, Belgian world cup fan wins L'Oreal modeling contract 
In the photo the teen can be seen proudly posing next to a slaughtered wild animal, with rifle in tow, a look and a sensibility that L'Oreal have openly told in the past does not bode very well with them.
But if the image was damning, the caption underneath was even more damning.
Wrote Axelle: 'Hunting is not a matter of life or death. It's much more important than that.'
Which might be an assessment of life that may work for many except unfortunately for Axelle Despiegelaere not a sensibility that is agreeable to L'Oreal who have been very keen to promote itself as being sympathetic to animal welfare concerns, thus compelling the beauty line to disassociate itself with the Belgian beauty.
Speaking to The Independent, the cosmetics giant said: 'L'Oréal Professionnel Belgium collaborated with her on an ad hoc basis to produce a video for social media use in Belgium. The contract has now been completed.'
The L'Oreal spokesperson added that, although the brand was aware of the photograph of the hunting trip, it would not comment on whether it led to the decision to sever ties with Despiegelaere.
They were keen to stress, however, that L'Oréal 'no longer tests on animals, anywhere in the world, and does not delegate this task to others.'
L'Oreal has long promoted itself as sensitive to animal welfare concerns.
In 2012 the company donated $1.2million to the U.S. Environmental Protection Agency to help improve the testing of safe chemicals.
Umbrage to Axelle Despiegelaere's passion for wild game hunting came to the fore after fans went to her personal facebook page (since removed) only to find to their horror that the young woman was a fan of wild game hunting.
In an attempt to make light of her passion for hunting, the girl had posted comments Wednesday night, in an attempt to diffuse any tension and one imagines not cast aspersions of her character with L'Oreal who the young woman by now must have realized was wearily watching developments.
Wrote Axelle: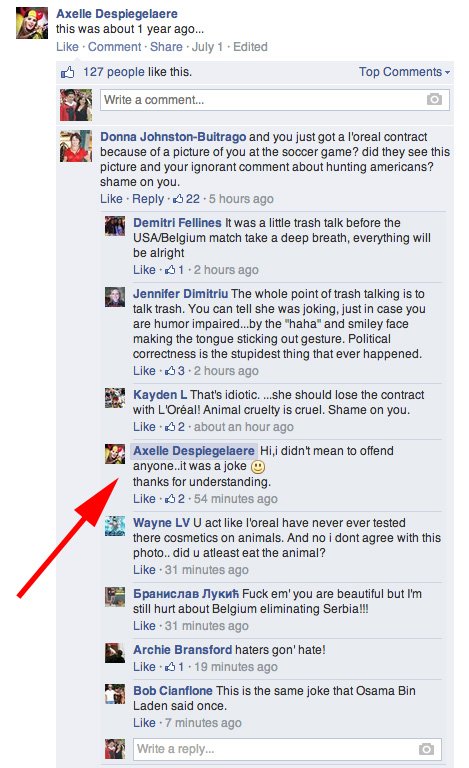 Nevertheless come Thursday morning, Axelle's entire personal Facebook page had been deleted as fans continued to take the Belgian to task for her passion for hunting. 
In the end sensing controversy and mindful of political tact L'Oreal decided to walk away from the Belgian beauty. At least for now. Expect the young woman to be starring in an avalanche of campaigns before the fall is over as other tastemakers and beauty and apparel makers pick up what L'Oreal considered too politically unpalatable.
Pictures via Axelle Despiegelaere unofficial facebook fan page