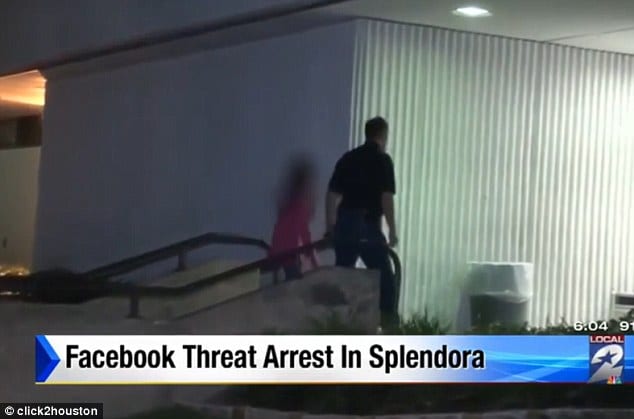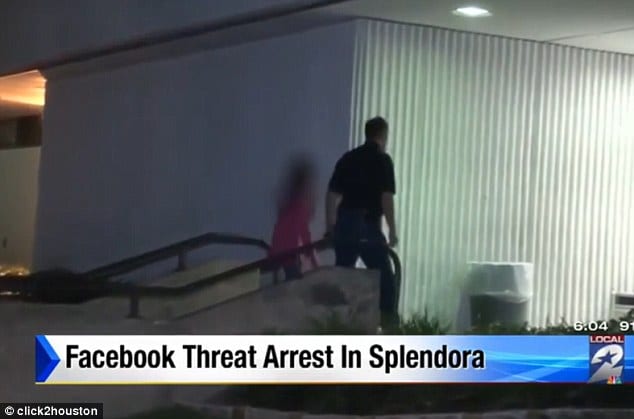 A 13 year old girl has been arrested after allegedly posting a series of posts on Facebook telling of her intention to 'kill everybody' in her town of Splendora, Texas while specifically targeting a young cancer patient.
Read one of the girl's posts late last week: 'I am going to kill everybody in Splendora on July 13th.'
Needless to say the post led to various town members taking her seriously as authorities were called in.
Using the guise of an alias identity of 'Melissa Johnson,' the 13 year old would come to be arrested late Sunday for third-degree felony terroristic threat.
Montgomery County Precinct 4 Constable's Office would also tell how a 12-year-old leukemia patient, who authorities say went to school with the suspect, had also come to be specifically targeted.
"(You) should have died," one of several messages sent to Cristian Beasley read.
'The first night I got it, the message, it was kind of scary,'  the eighth-grader told via the nydailynews. 'I was felt like I was getting watched and I couldn't sleep that night and later that night I got sick … I thought someone was trying to hunt me down or something.'
By the next morning, the threats had only intensified to include direct messages to Cristian's friends on his wall, told the boy's mother, Amy Gaskamp.
Reiterating: 'There was like a ton of them, telling them that they should hang themselves. If they didn't have the guts to do it themselves she'd do it for them. Just terrible things.'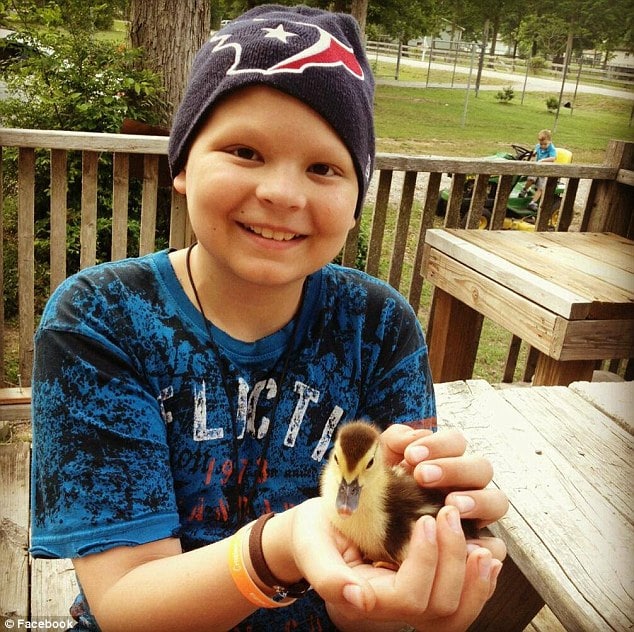 Cristian said he didn't know who the Facebook user was, and still doesn't today. By using a fake profile, the individual behind the threats was able to leave him and his mother clueless on how to defend themselves.
Eventually, Cristian said he went into hiding with his father.
It was Friday that the threat's spread to the entire town, catching the attention of Constable Kenneth Hayden and its residents.
Hayden said they had less than 48 hours before the town's forewarned doomsday. After contacting Facebook for release of the mystery sender's information, facebook initially refused, arguing that that threat didn't rise to the level of an emergency, according to Montgomery County First Assistant District Attorney Phil Grant.
'Unfortunately, due to Facebook's incomprehensible lack of cooperation, we now have to take the extraordinary step of placing an entire community on notice of a threat we could have eliminated but for their stubborn and irresponsible position,' he said in a public release on Saturday afternoon.
Fearful citizens meanwhile considered canceling plans in the area and staying out of town, said Hayden.
It wasn't until later Saturday that Facebook officials agreed to cooperate, allowing authorities to locate the teen at a Harris County home she was visiting for the summer, according to Grant.
Told Christian Beasley: 'I don't think a 13-year-old could do much but I've seen news out there that there are 13 year-olds who have done some crazy stuff.'
Gaskamp said the teen suspect, whose electronics were confiscated after her arrest, is now undergoing a psychological evaluation.
Due to her age she is not being identified other than being a Splendora resident and local student.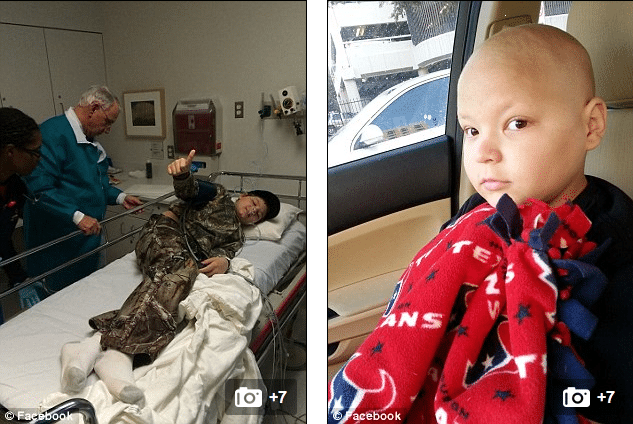 'We realize a 13-year-old child will use poor judgment and make mistakes, but we have to take threats like these seriously,' Hayden said. 'In light of so many incidents in recent years where suspects announced their intentions through social media, such as the mass shooting at the University of California in May, these threats cannot be ignored.'
A possible motive for the threats to the community and Cristian has yet to be learned.
Since the posting of the threats, authorities have yet to necessarily come to understand what prompted the threats in the first place, yet believe it may have been in retaliation to something that may have come to have happened in the second grade after a note sent to one of Cristian's classmates.
Cristian, who's described as cancer free but still regularly undergoing chemotherapy, stressed his hope that his story will serve as a warning to others who use social media sites.
'I want the world to know that you need to be more careful about who your friends are on Facebook and take precautions,' he said.
Since the girl's arrest  and the subsequent seizure of her computers and electronic devices as evidence, cops have told that they failed to find any weapons in her possession.
'There was no indication that she was actually making any preparations to carry out those threats,' the girl's attorney, Bill Pattillo, told Houston Chronicle.
The lawyer would come to describe his young client as a good student who comes from a loving family.
Reiterated Constable Kenneth Hayden: 'Kids are gonna be kids,'
'They're going to make mistakes. This is a very serious mistake, and we're hoping this person is gonna learn from this and be able to move on with her life.'