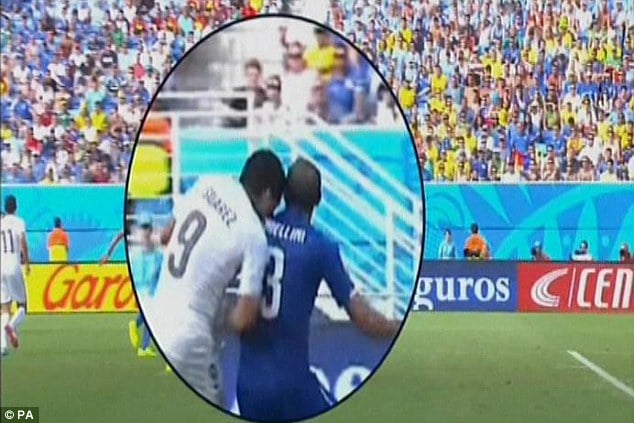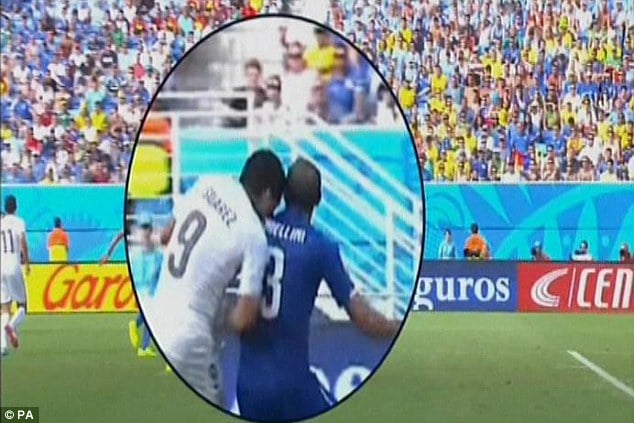 Luis Suarez may have literally bitten more than he could chew as the Uruguayan soccer super star now faces the very likely prospect of being suspended from the World Cup tournament after taking to biting Italian defender Giorgio Chiellini in Uruguay's due or die World Cup match against Italy yesterday.
The player's faux pas came in the 80th minute as Uruguay's Luis Suarez got tangled with Italian defender Giorgio Chiellini in front of Italy's goal.
Unbelievably in front of millions of fans world wide, Suarez took what appeared to be a chomp out of the defender's shoulder.
The referee may have not seen the bite, no foul would come to be called but the world nevertheless knew something had gone horribly wrong after Chiellini turned in agony as he pleaded with the referee, all the while puling down his jersey to show a ghastly red mark on his shoulder courtesy of Suarez.
And perhaps not coincidentally, about a minute later, Uruguay scored the winning goal in a 1-0 game that sent Italy home.
Although Uruguay will now advance in to the quarter finals, the federation that runs the World Cup will investigate and may suspend Suarez, who has twice before been disciplined for biting opponents in league games.
FIFA officially announced an investigation early Wednesday, saying the Uruguayans had until late the next afternoon to present evidence. A ruling will be announced before Uruguay plays Colombia on Saturday.
Since the outcry, Suarez has declined to confirm or deny the bite, but nevertheless told he was angry that Chiellini – one of the best defenders in the world and known for his physical play – had hit him in the eye during the game.
'These are things that happen on the pitch, we were both in the area, he thrust his shoulder into me,' Suarez said in Spanish. "These things happen on the pitch, and we don't have to give them so much (importance).'
This in turn elicited the camaraderie of his team mates who may rightly have sensed that their star player may have gone one bite over the edge this time round.
Told Uruguay coach Oscar Tabarez: 'I want to say that if he's attacked, as it has begun in this press conference, we'll also defend him, because this is a football World Cup, not of cheap morality,'
Is the irony any more laudible?
Yesterday's incident comes after Luis Suarez came to be suspended following biting incidents in the Netherlands in 2010 and in England in 2013. He also was suspended for racially abusing an opponent. British tabloids have teasingly called him a vampire, and social media artists have had fun manipulating his photo into images of Dracula and Hannibal Lecter.
And he was responsible for one of the most talked-about moments of the 2010 World Cup, when he purposefully used his hand to prevent a Ghana goal near the end of the quarterfinals. Suarez received a red card and was banned for the next game, but Ghana missed the penalty kick and was eliminated.
Uruguay defender and team captain Diego Lugano sensing his urgent pariticipation was also now needed would later suggest that Suarez was likely a victim of his past.
On the field immediately after the match, Suarez looked relieved to have pulled out the victory in the heat of this tropical coastal city. If Uruguay had lost, it would have been knocked out of the World Cup
After taking off his jersey, Suarez walked to a corner of the stadium, clapped and flashed his toothy smile as he waved to the thousands of Uruguay fans chanting and cheering his name. In the end it may have all been worth it, even if it had brought the very worst out of him and the game…