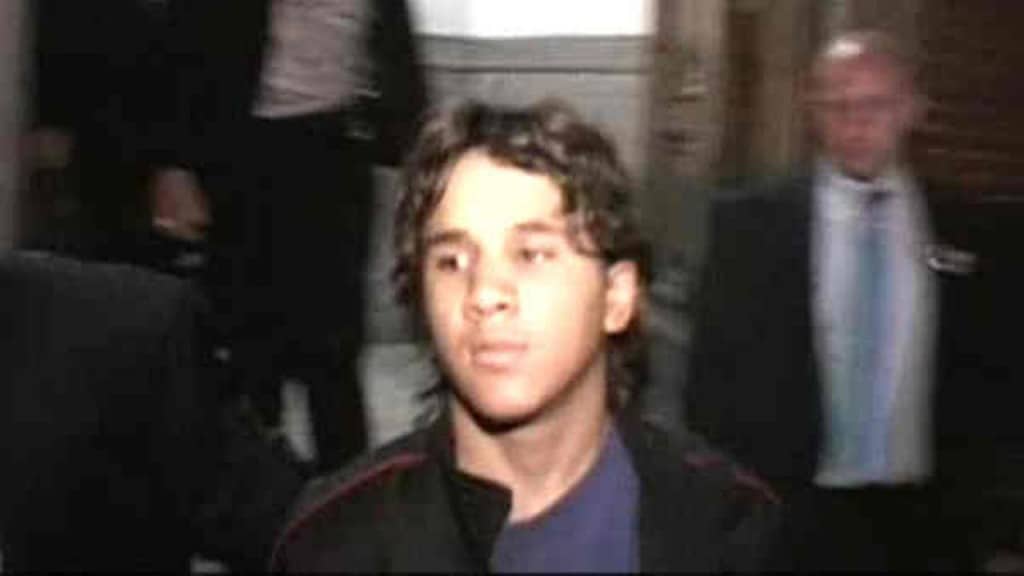 Noel Estevez, 14 has been charged with murder after stabbing to death a fellow Bronx school classmate outside of school gates.
Reports tell that yesterday's stabbing at Intermediate School 117, came after fellow classmate, Timothy Crump, 14 had come to punch Estevez. The milieu would escalate with Noel Estevez stabbing Crump three times in the torso.
The stabbing told witnesses had come after Timothy Crump had in recent weeks taken to bullying Noel Estevez, including beating him, teasing him for his mother's recent drugs bust and leading him to attempt a suicide. A suicide attempt which would leave the boy out of school for two weeks and fearing his imminent return. Ironically the attack came on the first day Estevez returned to school and Noel Estevez bringing a knife to school to 'protect' himself.
Pursuant to the incident, the New York Daily News reports Estevez was charged with second degree murder and second degree manslaughter. Authorities have also told that Estevez will be charged as an adult.
The stabbing unfolded after students were let out of class at I.S. 117 around 3pm.
Several boys said they saw Crump confront Estevez as they left school, before punching him and kneeing him in the nose, the New York Times reported.
In retaliation, Estevez pulled out his knife and stabbed Crump who although technically expelled indefinetely last December after an assault incident would still manage to make his way on to school grounds.
At the time of the stabbing, teachers and school safety officers ran over to stop the fight.
Chailyn Oballe, 12, added to amNewYork that she was leaving classes for the day when she saw a group huddling outside the school.
'And that's when I saw the boy with the knife,' she said. 'He looked like he was about to stab somebody else and then he put the knife in his pocket and covered it with his shirt.'
As he tried to leave, people scattered screaming 'someone has a knife' and the boy was stopped by a security guard.
Crump was taken to Bronx-Lebanon Hospital where he was pronounced dead and a knife was recovered outside the school, Department of Education Spokeswoman Marge Feinberg said.
Since the incident, friends and classmates have offered differing accounts of the boy's tenuous relationship. At one stage the pair were Facebook friends and were seen together in photos
Police sources told that Estevez attacked Crump because he had beaten him and robbed him of his cellphone a few weeks ago, and other friends said he had long been bullied by Crump.
Neighbors said Noel Estevez was terrified of the group of boys, who urinated on his apartment door, chased him down the street and left him too scared to leave home.
'He used to be part of their group, but I think they threw him out and they started teasing him,' the building's porter Jorge Guerrero said.
Told Estevez's neighbor Stephany Arroyo: 'Timothy is one of the kids that is constantly bullying Noel,'
'(He would say) things like, "Ha ha, your mom's a crackhead, you're stuttering, you don't got no food stamps, you're mom's locked up!.'
Estevez's mother was arrested on drug charges last week, Arroyo said, which Crump 'found funny.' She said he and his friends would hang outside Estevez's building, threatening him.
That though proved to be too much for Estevez who along with suffering schizophrenia and depression seeking to take his own life told family friend Marisol Perez.
Reiterating: 'Two weeks ago he tried to hang himself in his own apartment,'
'His father found him hanging himself in the closet with a rope.'
Estevez was recently released from the hospital and returned to school this week, even though he told his father he didn't want to go because of the bullies.
'His father brought him to school this morning and said, "Don't worry, just go straight home after school",' Perez said.
According to WABC, the school principal was aware of the bullying and Wednesday was Estevez's first day back in school for quite some time. 
Told a friend to WABC: 'He talked to various people. He told his dad, he told his mom, he even told us. He told ACS, he told everyone, the whole neighborhood, he said listen, I'm scared, I'm afraid to go to school.'
But Crump's neighbors at a shelter called the boy quiet – and branded Estevez as the bully.
'He wanted to make it look like he was the victim,' Tyrone Rivers said. 'He'd say, "I run this block, I'm going to get my gun and shoot you." I've seen him say it.'
Adding: 'He didn't bully nobody. He had mad respect for his elders. He don't like bulliers. He'll try to, if he see that you're being bullied and you can't defend yourself, he'll be right there to help you out.'
Schools Chancellor Carmen Fariña briefly addressed the case at P.S. 5 in Inwood earlier today, saying that she was 'devastated.' The city's Department of Education has not issued a statement regarding the matter, instead deferring to the NYPD. 
Grief counselors were made available at the school on Thursday.