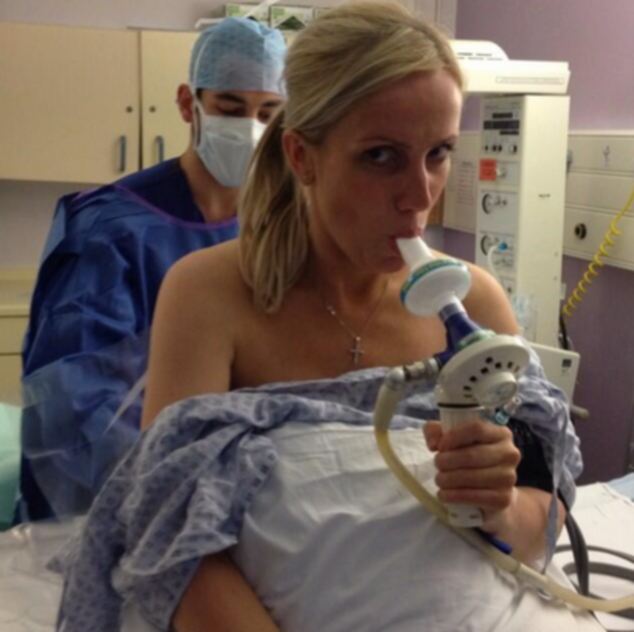 Whilst for most women giving birth has traditionally been a painful and well appreciated effort kept between oneself and her obstetrician/midwife and these days quite often the child's father, it seems one expectant mother, 34 year old UK woman, Lyndsey Thomas decided that in fact the whole world deserved to be in the operating room as she endured birth. Almost quite literally…
With the aid of twitter ( #lyndseygivesbirth), the expectant mother took to posting updates/selfies at almost every stage into the process of giving birth along with the excruciating day of labor itself.
Sharing pictures of herself posing with doctors, suffering the 'hell' of contractions and being injected with an epidural.
And although she spared her followers the gory details of the final stages, Lyndsey Thomas was back online just 20 minutes after giving birth as she breastfed daughter Ferne for the first time.
Why not indeed?
That said in a feature with the UK's dailymail, Lyndsey Thomas, a former marketing executive, who lives with husband Iain and their three-year-old son Teddy, explained why she chose to share normally intimate moments so publicly.
Told Thomas: 'When I got there I thought, "what can I do to pass a few hours before it all kicks off?" 
'I wanted to capture as much as I could, even during my contractions. It was a way of keeping my mind off the pain and telling friends what was happening/
'It was also a kind of social experiment to see what the reaction would be like. 
'Everyone was very positive. People were even guessing the weight and the time I would give birth. The staff were all talking about it too.'  
At the time Lyndsey Thomas was ten days overdue when she was induced on May 16 at North London's Whittington Hospital.
Saddled in bed that's when the expectant mother began to give twitter updates as to what was going around her, from the shots she was given to the nurses attending her along with personal details including the degree she had begun to dilate.
'Am I having contractions?' tweeted the mother in one post, 'Timed 2, 15 secs each 13 minutes apart. Will see if another comes along before calling midwife.'
And when her contractions had begun to set in, Lyndsey Thomas tweeted the following: 'It's true what they say – feels like I have the worst stomach bug in the world. Apparently these are just mild ones #ouch.'
From when she was given an epidural, sucking on a gas pump and her holding her bump as she ever closer approached child birth, before eventually tweeting the arrival of her daughter, 'Ferne Eileen Thomas born at 01.04 weighing in at 7.4.' 
And whilst most mothers may have decided that was that, Lyndsey Thomas instead proceeded to  recorded her first breastfeeding session, tweeting: '20 minutes old & latched straight on.' 
Along with her own and child's performance, the mother also kept followers up to date with how her husband was coping.
Posting a picture of him napping on a hospital bed during the early hours of labour, the mother tweeted: 'Hard work this supporting the wife whilst she's in labour lark.' 
SInce giving childbirth, Lyndsey Thomas has given up her job in marketing to focus on being a mother, has continued to tweet updates on her daughter's progress, telling followers about her exhaustion, the perils of breastfeeding and how she is rapidly losing her baby weight.
There have also been a steady stream of pictures of Fearne, who is now three weeks old.
Adding: 'The staff at the hospital were phenomenal – flawless from beginning to end. Every single person that dealt with me was fantastic.
'Everything I wanted I was given, so I want to say a huge thanks them.' 
A Whittington Hospital spokesman has since kept a close eye on the Lyndsey Thomas' tweets during the day, writing to the mother: 'Wishing you well. We'll certainly be following you!'
And then there were these responses on the web that made me wonder as well:
The hell of contractions? So hellish she could smile and upload photos and messages onto the internet?
I hope she is happy with her 20 seconds of fame.
I will be doing something similar with my upcoming vasectomy.
Concentrate on your baby you publicity hungry woman

Will her daughter ever forgive her.