Shona Carter-Brooks, a Tennessee bride has defended her curious decision to strap her newborn daughter into the train of her wedding dress as she walked down the aisle, saying the baby was 'awake and well-secured' and that she was 'covered by Christ.'
That though is not how twitter sees it as Brooks has since found herself under fire after images of the child on her wedding dress gown caused outrage, with some commentators feeling that the woman should be reported to child protective services.
Other criticisms included calling the incident 'classless,'  'incredibly dangerous', in light of the fact that the child risked incurring carpet burn from being dragged along the floor of the Elam Baptist Church in Ripley.
Criticism that Shona Carter Brooks' newly wed husband and father of the one month old child, Johnathan Brooks has pushed to the side, having fully supported his newly wed bride of her decision to have their newborn be part of the wedding party and how…
The dress – which is believed to be part of Vera Wang's diffusion line, White by Vera Wang, costing anywhere from around $400 to $1400 – is believed to have been altered to allow for the child.
Interestingly the company has denied that the dress is from any of their collections.
Defending her decision, Shona Carter-Brooks took to facebook and posted the following thoughts:
'People questioning what we do, commenting all negative, and just doing the most,' 
'We good though we covered by the Blood which never loose its power. 
'So to the media, radio, news, and whomever else wanting to talk about what WE do here you go: 
'Media Media I see how it works regardless the situation or purpose people gone (sic) have something negative to say! 
'The answer is we do what we want, when we want, as long as Jesus on our side everything worked out fine and gona (sic) continue to be fine.'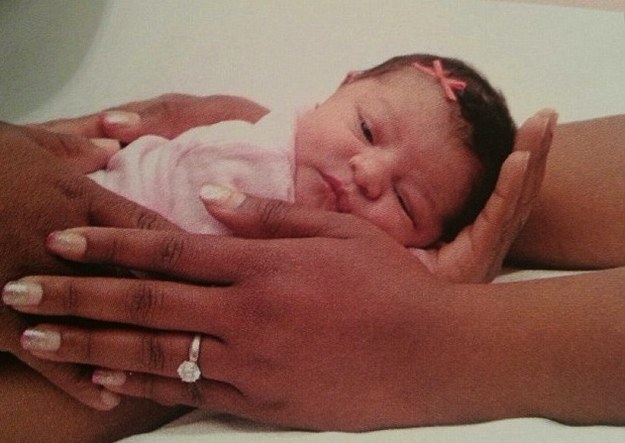 The bride's second post maintained that her daughter was in no danger.
'Our 1 month old was awake and well secured on my train,' Carter-Brooks wrote.
'Most important while yall got ya feelings in us we had our hearts in Christ which covers all!! 
'So keep ya mouths running for it was just that Exclusive and Epic enough we made top blog (sic) way from small town Ripley, TN and the social media doing what they do, TALK!!!!
'Who paid yall for yall comments, none so watch us as we do us! 
'Too bless for mess!! Thank God we aint no celebrities oops got fans, guess we is!

'Sign off Mr & Mrs Brooks!!'
The couple have listed their wedding anniversary on Facebook as May 12.
Friend and wedding attendee, Pamela Stone commented that the baby moment made her emotional.
Told Stone: 'Shona and Johnathan Brooks your wedding was super perfect from the groom and his men and you and your diva's baby you rock the gown and the princess tagging behind you it brought tears to my eyes. Regardless of anybody else dream your's came true. I loved it and thank you for inviting me.'
Jonathon Brooks lists his job as a forklift driver.

Shona Carter-Brooks has another daughter named Jania.
And then there were these comments on the web that brought a wicked smile to my face:
"Covered by Christ" but has 2 babies outside of marriage…
Washing instructions: Detach baby before dry cleaning.
If she'd of tripped she would have crushed that baby.

What on earth's the problem? It's unusual, but it's what the parents wanted……..!
Images via Shona Carter-Brooks/Facebook