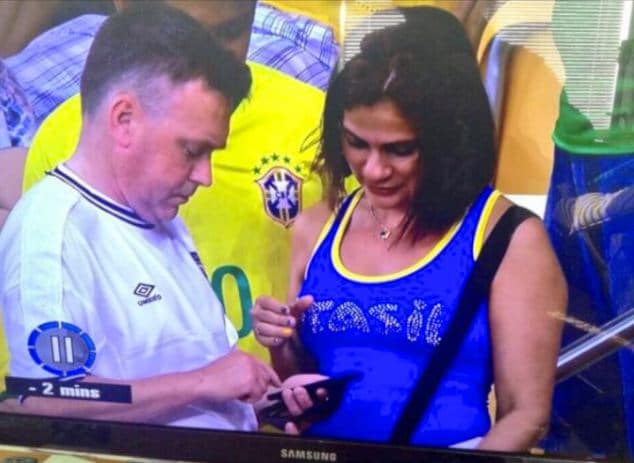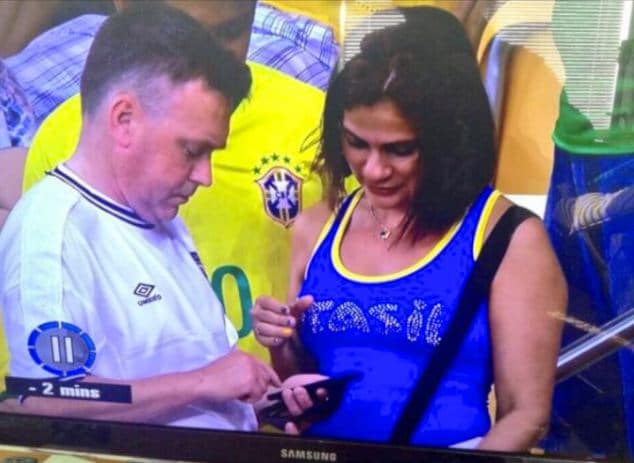 It seems England soccer fan Carl Wenz might be in a spot of bother with his long term partner after a TV camera caught the fan flirting with a Brazilian woman during a World Cup soccer match.
The hubris came to be after Carl Wenz, dressed in England blue and white colors took to attending England's opening match with Italy on Saturday as TV cameras panned him in the midst of 'intriguing conversations' with a buxom Brazilian fan dressed in a blue and yellow Brazilian t shirt.
Since the image's revelation many have wondered if camera crews inadvertently caught the long term committed boyfriend taking down the Brazilian woman's number on his cell.
Said to have four children with his long-term partner of Harlow, Essex, Carl Wenz has since the image's viral sharing on social media has come to strenuously deny he was chatting up the Brazilan woman.
Told the England soccer fan: 'The girl in the photo asked if she could have a picture taken with me, of which I said yes, her brother took the photo and I am seen looking at it on her phone.'
Could that be all Carl?
Whether or not Carl Wenz was simply engaging in some nonchalant banter, pictures of the fan 'discussing' the topic of the day with his 'new friend' have since been shared more than 2000 times on twitter, with the tagline 'LAD: An England fan asks for this Brazilian fan's phone number mid-match'.
Twitter users have since joked that Carl Wenz's 'other half' would go mad after seeing him cosying up to 'the enemy', with one twitter user,Tony Scott writing: 'Hope his girlfriend/wife's not watching!'
Added social media user, the Spin Doctor: 'I wonder if his wife back home will mind?'
Whilst Ronnie MacKay tweeted : 'What goes on in Brasil, stays in Brasil. Play by the rules boys!'
Other social media users have wondered if Carl Wenz was out of his league in attempting to get 'friendly' with the woman and was simply stroking his ego?
Defending himself, Carl Wenz would later tell his local newspaper that he is an avid England fan and is always keen to talk to locals in the countries he visits while following the team.
Commented long term friend Jonathan Greig to the Harlow Star: 'He's an old fashioned person and this would only happen to someone like him.
'He's in a long-term relationship and would consider the interest generated by the picture hilarious.'
Hopefully Carl Wenz's long term partner found the 'interesting image' hilarious as well ….