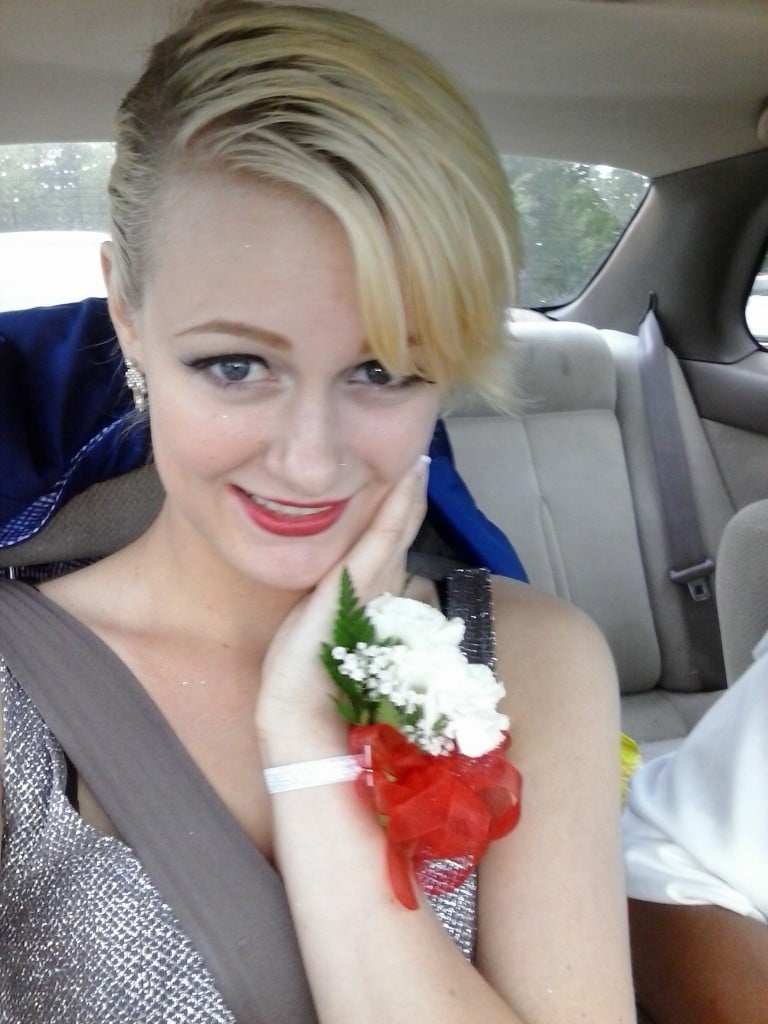 In a guest post on her sister's blog, a Richmond, VA, Homeschool Prom senior named Clare Ettinger told about an incident over this past weekend whereby one of the women organizing her school prom dance disapproved of her dress, even going so far as to make sure it merited the 'fingertip length' dress code requirement. When Clare who is 5'9″ finally got into the ballroom she was chagrined when she came to find herself surrounded by shorter girls in naturally much shorter dresses.
Whilst this was going on, on a balcony above the dance floor, a group of dads writes Clare were 'ogling and talking amongst themselves,' which led to the 17 year old and her friends kind of being grossed out. Not that the dads objected to the interesting sights unfolding.
After the seniors had been 'swaying with the music and talking and enjoying ourselves' for a while, the same chaperone who had complained about Clare's dress pulled her aside to tell her that some of the dads felt her dancing was 'too provocative' and liable to cause 'impure thoughts.'
I know kids, I'm searching for my set of wet dreams to gestate to as well. As we all know women are always responsible for inspiring men to think nasty thoughts and it's naturally a woman's job to keep her sluttiness at bay.
From there Clare writes to tell that she hadn't even danced in the first place, even asking security guards if they had noticed her acting untoward, whilst once again being told that her regulation finger-length dress was too short.
Unable to understand what she had done to incite commotion, Clare was told to leave the dance, which she agreed to as long as she and her friends who had joined her group and who were now leaving in disgust were all reimbursed their $25 entrance fee. As they were hustled out, only Clare got to receive her refund.
Dance organizers later relented and said they would refund the group's tickets yet to date Clare's friends' parents calling to find out what had happened to their daughter's refunds have been met with zero recourse.
In her post, Clare insists the Richmond Homeschool Prom 'refund my group as they verbally promised to do, and issue an apology for kicking me out of my senior prom because their husbands felt as though my body was something they had a right to control.'
'I'm not responsible for some perverted 45 year old dad lusting after me because I have a sparkly dress on and a big ass for a teenager," she concludes. "And if you think I am, then maybe you're part of the problem.'
The administrators of the prom's Facebook group nevertheless failed to be cajoled despite the avalanche of negative comments about the incident that would follow. Administrators instead chose to delete the negative comments (saved here) and soon there after shut down the page. But at least we can all sit in the comfort in knowing there were some dads that evening who got to relive some old time fantasies. Or maybe they're just general all round fantasies? Because it's always a woman's fault that she is a slut…
Reflects Clare on an ending note: 'And enough with the slut shaming. Please. Goddamn I'm not responsible for some perverted 45 year old dad lusting after me because I have a sparkly dress on and a big ass for a teenager. And if you think I am, then maybe you're part of the problem.'