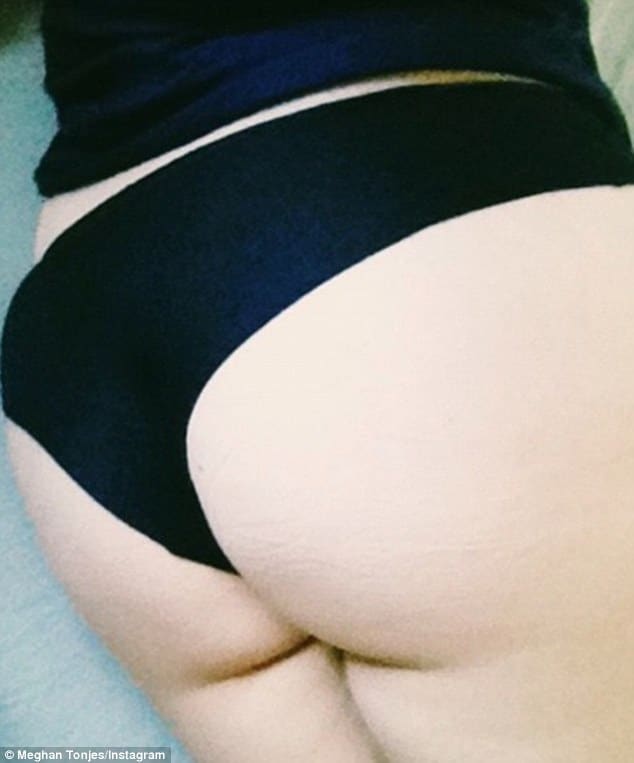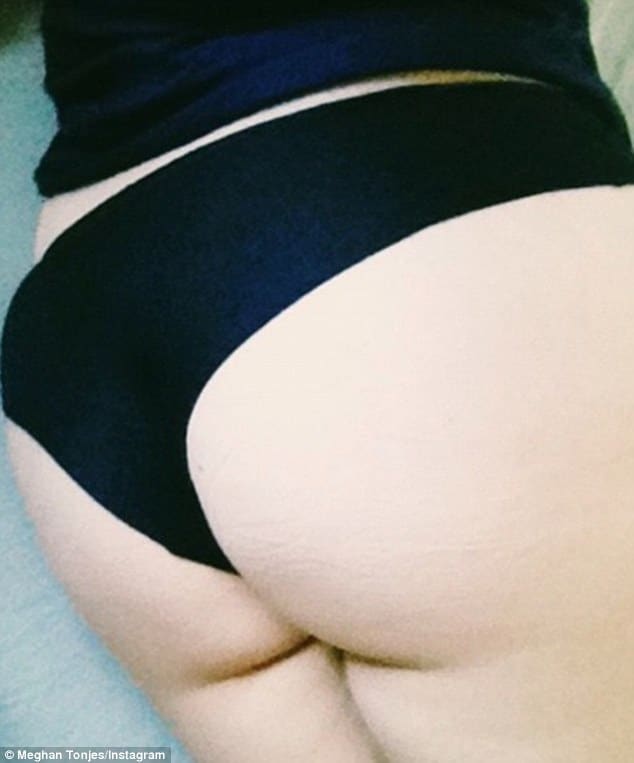 Meghan Tonjes, a plus size woman has received an apology from instagram after she was forced to remove an image of a butt selfie of herself. Instagram has since allowed the image to be re installed.
At the time of the initial posting, Meghan Tonjes had shared an image of herself posing with her butt to camera, wearing a pair of black bikini briefs and T-shirt, captioned 'booty appreciation #honormycurves #effyourbeautystandards.'
Nevertheless Tonjes came to be outraged when she received an email from instagram notifying her that the image had been taken down because it violated the site's nudity rules.
This is despite the fact that thousands of Instagram users, including Kim Kardashian and  Jen Selter, post similar photos on a daily basis without issue.
Not willing just to take it, Meghan Tonjes who at her heaviest has weighed 321 pounds, instead earlier this week took to youtube  accusing Instagram of double standards.
In the eight-and-a-half-minute-long video, titled 'Dear Instagram', Tonjes told the following: 'I have no shame.
'I've posted photos along my weight-loss and transformation of me in gym clothes, in underwear, just photos of parts of my body that I'm super happy with and I'm super proud of and I've embraced getting older.
'I have pride for my curves. My still very fat body, I like a lot.'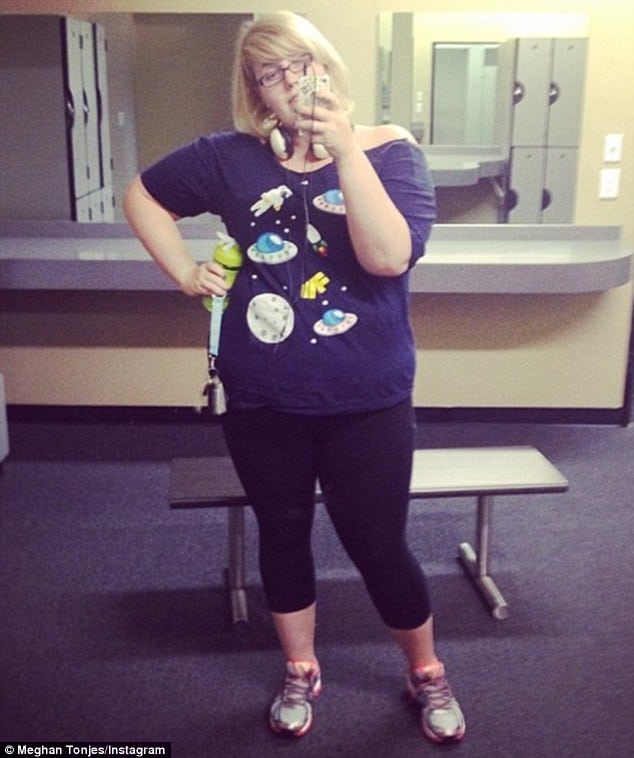 The video attracted more than 107,000 views (as of press) with many viewers applauding Tonjes for highlighting the issue of social media photo etiquette.
Commented one user: 'You are completely right, when someone doesn't fit in the "normal" category of society, everyone grabs a torch, but when the torch-wielders post pictures like that no one cares,'
As a result of her campaign, Instagram issued an apology and on Wednesday restored Ms Tonjes' butt selfie to her account.
Told Instagram in a statement: 'We try hard to find a good balance between allowing people to express themselves creatively and keeping Instagram a fun and safe place.
'Our guidelines put limitations on nudity and mature content, but we recognize that we don't always get it right. In this case, we made a mistake and have since restored the content.'
A mistake or a judgement call that only allows for contentious images as long as they fit the preferred stereotype or celebrity cult fixation?
When Tonjes came to find out the photo had been restored, she was thrilled.
'That's awesome,' she said. 'That makes me so happy. I didn't blame Instagram for taking it down. My issue was the reporting system. They send an email because someone flagged it, so they figure, oh, there's probably something wrong. And there's no way to appeal, and no human eyes to check it out.'
Tonjes hopes Instagram will find a way to improve its system and give less power to those who are simply uncomfortable with different body types and may report these kinds of photos as inappropriate content. 'Just because people are uncomfortable doesn't mean it's against community guidelines,' Tonjes told.