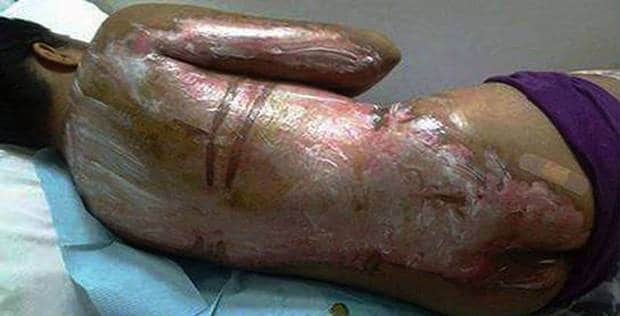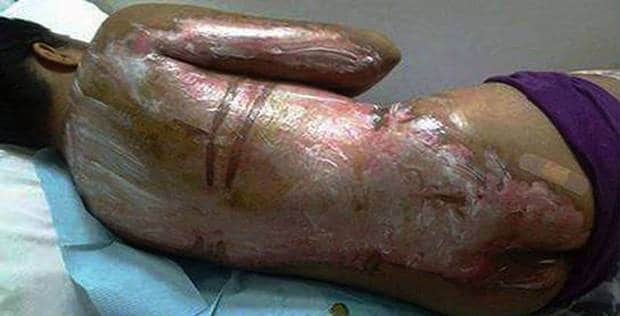 Havoc has been caused amongst servants in the city of Riyadh, Saudi Arabia after a Filipino maid was left inundated with burns after her Saudi boss's mother allegedly threw boiling water as punishment for not making coffee quick enough.
Despite incurring deep scars to her back and legs, the 23 year old maid was not taken to hospital for hours.
Upon arriving at hospital the Filipino maid passed her cousin's telephone number to hospital staff, urging them to call for help.
When she returned for a check-up, her cousin arrived to take her home. She is now in the care of the Philippine Embassy.
Outraged, her cousin has shared images of 'Fatma', which is not her real name, on Facebook.
The cousin would also add how his cousin had during other occasions been beaten and deprived of food.
Told the post: 'This is my cousin, who works as domestic helper in Riyadh, Saudi Arabia.
'Her female Saudi employer poured boiling water on her. She has only been in Riyadh for two months.
'She was beaten up within five days of her arrival by her male employer and was sometimes deprived of food.'
'She was only taken to the hospital six hours after boiling water was poured on her.
'She was then taken home to continue working despite her extensive injuries.'
The country's Department for Social Welfare and Development is providing Fatma with medical care and accommodation.
This is not the first time a foreign maid employed in Saudi Arabia claims of being abused by her employer.
According to Amnesty International: 'Foreign workers suffer greatly in Saudi Arabia. Some go unpaid. Some are beaten or even raped. If arrested, they're subjected to trials conducted solely in Arabic without translation and many have no money for a lawyer or family to turn to for help.'
The governments of Saudi Arabia and the Philippines signed an agreement, last May, that gives Filipino workers more rights in the Gulf kingdom.
Which poses the question why the hostility and second class treatment?