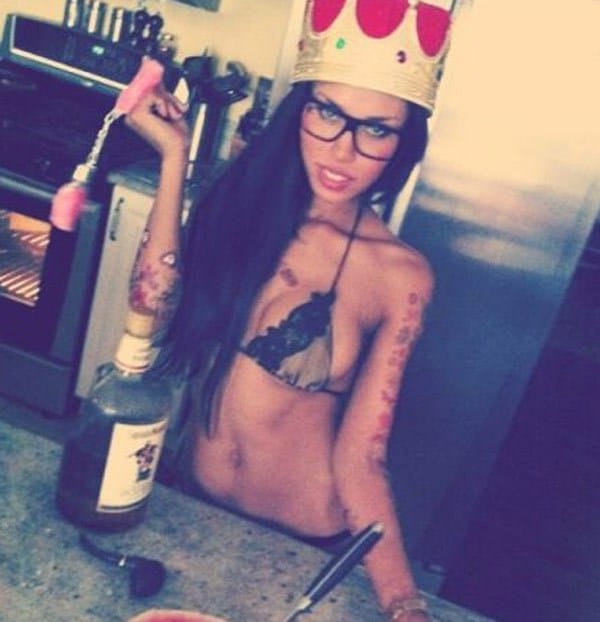 Since the visage of Donald Sterling mistress/girlfriend, golden accoutrement, V Stiviano (Vanessa Stiviano) made her national presence known, questions have been asked who is the golden girl who dares to hang out with an obviously racist man while being of mixed origin herself (Black and Mexican).
What has been reported to date includes that V Stiviano goes by other aliases as well (why?) including that of Vanessa Maria Perez, Monica Gallegos and Maria Valdez. 
V Stiviano gave the tapes because Donald Sterling was siding with his wife. 
Donald Sterling suspended for life. $2.5m fine, insists he sell team. 
Donald Sterling, Los Angeles Clippers owner racism complicity supported. 
According to her Instagram bio, the femme fatale defines herself as an artist, writer, chef, poet, stylist and philanthropist, and judging by her hoarding has come to have an innate appreciation of the finer things that rich men can offer her, including a Ferrari, 2 Bentleys, a Range Rover, a $1.4 million apartment courtesy of Donald and bundles of spending money for her treasured accessories including oversized Chanel and Hermes handbags.
What though of is of interest is if whilst she was collecting payday courtesy of her paramour Donald Sterling if a conscience existed as to the way her 'man' went about things, given his openly racist platitude.
Tells metro: She may have hinted about Sterling's comments weeks ago. Three weeks ago, Stiviano posted a photo of herself with her arms outstretched. The caption was: "'IT DOESN'T MATTER IF YOUR BROWN OR WHITE, AS LONG AS; YOUR NOT BLACK..' #REGULATED….. #WORLD #GREATEST #DETECTIVE #DreamTeam @laclippers #DREAM #TEAM #NBA #SPORTS #FOX #CBS #LATIMES #NYTIMES #NEWS #BLACKSLAW #CROWNPUBLISHERS #NEWYORK #RANDOMHOUSE #WESTGROUP #CODES #losangeles #losangelesclippers #laclippers #clippers #clippernation #lobcity #cityoflosangeles #cityofangels #angels #wings SPREAD YOUR WINGS AND STAND TALL…………." Coincidence? Maybe not.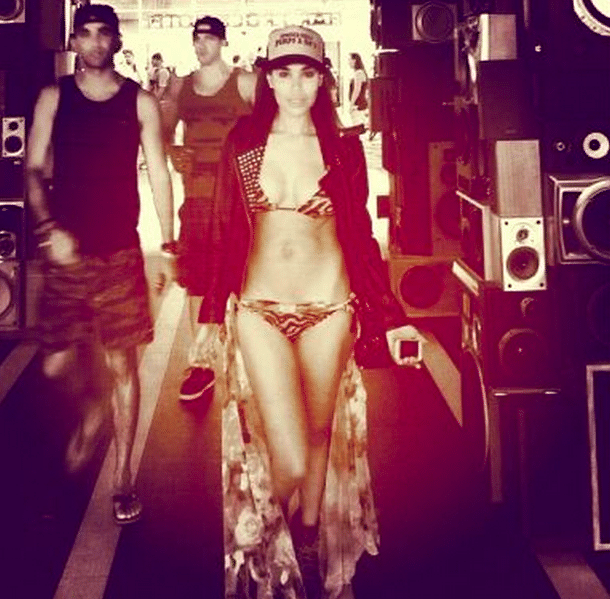 Of course the overriding question on most commentator's lips is why did she turn on her sugar daddy and hand over recorded tapes of his racist rantings? Was this her way of offering herself moral comfort for all the perceived injustices she has had to witness since first meeting her sugar daddy in 2010? Or was this just the action of a woman who felt jilted and wanted finally at last to get back at the man who has too much power and money to ever really be hurt, until V Stiviano proved she could.
Reiterates the nydailynews: With his "gold-digger" ex-girlfriend holding 100 hours of damning, unreleased tape recordings, babbling billionaire bigot Donald Sterling is pleading for the mercy rule.

It is unlikely V Stiviano will gently slide away from the public consciousness as Donald Sterling's estranged wife, Rochelle H. Sterling (who has been with Sterling for over 50 years and has borne him 3 children) has initiated legal proceedings to recoup funds that have been spent 'illicitly' procured and spend on said mistress, citing herself as 'a married woman seeking to protect and recover community property in her individual capacity.'

Nevertheless it is unlikely that Rochelle H. Sterling will get much recourse as Stiviano's attorney, Mac Nehoray, argues that a gift cannot be revoked by the giver and that there is not "a peppercorn of a fact" that any fraud or undue influence was involved. That though shouldn't dissuade the media who will be gingerly perched along the cliff and watching the shit show as it continues to evolve and devolve into tabloid pandemonium….