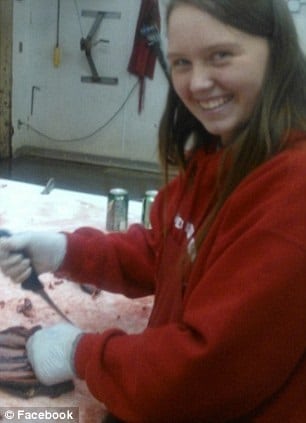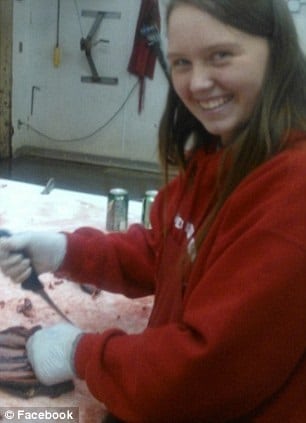 Meagan Grunwald yesterday shocked court observers as she brazenly laughed as murder charges over her Jan. 30 involvement in a high speed car chase that took the life of Utah County Sheriff's Sergeant Cory Wride were read.
During a two day preliminary hearing, the 17 year old's attorney, Dean Zabriskie told that his client was forced to participate in the crime by her boyfriend, 27-year-old Jose Angel Garcia-Jauregui.
Fair sentence? Meagan Grunwald, Utah teen faces 25 years to life prison.
Meagan Grunwald guilty: Did the jury make the right decision?
At the time, Wride had come across the couple's parked truck, believing it had broken down. As he came to approach the truck's occupants he was shot dead by Garcia-Jauregui through a back window. Following the shooting, the couple then went on a high speed car chase which only came to an end after cops mortally wounded Garcia-Jauregui.
Told Grunwald's attorney: 'Her choices were reduced to either comply or give up her own life,'
Despite the attorney's assertions, prosecuting attorney, Sam Pead insisted that Meagan Grunwald rather than being an unwitting accomplice was actually an active participant.The prosecution has since levied 12 charges against her in conjunction to the death of Sergeant Cory Wride, including aggravated murder, attempted murder and discharge of a firearm.
Other levied charges include criminal mischief, a second-degree felony; felony discharge of a firearm, possession or use of a controlled substance, and failure to respond to an officer's signal to stop, all third-degree felonies; criminal mischief, a class A misdemeanor; and violation of operator duties for accident involving property damage, a class B misdemeanor.
The prosecution would tell how after coming up to the couple, Wride sought to affirm the identity of the occupants only to be given a false name by Garcia-Juearegui.
From there Wride went back and forth between the pick-up truck registered to Grunwald's mother and his squad car trying to figure out Garcia-Juaregui's actual identity.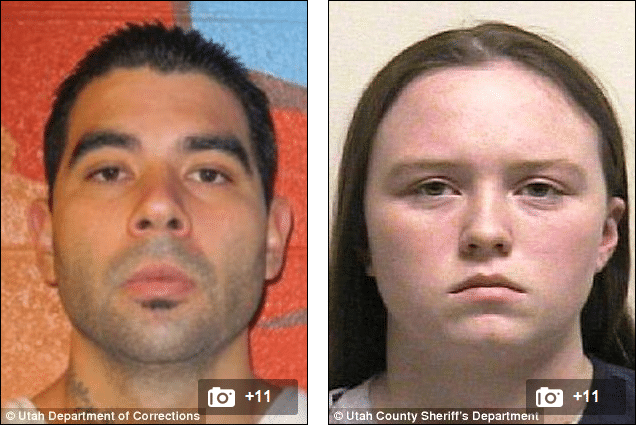 It was while sitting in his squad car that Garcia-Juaregui opened the rear window of the truck's cab and started shooting at the officer, which is when his girlfriend sped off.
Subsequently a high speed car chase would ensue after Deputy Greg Sherwood tracked the couple's truck down a little while after the shooting death of Wride.
Demanding that the couple come to a stop, Greenwald instead began to aggressively apply brakes in an effort to shorten the distance between the two vehicles while Garcia-Juaregui started shooting.
Garcia-Juregui would subsequently hit Sherwood in the head, critically injuring the officer. The officer would eventually recover from his injury after spending 19 days in the hospital.
After hitting Sherwood, the couple hit another roadblock when their truck crashed after hitting spikes laid on the road near Nephi, Utah.
Instead of surrendering to police, Grunwald helped flag down a minivan for her boyfriend to carjack from a woman who was on her way home from a parent-teacher conference.
Instances that the prosecution has claimed shows Grunwald was in fact an active participant in the crime spree as opposed to a captive participant forced to obey her boyfriend's demands.
After abandoning the truck, prosecutors say Grunwald 'on her own accord, followed Garcia-Juaregui after leaving the vehicle without appearing to be coerced by him.'
After attempting another car jacking, Juab County sheriff's deputies were finally able to stop the couple when they shot Garcia-Juaregui in the head.
While Garcia-Juaregui was lying on the ground, Grunwald yelled at officers: 'You f****** shot him.' 
While prosecutors concede they do not believe Grunwald fired any of the shots that killed Wride, critically injured Utah County sheriff's deputy Greg Sherwood, or were directed at any of the other officers that pursued the couple during their alleged 50-mile crime spree, she does fall into the accomplice liability statute.
Reiterated prosecuting attorney, Sam Pead: 'This is a hard case. We don't have mind-reading machines. Ultimately the issue is going to be motive. Was it a motivation based on compulsion? Was it a motivation based on love, loyalty, a desire to protect? That's what it's going to come down to,'
'So it's a question of the inferences that come from the hard evidence versus what is likely her taking the stand.'
During the preliminary hearing it was revealed that Meagan Greenwald was carrying Garcia-Juaregui's child and the two planned to marry in August when she turned 18.
On her Facebook page, Grunwald posted a cover photo which reads: 'I'm just a girl who is in love with the most annoying, cutest, funniest, nicest, and completely perfect guy in the world.'  
Sgt. Scott Finch with the Utah County Attorney's Office testified that a blood sample taken from Grunwald after the Jan. 30 incident tested positive for methamphetamine.
Grunwald is due back in court in May. If convicted, she faces up to life in prison. Because she is a minor she isn't eligible for the death penalty.