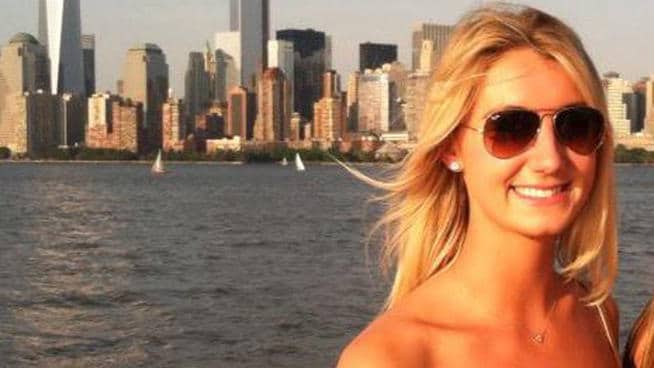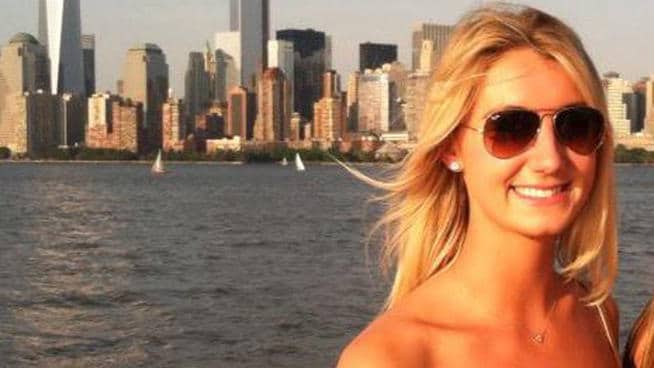 Kelly Gordon a 22 year old student died last night on NYC's Upper East side after jaywalking along the intersection of York avenue and 84th street.
The accident came to happen circa 11.28pm after the young woman came out of a corner 7/11 store where she proceeded to cross the intersection with the flow of traffic. At the time lights were green.
Not seeing an oncoming southbound yellow taxi, the young woman came to be hit before then being hit by a northbound taxi after the impact of the first taxi threw her into the path of the second taxi.
At the time, Kelly Gordon, a senior at Boston College had been staying with her sister whilst looking for work.
Told one witness via the nydailynews: 'We ran over right after the accident. She looked horrible, there was blood coming from her nose, you could tell she wasn't going to make it,'
'Her purse was on one side of the street, her shoe was on the other…I grabbed a flashlight and started to direct traffic.'
In coming to explain the accident, authorities told that a dip at the hump of the intersection makes it nearly impossible (never mind at night) for either cars or pedestrians until the blind spot is traversed.
Following the accident, Kelly Gordon was rushed to New-York-Presbyterian Hospital Weill Cornell where she would later die of her injuries.
Authorities are telling that both drivers stayed at the scene and neither of them were at fault. Both drivers would subsequently pass passed a Breathalyzer test. It is believed neither driver will be charged.
Barb Jones, vice president for student affairs at Boston College told that Kelly Gordon was set to graduate later this year.
According to the nypost, the accident came to happen after an interview she had held earlier that day with Goldman Sachs  before then with her sister, Ali, and two coworkers at the Yacht Club going on to the Financial District beer garden Clinton Hall.
It is not understood if Kelly Gordon's judgment may have been impaired after drinking earlier that evening.
The girl's devastated mother, Lorraine Zimmerman, 50, of Brielle, NJ told the following: 'She was a beautiful person inside and out, she will be so missed.'
Gordon was one of six siblings, and a popular senior at Boston College's School of Management, where she studied finance and marketing.
The investigation remains ongoing.